CHAMPIONS LEAGUE
Juventus 0-3 Real Madrid Champions League: match report
Cristiano Ronaldo scored a brace and Marcelo sealed the deal as Real Madrid put one foot in the semi-finals of the Champions League with a win over Juventus. USA vs Mexico: FIFA Friendly live online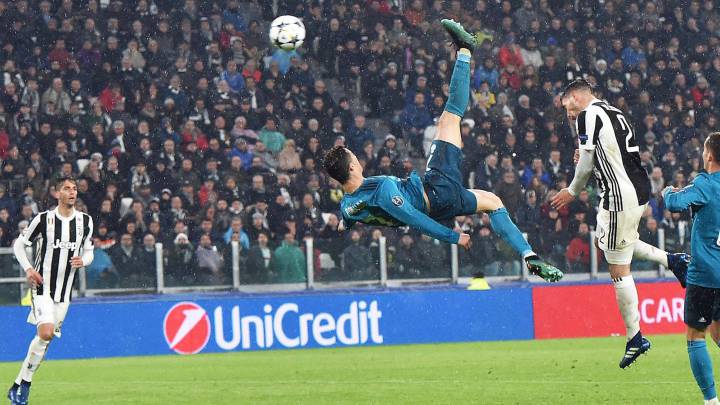 Juventus 0-3 Real Madrid: match report
Cristiano Ronaldo scored with a bicycle kick which was outrageous even by his standards to lead Real Madrid to an emphatic 3-0 win away to Juventus in their Champions League quarter-final, first leg on Tuesday.
With his back to goal, Ronaldo launched himself into the air to meet Dani Carvajal's chipped ball and produced a perfectly-executed bicycle shot which flew past keeper Gianluigi Buffon and put Real 2-0 ahead.
Ronaldo had got Real off the mark with a third-minute goal, scoring for a record 10th successive Champions League game, and Marcelo was also on target as Juve's five-year unbeaten home record in European competition crumbled.
A red card for playmaker Paulo Dybala completed a miserable evening for the Serie A champions, beaten 4-1 by Real in last season's Champions League final.
Juventus had not lost at home in Europe since Bayern Munich's 2-0 win in April 2013, a 27-match run, but that record was quickly under threat as their usually impregnable defence was split open with nonchalant ease after only three minutes.
Marcelo flicked the ball between two defenders to set Isco free on the left and his low cross to the near post was flicked into the net by Ronaldo for his eighth goal in six meetings against Juventus.
Juventus responded well to the setback, launching a series of dangerous attacks, and Real goalkeeper Keylor Navas prevented what seemed a certain goal with a superb point-blank save from Gonzalo Higuain's volley.
Defender Giorgio Chiellini also missed a good chance when he misdirected a header from a corner but Real were always menacing and Toni Kroos thumped a rising shot against the bar from 25 metres.
Juve also began the second half in lively mood but lost their way in a dramatic eight minutes.
An uncharacteristic mix-up between Buffon and veteran defender Chiellini started a Real attack which ended with Ronaldo's astonishing goal in the 64th minute.
Two minutes later, Dybala, booked in the first half for a dive in the penalty area, was given a second yellow card for a clumsy challenge on Carvajal.
Marcelo applied the coup de grace in the 72nd minute as he switched passes with Isco and then Ronaldo before rounding Buffon to score into an empty net.
Ronaldo nearly grabbed a hat-trick and although Juve escaped further damage they face an almost impossible task in next week's return.
Juventus vs Real Madrid live stream online: as it happened
90'+2'   Game over. Carvajal lucky not to give away a penalty on Cuadrado.
90'+2'   Navas denies Higuain.
90'+1'   Cuadrado drives forward but the ball gets caught in his feet. Real Madrid break and Ronaldo in for his hat-trick. He skies it. Difficult one to convert but he probably should have done better.
90'   Ball falls nicely to Asensio, who shoots, but Buffon saves again.
90'   Ronaldo strike. Buffon denies him.
89' Kovacic booked for a silly tackle on Higuain.
87'   Plays to Vazquez and it's sent into Ronaldo. He lays off to Kovacic and he rattles the crossbar.
87'   Carvajal cross after a smart stepover by Asensio and he sends it too deep as Juve recover. Real Madrid win it back though. Kroos has it.
86'   Cuadrado tries to do damage with a direct run into the area but Real Madrid defending really well. 
84'   Real Madrid with another chance. Ronaldo through on goal and he knocks it over the crossbar. 
84'   Frustrating night for Higuain. He puts the ball out for a throw and he can't do anything but purse his lips and keep going. 
84'   Real Madrid happy to see this one out now. Playing the ball around Juve, who have punched themselves out.
81'   Modric has an effort now. Asensio sends it across goal and Modric tries one with the outside of his foot. Well over.
81'   Real Madrid have this game by the scruff of the neck. Long balls from Juventus just not working out.
79'   Kroos corner. 
76'   Corner for Real Madrid. The air taken out of this game now as Real Madrid just ruined Juventus' hopes. They are absolutely lethal.
75' Isco replaced by Marco Asensio.
75'   Cuadrado replaces Khedira.
74'   Real Madrid wants a fourth here and really put this one to bed! 
72' GOAL! GOAL! GOAL! Marcelo with the third. Game, set and match. Ronaldo finds him with a through ball and Marcelo slots home at the second time of asking.
71'   Higuain exhausted and loses the ball again. Real Madrid break and Ronaldo shoots a fair few yards wide.
69' Asamoah off for Mandzukic. Douglas Costa off for Matuidi.
68'   Everything going pear-shaped for Juventus.
66' Dybala straight red. Sent off for a tackle on Dani Carvajal. Not even a second yellow. Straight red.
64' GOAL! Ronaldo. He scored a bicycle kick. Good lord, what a finish!
62'   Asamoah with a run down the left and it's wide. Really poor cross even if he did have Vazquez very close to him.
62'   Sent long by Marcelo and Juve recover again.
61'   Real Madrid can't string two passes together at the moment. Juve win another free. Khedira fouled this time. 
59'   Real Madrid soaking up a lot of pressure to start this half. they have the ball now and lose it again. 
58' Benzema off for Lucas Vazquez.
58'   Dybala fouled again. This time by Modric. Looked like he slipped. He's having some game though!
56'   Dybala with the free and it hits the wall. It sends Navas the wrong way and goes out for a corner. My word! How close are Juventus going to come without scoring?
55' Ramos booked for a foul on Dybala.
54'   Juventus with the ball and playing the patient game now.
53'   He's back up and fine to continue.
52'   Ramos caught with a punch on the side of the head by Navas. Dybala sent a free in and Ramos and his keeper collide. Let's see if he can continue as it looked like a sore one.
51'   Kroos fouled by Costa as he plays it back to Navas. Quick free and Juve win it back. Higuain fouled by Carvajal.
51'   Juventus break and Navas saves. 
50'   Benzema takes the ball into the box and it dribbles to Ronaldo. Strike but that's just inches wide. 
50'   Quite a cagey start here in the second half. 
48'   Costa sends one across goal. Everyone leaves it and it goes wide.
48'   Bale and Vazquez warming up for Real Madrid.
46'   Cuadrado warming up for Juve.
46'   Back underway! 
45'   Half-time. What a game!
45' Dybala again goes down in the box. Ramos goes to pick him up. No penalty and Dybala gets booked.
45'   Then it gets sent back in and then Dybala tries an acrobatic effort but it's over. 
44'   Penalty shout! Casemiro with a potential handball but ref says no.
44'   Dybala takes. That was a very nice free but can't beat the wall.
43'   Dybala fouled now after Costa loses the ball. Modric the culprit. Nice position for a right-footer.
42'   Reall promising break from Juventus but Bentacur takes the worst shot that has ever been taken in the history of the Champions League. High, wide, hopeless.
41'   Casemiro sends it back to Carvajal and Juventus put them under pressure. Long ball to Benzema and Chiellini wins a free as the French striker backs into him.
39'   Headed away by Varane.
38'   Chiellini free at the back post! How did he miss? They win another corner. 
37'   Ronaldo sends one across goal. Costa recovers and goes on a risky run out of his own box. Juve move it forward eventually and win a corner.
36'   Kroos hits the crossbar! What a strike. He had beaten Buffon with the sheer power of it but it can't sneak under the woodwork.
34'   What happened there? Marcelo hits the ground and play continues. Play is pulled back after Dybala sends it across the box. Free Madrid, a very late free, as Marcelo looked to have a kick at Dybala but Dybala caught the Brazilian with a hand across the face.
33'   Di Sciglio with an ambitious effort. Dybala slides in and just misses it. That goes just wide! Oooooh. Very close after a nice spell from Real Madrid.
32'   Juve with some defending to do. Carvajal moves into the penalty box but Asamoah gets a hand across Carvajal and he hits the ground. No free but the right-back stays down in a heap.
31'   Juve in the danger zone again but Real Madrid recover. Marcelo the one who moves forward now.
30'   Looks like he didn't actually touch him?! 
30'   Push in the back by Ramos on Chiellini.
29'   Benzema gives the ball to Isco and it goes straight back. Benzema wins a corner for Real Madrid. 
27'   Khedira runs through the middle. Wins a corner as Dybala jogs over to take.
27'   Casemiro fouled again. Real Madrid are taking quite the bruising here and they might need to cool things off for a minute. Juve drive forward again.
26' Another chance. Costa heads back in towards goal and that's a poor ball. Casemiro breaks and Bentacur fouls him. Booked! 
25'   Dybala to Khedira and then on to Costa. He tries to cut back with a really nice touch and idea but Real Madrid swarm and win it. 
25'   Varane ready to take the free from the back. He plays it back to Navas.
24'   Kroos takes down Khedira but Juventus keep it. Cross comes in and Juve are really pushing Real Madrid now.
23'   What a ball! Higuain gets something on it and Navas with a world class reflex save to deny him. Great chance for Juventus.
22'   Carvajal caught out by Higuain. Wins a free as Juventus, and Dybala, get ready for the free. 
21'   Costa cuts inside, plays it to Higuain and he lays it on to Dybala. He tries to go around Varane but loses out and falls. He has a sneaky look a tthe ref in the hope of getting a penalty. No doing though.
20'   Nedved in the stands and he is livid over something. He's throwing his arms about like an air traffic controller on amphetamines.
19'   Ronaldo gets the ball from Casemiro and Marcelo loses it from the throw. Juve try to build.
18'   Real Madrid back to dominating now.
18'   Juve try to counter but that ball out to Higuain is miles away from him. 
16'   Isco with a nutmeg on Costa. 
15'   Real Madrid on the ball now. Marcelo sends a ball into the box but with Ronaldo lurking, Buffon comes out and gathers.
14'   Juve knocking on the door.
14'   Juve with all of the ball now.
13'   Higuain set free now and he squares but Dybala can't get enough on the strike and Ramos heads clear. It comes back to Juve and sent towards goal by Costa. Higuain is offside.
12'   Dybala set loose down the right but the pass is too strong. Close though and Juventus have come to life but after the goal that could knock them out! 
11'   Corner for Real Madrid. Varane all alone in the box and he heads over. That's a poor header!
10'   Khedira looks for Asamoah but Real Madrid jump the pass and break. They're slowed down but they keep it.
9'   Juve forcing the issue now as they press Real Madrid. And win it back on this occasion. 
8'   Chiellini drives forward into the box and loses out with a poor touch. He secretly wanted a penalty there, I think, but referee says no chance. Real Madrid recover. Good run from the central defender though.
7'   Headed away at the front post. Juventus taking control of this one.
6'   Juventus play it around the edge of the penalty area. Dybala and Higuain link up and Dybala shoots. Corner as Ramos recovers to block it.
6'   Juventus move forward and Dybala out to Khedira and then onto Di Sciglio.
5'  Alex Sandro, one yellow from suspension, and he pulls Isco back. Lucky not to be booked very, very early.
3' Marcelo with a ball into Isco and he pulls it back for Ronaldo. 1-0. Just like that! He pokes it beyond Buffon.
3'  Real Madrid with all of the early possession.
3'   Ronaldo on the left. Crosses and Chiellini heads away. 
2'   Ronaldo with a moves into Juventus' territory. Sent across the field and Juventus win it back before Casemiro launches himself into a tackle with Douglas Costa and wins it back.
1' We are underway between Juventus and Real Madrid!
Champions League anthem blares!!
Just minutes out now as the players meet each other in the tunnel. Kroos and Khedira share a nice moment. Kovacic is all smiles. Ramos has his game face on and Chiellini and Ronaldo with a nice handshake too.
Zidane is opting for control tonight over Asensio and Vazquez on the wings. Isco re-enters the fold after an excellent spell with Spain. Can he take advantage of his chance tonight?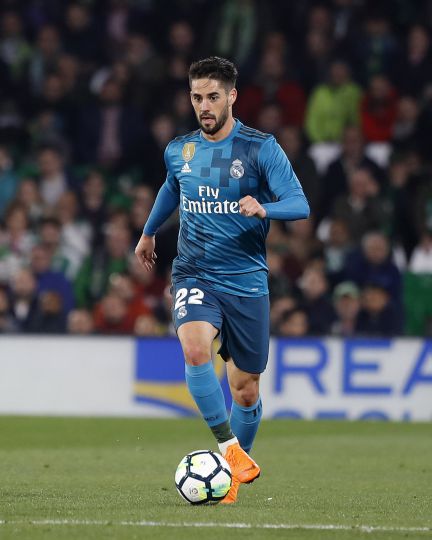 Confidence is high, his last two performances for Spain were excellent and he is rested after a break at the weekend. I wouldn't count it out. 
Ronaldo has experienced a resurgence recently and Zidane has apparently told him to trust in his process as he will help prolong his career.
Last time Juventus lost at home in the Champions League, it was April 2013 when they lost to Bayern Munich in the second leg of the quarter-finals. Mandzukic and Pizarro the goalscorers that day.
Buffon says his side were too confident going into the final in Cardiff last May, nobody is giving them a chance tonight. The general feeling is that Real Madrid are the better side and obviously love the Champions League but maybe that's just how Juve like it. The greater the task, the better their performance.
Ronaldo has scored seven goals in five games against Juventus and has scored every single time he has face the Old Lady.
Sergio Ramos is on thin ice tonight and needs to avoid a booking to be available for the second leg at the Santiago Bernabeu. Ramos is not the only one who needs to be careful not to be book as Alex Sandro and Chiellini, amongst others, need to watch their step too.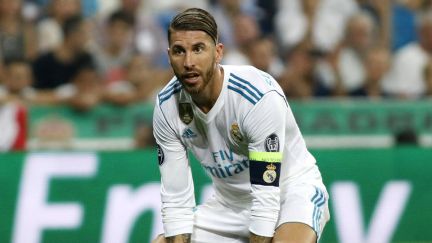 Juventus team news: Buffon; De Sciglio, Barzagli, Chiellini, Asamoah; Douglas Costa, Bentancur, Khedira, Alex Sandro; Dybala, Higuaín.
It's the exact same XI that started against Juventus in the Champions League final in Cardiff.
The big news is that Isco starts tonight after plenty of speculation that he might. No place for Vazquez or Asensio as Zidane holds back those two and Gareth Bale for later in the game if necessary.
Real Madrid team news: Keylor; Carvajal, Varane, Ramos, Marcelo; Casemiro, Kroos, Modric Isco, Benzema, Cristiano.
Hello and welcome to our live stream coverage of Juventus and Real Madrid in the first leg of the quarter-final of the Champions League in Turin. Kick-off from the Juventus Stadium is at 20:45 CEST.
Juventus vs Real Madrid live stream online: preview
The final in Cardiff might still be fresh in the mind for Juventus but Zinedine Zidane says this time around it will be a completely different game. 10 months ago, Real Madrid lifted the Champions League trophy, the first team to do it back-to-back, as Juventus looked on; they had been felled by a second half blitz that saw Real Madrid take an unassailable 3-1 lead. it is, however, a lesson Massimiliano Allegri says his side have learned from after Gianluigi Buffon admitted the Italian giants were to confident going into the game.
As Real Madrid look for their third Champions League winning campaign on the trot, Juventus will try to exorcise the ghosts of last May, but Zidane is right, and a lot has changed.
Real Madrid are no longer the finely-tuned machine they were last season. They have crumbled in the league and fallen out of the Copa del Rey. They have defensive issues too but the biggest question marks surround Zidane's team selection. Isco shone against Germany and then Argentina during the international break and is in contention to start while Gareth Bale scored a brace and starred against Las Palmas at the weekend.
Meanwhile, Juventus have battled to the top of Serie A in Italy with Napoli sitting in second, and have their own concerns over selection. Miralem Pjanic is out with a suspension along with Medhi Benatia as Rodrigo Bentacur and Andrea Barzagli look set to take their places.
Gonzalo Higuain will also look to get one back at his former employees and his father was on Spanish radio on Monday night where he took a shot at Florentino Perez, Real Madrid's president, and blamed him for his son's exit from the Spanish capital.