Atlético Madrid 2-0 Sporting Europa League: goals, action
Koke and Antoine Griezmann were the beneficiaries of slack Sporting defending to put Atlético Madrid well on course for a Europa League semi-final spot.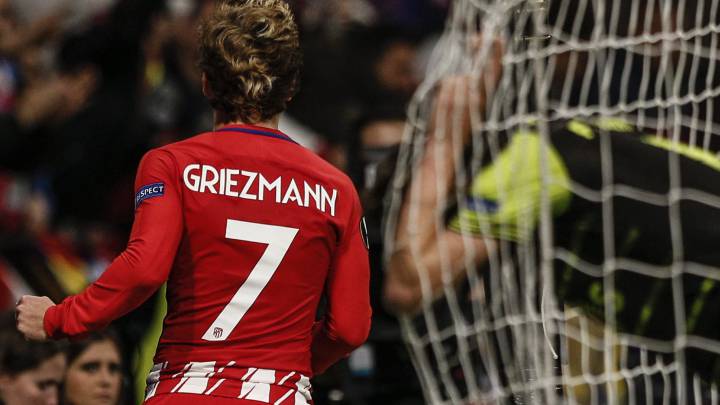 Sporting CP graced the Wanda Metropolitano with a brand of omnishambles defending that is rarely seen in the latter stages of a European competition. Koke profitted from a slack Sebastián Coates pass after just 23 seconds, and Antoine Griezmann made the most of Jeremy Mathieu's slip-up shortly before the interval.
Sporting's porous defence constrasts starkly with Atlético's rear-guard. In the second half Los Colchoneros passed the eight-hour mark without conceding a goal at home. Sporting did threaten, fleetingly. Gelson Martins and Fredy Montero both missed one-on-one chances, the latter in added time at the end of the match.
Sporting came in to the match walking a displinary tightrope. Bas Dost and Fabio Coentrao both received yellow cards that rule them out of the return leg in Lisbon. But even with everyone available, it is hard to imagine that Sporting could strangle this tie from Atlético's clutches. When they have a lead, they don't often let it slip.
Atlético Madrid 2-0 Sporting: as it happened
90'+3' FT. 
90'+2'   Sporting squander their one chance to get back in to this. Bryan Ruiz leathers an on-the-bounce volley towards the bottom corner with venom. Oblak does well to parry. It falls to Fredy Montero, who scoops it over from six yards. 
90' Three minutes of added time. 
90' Vitolo comes on for Griezmann. 
89'   Acuña fizzes in a set-piece towards the near post. Montero glances it to the far post, but there's nobody there to meet it. 
88' A final change for Sporting: Montero on for Bruno Fernandes. 
87' Diego Costa takes his leave, with Thomas Partey taking his place for the last few minutes. 
84'   Griezmann catches the ball sweetly and sends a ferocious shot rising in to Patrício's midriff. Either side of the 'keeper and that was a goal, as they say. 
81'   Rui Patrício is back to the rescue for Sporting. Costa slips the ball through to the overlapping Juanfran. He shoots first time but Patrício has got his angles covered and blocks it clear. 
79'   Saúl waltzes through the box and wins a corner. Godín nods it straight up in the air and scrambles to the second ball. He hooks it over his shoulder and in to the danger zone, but Costa and Gameiro are both offside. 
76'   There's a lull in the tempo here, which leaves time to ponder how on earth Mathieu and Coentrao ever represented Barça and Real Madrid, respectively. 
72' Bas Dost is out of the return leg. He dives in front of Lucas in an attempt to block the ball, but completely misjudges it and upends the full-back. Dost looks rather apologetic. He's guilty of being lumbering rather than malicious. 
70'   Gelson Martins jinks past Griezmann and squares it to Bruno Fernandes on the edge of the box. He quickly recycles it to Acuña, who wallops the ball over from 25 yards. 
66'   Mathieu slices the ball behind for a corner, which neatly encapulates his evening. Diego Costa rises well to meet Koke's delivery. He can't keep the ball down, though.
65'   Piccini winds up for a Delapian long throw-in, and the ball drops for Battaglia six yards out. He didn't expect it, it bounces of his shin, and Jan Oblak scoops it up. 
64' Savic is the next player to take his place in the referee's notebook. His crime was going straight through the back of Gelson on the half-way line. 
62'   The Atleti supporters are gleeful as Fabio Coentrao clatters in to an electronic advertising hoarding, bending it out of shape before getting up with a wince. 
61'   GOOO... No goal! Godín tucks the ball in, but Gameiro was a good few furlongs offside in the build-up. 
58'   Koke squares the subsequent free-kick to Gabi, who chips the ball forward from the centre of the pitch. He overcooks the delivery and it bounds out for a goal kick. 
57' Piccini isn't far behind him. The right-back has two nibbles at Costa's ankles. At the third time of asking he makes sure Costa hits the deck, and receives a booking for his trouble. 
56' It was bound to happen at some point... Coentrao clatters Griezmann and becomes the first Sporting player to secure his suspension for the return leg. 
54' Simeone makes his first change, swapping the ineffective Correa for Kevin Gameiro. 
53'   A collector's item: some competent defending from Sporting. Piccini breaks the pattern of calamity football with a precise tackle on Costa. 
51'   Costa has another chance! Coates commits another blunder (failing to hoof a bouncing ball out of play) and Atleti's No.18 steals it and goes to the byline. He shapes to cut the ball back but tries to catch Patrício out with a shot to the near post. The 'keeper saves Coates' bacon again, and Sporting keep it down to two.
50'   An Atlético head clears a Sporting corner to the far side, where Gelson is slightly over-enthusiastic in his attempts to recover the ball and fouls Griezmann. 
48'   It's a hat-trick of howlers for Sporting. Coates completely misjudges a routine pass from Koke, allowing Costa to nip in one-on-one. He feigns to shoots and then tries to dance around the 'keeper, but Rui Patrício reads him and smothers the ball. 
46'   It appears that Carvalho's substitution just before half-time wsa due to injury. 
46' Sporting kick off the second half. 
The teams are on their way back out for the second period. 
Goals from Koke (after 23 seconds!) and Griezmann have put Atlético in the driving seat. They haven't conceded a goal at home since Portu scored for Girona on 20th January, so that's probably them off to Portugal with a strong advantage. 
45'+1' Griezmann concedes a foul by the corner flag, and that will be that for the first half. 
45' One minute of added time. 
45' William Carvalho jogs off and Argentine winger Marcos Acuña takes his place. It's not clear whether it's enforced or tactical.  
44' Jorge Jesus is preparing a substitution. 
40' GOOOOOOOOL! Griezmann! Atleti double their lead and once again Sporting are the architects of their own destruction. Jeremy Mathieu miscontrols the ball, allowing his compatriot Griezmann to seize on the ball and place the ball past Patricio. One clanger apiece for the Sporting centre-halves. 
38'   Atleti force a string of corners, which Koke takes from the right. The first one is headed behind by Coates. The second is glanced out to Correa, who bends an effort over the bar. 
34'   Diego Costa thumps the turf in pure, visceral fury. Thinking about it, he does most things with pure, visceral fury. Anyway, his gripe on this occasion is that Mathieu shoves him over as he shapes to shoot and his frustration is justifiable. 
32'   Oooft! Gelson races through the gap between Savic and Lucas, outpacing them both with ease. He just has Oblak to beat and runs around the ball in order to hit it with his right foot. In doing so, he loses the ability to striker it with power, and the 'keeper gets down to parry it with a strong left hand. 
29'   Juanfran frantically appeals for a penalty against Coentrao. The ball did hit the Sporting left-back's arm as he slid in to block a cross, and I'm not sure it was in a 'natural' position. He gets lucky. 
27'   Bryan Ruíz is floating around the pitch in the No.10 role in a very elegant manner. He's one of those players who makes everything he does easy on the eye. 
26' Saúl goes in to the book for a flailing tug at Bryan Ruiz's shirt. 
24'   Seen them given... Costa bursts in to the box following an intricate exchange of passes, topped off by a backheel from Isco. Piccini appears to grab his shoulder and Costa flops straight down. It would have been soft.
20'   Costa bristles with annoyance and chucks a couple of choices phrases towards the Russian referee, who has penalised him for a clear shove on Piccini. 
18'   Koke pokes a bouncing ball back to Lucas. From 30 yards he unleashes a dipping volley that whizzes over the bar and in to the home support. 
16'   Lucas hauls down Gelson Martins with a heavy hand on the shoulder. The referee awards a free kick and tells Lucas to say sorry, which he does. Sporting have been applying pressure for the last couple of minutes. It's clear that their tactic is to get the ball wide and cross for Bas Dost. 
13'   Dost goes close! Excellent 50-yard run form Piccini, right from the halfway to the byline. He hangs the ball up for Bas Dost, who climbs above Savic but nods just wide of the post. He holds his head in his hands. 
12'   Saúl bursts forward down the right and wins a corner off Coentrao's shins. Sporting clear the danger but can't win the ball back from the home side. 
7'   Sporting finally begin to settle in to a rhythm, with William dropping deep to collect the ball from his centre-halves. Gelson Martins bombs down the left and crosses for colossal Bas Dost. Stefan Savic gets a cross well to prevent the Dutchman prodding it in at the front post. 
6'   The Atlético fans behind the goal are, to a man, bouncing to the rhythm of their drummer. Even the most optimistic among them could not have predicted such a good start. 
5'   Sporting are content to concede possession to Atlético. On the evidence of the first five minutes, their defence is absolutely not good enough for that approach. 
2'   Atlético are at it again - all of their guns are blazing. Diego Costa rumbles forward on the left and forces a corner. Koke swings it to the far post, where Diego Godín towers over the Sporting defence and forces Rui Patrício in to a flying save. Costa tries to convert the rebound with a bicycle kick but is penalised for a high foot. 
1' GOOOOOOOOOOL! Koke scores after 23 seconds! Coates shows why Liverpool and Sunderland deemed him surplus to requirements as he panics at the back and passes staight to Diego Costa. The Atleti man adjusts his feet and plays in Koke, who slots the ball in to the bottom corner.
1' Peeeep! The whistle penetrates the din coming from the home end and Atleti get us underway. 
We've been having a discussion about the Europa League music here at AS Towers. We've put it in the 'generic rousing music' category. It's got a long way to go to match the Champions League tune...
And here they come! 
The teams are gathering in the tunnel...
Paulo Futre kisses his plaque outside the Wanda Metropolitano. He came through the ranks at Sporting before going on to have two spells with Atlético.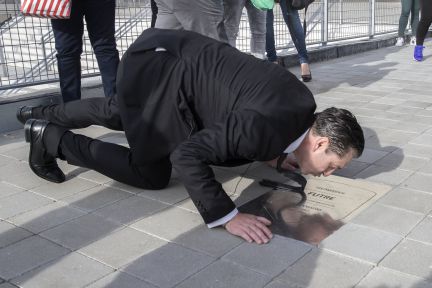 Jorge Jesus also reserved praise for the work Diego Simeone has done at Atlético: "For years he's had Atlético at the same level as Madrid and Barcelona. And they've got to two Champions League finals."
  Sporting boss Jorge Jesus was questioned about Antoine Griezmann in his pre-match news conference: "With the greatest of respect to Griezmann, Messi is Messi. Clearly they're both phenomenal, but the two extra-terrestrials in football are Messi and Cristiano"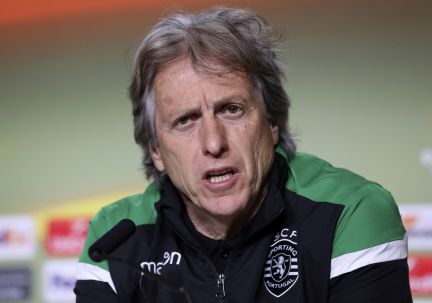 Atlético welcome evergreen right-back Juanfran back in to the starting XI this evening. He has been out of action since the last round of the competition, when he limped off against Lokomotiv.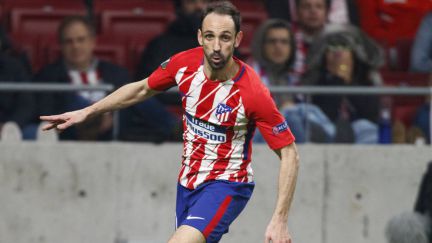 Five players in Sporting's starting XI (which you can find by scrolling down) are one yellow card away from missing the second leg through suspension. 
Hello and welcome to this evening's coverage of Atlético Madrid vs Sporting in the Europa League. Team news, build up, minute-by-minute... we've got you covered.