Zidane discusses the derby, Bale, Cristiano, Griezmann...
The Madrid coach, speaking ahead of the Madrid derby, added: "If a player doesn't play in a couple of games it doesn't mean anything. He's still an important player".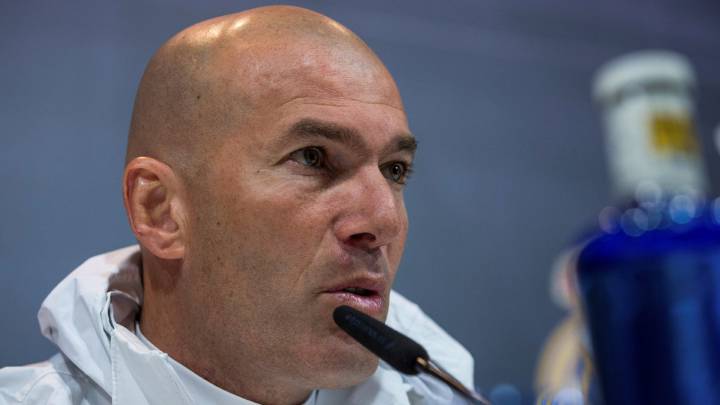 Real Madrid coach Zinedine Zidane spoke to the press ahead of Sunday's Madrid derby against Atlético Madrid at the Santiago Bernabéu (16:15).
How are your players managing physically and mentally after the big game on Tuesday? "They're managing as they always do. We only have a few days to rest, but Atlético are in the same boat. In fact, they've had even less time. We're focusing on the game ahead and we're prepared, both physically and mentally; in both respects".
How do you approach having to tell Cristiano that you're going to rest him? "It happens naturally. We always talk to Cristiano; with every player. When the games come thick and fast we know that some players will be rested. We discuss it and that's all. I'm not going to go into the details. That stays in the dressing room".
What formation and tactics will you be using against Atlético? "You'll see tomorrow. It's a good question but if I tell you then you know what will happen. I'll keep what I'm going to do tomorrow to myself".
What about Bale not featuring against Juve? Does he want to stay at Madrid? "These are decisions you make. He didn't warm up because of one of those decisions. Now we turn to tomorrow's game. Gareth is like all the others, and for next season... Gareth is here just like the other players. What you're getting at is that he's playing less, but it's not like that. There are many games and regardless of how we finish the season Bale is a Madrid player and he's going to stay. That's my feeling, at least. Afterwards, as always, you never know what's going to happen with you or the players. We'll see".
But Bale is not just any player. His body language, not celebrating goals... or Cristiano's wonder goal? Isn't he a bit down at the moment? "Yes, it's normal because players always want to play every game. The players that have played recently have put in great performances, which makes it more difficult and means I have to make a decision. If a player doesn't play in a couple of games it doesn't mean anything. He's still an important player, and despite not playing in three games we still have big games coming up".
Who has more on the line tomorrow, Madrid or Atlético? "Both. There's three points at stake".
Is Griezmann currently the most in-form French player? "I'm not sure; he's obviously a decisive player, but he works hard so it's no surprise".



LaLiga Santander
*Update 7 de abril de 2018
LaLiga Santander
*Update 7 de abril de 2018