REAL MADRID-ATLÉTICO
Simeone: "Real Madrid have the best squad in the world"
"It's tremendous and better than PSG, City, Barcelona", who says that he has a small squad but would prefer that than have players who don't want to be there.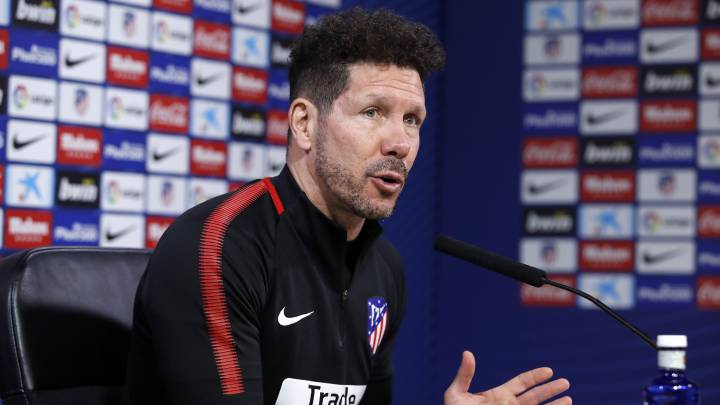 Diego Simeone spoke ahead of the Madrid derby, which takes place at the Santiago Bernabeu on Sunday at 16:15 CEST.
What do you think of the situation at Sporting Clube de Portugal with the president suspending various players? "Nothing to say about it. The family have to solve these things internally. We just observe and that's it."
What quality does Atlético have that is better than Real Madrid? "In the number of points we have and then our consistency in La Liga."
Decaffeinated derby: "I was always up for it whether we were first, eighth or ninth. But the derbies are passionate affairs because you play with a high attitude and the people live it the same. I couldn't imagine it being any other way."
Who is more important for their team? "The two are decisive for each team, we see it in their goals, in their plays. It's not hard to see. Cristiano is decisive and Griezmann is for us."
How can you hurt Real Madrid? "We are who we are and we will look to base ourselves on work and the collective to play an important game. I think that Madrid have, I don't no if it's they're the best in the world but they are the best squad. They have built a tremendous squad, better than PSG, City, Barca... It's the strength that they have as a team. Until we have the team sheet in our hands, we will have to wait. We have to be clear as to what way we to play them."
Worried about players who played on Wednesday and again on Sunday: "With the injury to Filipe Luis, we have 16. But if I have 16 or 18 committed with the feeling of belonging, give me 17. I don't want 25 who don't want to be here, I want 17 who want to be here."
LaLiga Santander
*Update 7 de abril de 2018



LaLiga Santander
*Update 7 de abril de 2018