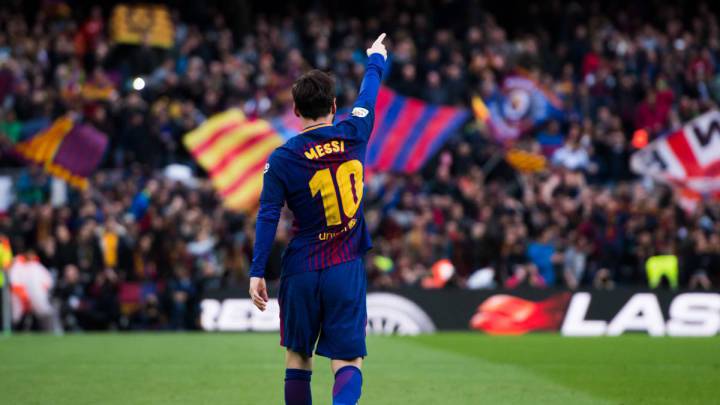 'Lionel Messi scores a hat-trick'. We've all seen that before. But it was more significant this time. Propelled by the Argentine maestro, Barcelona matched the longest unbeaten streak in LaLiga history - 38 matches. Real Sociedad achieved the same tally in 1979-80. Barça will stand alone on the perch if they avoid defeat against Valencia next weekend.
Messi's opening goal was a sumptuous free-kick, the next two were neat finishes from inside the box. Nabil El Zhar scored for Leganés to narrow the deficit in a match that Barça ultimately won at a canter.
The marathon of matches continues in midweek when Ernesto Valverde's side travels to Roma for the second leg of the Champions League quarter-final.
Barcelona 3-1 Leganés: as it happened
90'+3' FT. A Lionel Messi hat-trick secures three points for Barcelona. 
90'+3'   Piqué wants to get involved with some attacking action. He bursts through the middle and on to Iniesta's pass, but strays offside in the process. 
90'   Barça win a corner as the fourth official indicates three added minutes. They take their time. 
89'   Ter Stegen has a rare error of judgement at the other end. He dives to tip away a cross and misses it. Luckily for him, Beavue can't get the ball out of his feet. 
87'   GOOOOOOL! Hat-trick for Messi! He meets Dembélé's deep cross, takes a touch and dinks it over Cuéllar.
85'   Leganés are looking dangerous on the counter. Or they were, rather. Zaldua kills the momentum with an overhit cross, which runs straight out for a goal kick. 
84' Jordi Alba earns himself a yellow for a block on Zaldua. Gabriel delivers a free-kick from the wide area. It's undercooked and cleared at the near post. 
83'   Suárez upends Bustinza. It would have been a card if he had meant it, but he just slipped at an inopportune moment. There was no malicious intent and the two embrace and make up. 
82' Iniesta replaces Coutinho. 
81'   Dembélé crosses for Suárez, who is all alone in the centre. He fails to adjust his feet and scoops it over the bar. It hasn't been the Uruguayan's night in front of goal. 
80'   Messi scampers in to the box in search of his hat-trick. His final touch is marginally too heavy, giving Bustinza the chance to lunge in.
79' Zaldua goes in to the book for a totally clean tackle on Alba. Very harsh decision. It wasn't even a foul. 
78' That's Rubén Peréz's last  involvement. He goes off in a bit of a fluster and Miguel Ángel Guerrero comes on. 
76' Rubén Pérez is absolutely not letting Messi go. He starts with a pull of the shirt and it develops in to a full bear hug. He gets a yellow card for his troubles.
75' Ernesto Valverde signals to the bench and sends on Jordi Alba for Sergi Roberto. 
73'   A touch of controversy at Camp Nou. Cuéllar rushes out to the edge of the box to block Messi's attempted lob. The Barça players claim he ventured outside his box. Replays reveal he was just, just inside. 
72'   Barça look mildly rattled, all of a sudden. Leganés float in a free-kick from the right, which Vermaelen leaps to clear. 
68' GOOOOOOOL! El Zhar! Out of nowhere Leganés gallop forward on the counter-attack. Piqué fouls Brasanac, but the referee plays advantage and allows Gabriel to play the ball across the edge of the box to El Zhar, who looks up and drills it in to the bottom corner.
67'   Ooh, El Zhar cuts through the inaction with a header that skims just wide of the post. Ter Stegen holds his hands up in a way that suggests he knew it was going off target.
66'   This match is ambling slowly towards full-time like an evening stroll along a promenade. 
63'   Suárez strides to the byline in an attempt to keep Coutinho's pass in play. He does so, but can do nothing more than square it in to Cuéllar's arms. 
61'   Leganés manage to go from an attacking corner to their 'keeper having the ball in the space of about six seconds. 
60' A second swap for Leganés. Eraso is off, Brasanac is on. 
58'   Very, very close to 3-0. Dembélé swings a tantalising cross in to the box. It just evades the outstetched leg of Suárez and Piqué scoops it over the bar at the far post. He should have kept that down. 
56'   Dembélé tries to wriggle around the outside of Siovas, just about keeping the ball from going out for a goal kick. The winger has the pace, Siovas has the strength. It's the Leganés man who emerges with the ball. Just. 
54' Gabriel soon follows his team-mate in to the book. Coutinho is steaming out of defence as the potential for a counter-attack increases. Zaldua puts a calculated stop to it and accepts the yellow card. 
51' Siovas absolutely cleans out Messi, and not for the first time this evening. This latest challenge earns him a spot in the referee's book. 
49'   Hang on, action! Bueavue makes his first contribution, flashing a header over at the back stick. It was a very elegant cross from Zaldua. 
49'   A pedestrian start to the second period. It seems both teams had a couple of pints to accompany their half-time oranges. 
46' Barça get the second half going. 
Half-time swap for Leganés: Beauveu replaces Amrabat in a vageuly like-for-like switch in attack. 
The teams are preparing to trot out for the second half. It's hard to see beyond continued Barça dominance.
45' HT. Two goals from Messi mean Barça are firmly settled in the driving seat.
43'   Barça clear that corner, but then Coutinho concedes a free-kick out on the touchline. Ruben Pérez clambers over his man after the ball comes in, gifting Barça a free-kick and a chance to clear properly. 
42'   Hold on, here come Leganés downthe right. Zaldua cuts the ball back for El Zhar. He takes a touch instead of shooting first time, which allows Vermaelen to nip in and thwack the ball against the advertising hoarding for a corner. 
42'   73% of possession for Barça so far. It feels like more, to be honest. 
40'   Piqué is down in a heap after a coming together with Eraso. He looks winded, but manages to haul himself up and rumble back to his place in the defensive line. 
38'   Coutinho fires a pass at Rakitic with a little too much fury. The Croatia international tries to control it with his head and ends up directing the ball straight out for a goal kick. 
36'   Suárez lashes a shot across goal, forcing Cuéllar in to a save. But the flag was already up for offside. 
34'   A curious scene here as Rakitic and Suárez rummage around the bottom of the referee's back. It looks like they're helping him reconnect the wire from his earpiece. 
32' GOOOOOOOL! Make that three more goals than Leganés. Messi does it again. He takes Coutinho's pass in his stride, holds off Raul García, and rolls the ball to the right of Cuéllar. 
30'   Leganés win a corner, as Vermaelen gets the last touch on Omar Ramos' cross. The Lega defenders trundle forward, and trundle straight back as Barça clear at the front post. 
28'   Leganés respond with a rare foray in to Barça territory. El Zhar uses Zaldua's overlapping run as a decoy to create space to cross. Eraso meets it but glances the ball wide of goal. 
27' GOOOOOOOL! Messi swirls a stunning free-kick over the wall and down in to the bottom corner. 
26'   Siovas lunges at Messi 30 yards from goal, granting the No.10 another chance to shoot. This time, it's to the right of goal and therefore better for a left-footer. 
25'   Semedo and Dembélé appear to have forged a good understanding on the flank, which comes as rather ominous news for the left-backs of LaLiga. 
22'   Bustinza trips Suárez on the edge of the box, giving Messi a chance to test the 'keeper. The Argentine wellies a shot straight in to the wall, but Barça maintain possession and momentum. 
20'   A far easier chance comes along for Suárez, and he misses again! Messi controls Dembélé's cross after springing the Leganés offside trap. He rolls the ball across the face of goal and you'd put your mortgage on the net rippling... but Cuéllar makes himself big and keeps the scores level. 
18'   Suárez is inches from a remarkable finish. The Uruguayan peels off behind Bustinza as Coutinho floats in a pass from the touchline. He plucks the ball out of the air in one swift movement and grimaces as it brushes the outside of the post. 
16'   Leganés have all of their players crammed in to the final third of the pitch in an attempt to shut off any space. Coutinho defies them, though, with a burst inside and a shot to the near post, with Cuéllar tips behind. 
15'   Messi is dropping very deep - almost in to the Busquets role between the centre-halves - to pick up the ball and orchestrate. 
13'   Piqueeee... over! Messi and Roberto work a neat short-corner routine to shake Leganés out of position before Messi delivers. Piqué meets it ten yards out and plonks it well over. 
11'   Piqué fails to clear Amrabat's low cross from the right. The centre-half recovers to block El Zhar's shot inside the box. 
9'   Siovas loses the ball on half-way and gives Barça a 3-on-1 advantage, with Messi, Suárez, and Dembélé bounding forward. The ball goes out to Dembélé on the right and he tries to roll it across the face of goal to Messi, but a blue shirt gets back to recover. They should have been more clinical there. 
7'   Fantastic attcakng full-back play from Semedo. His combination with Dembélé doesn't quite come off on the right, and instead of sulking he dashes back to win the ball and thread a pass to Suárez, who sees a half-hearted appeal for a penalty dismissed following a barge with Bustinza. 
5'   The pattern of play has been established in the first few minutes. Barça are pinging the ball around while Leganés try to stay compact and limit the spaces in which Messi likes to operate. It's pretty much as expected, in that respect. 
2'   Dembélé spins away from Raul García and closes in on the edge of the box. The immovable presence of Gabriel is in his way, however, and the Lega captain emerged with the ball. 
1' Off we go! Leganés get the match up and running. 
Here they come! Out in to a Camp Nou that's rather sparsely populated in the upper tiers.  
The teams are milling about in the tunnel. Just over five minutes until kick off at Camp Nou. 
That means that if Barça avoid defeat tonight they will match Real Sociedad's record of 38 LaLiga matches unbeaten, which was set between April 1979 and May 1980. 
The last time Barcelona lost in LaLiga? This very weekend last year. It was a 2-0 loss to Málaga at La Rosaleda, and Barça have since gone 37 matches without tasting defeat.
Sergi Roberto will fill in at left-back this evening, with Jordi Alba rested. He may not like it, given that he still sees himself as a midfielder, but his versatility is a massive asset for Valverde. 
If results go a certain way, Barcelona could seal LaLiga before El Clásico on at the start of May. Zinedine Zidane has already made it clear that his Real Madrid players will not give their Barça counterparts a guard of honour. 
Buenas noches! Welcome to another enticing night of LaLiga football, with Barcelona hosting Leganés at Camp Nou.