The Ramos-Diego Costa rivalry resumes in LaLiga
Both players will go toe-to-toe again on Sunday in a rivalry that still lingers in the memory but has softened since the Atlético striker opted to play for Spain.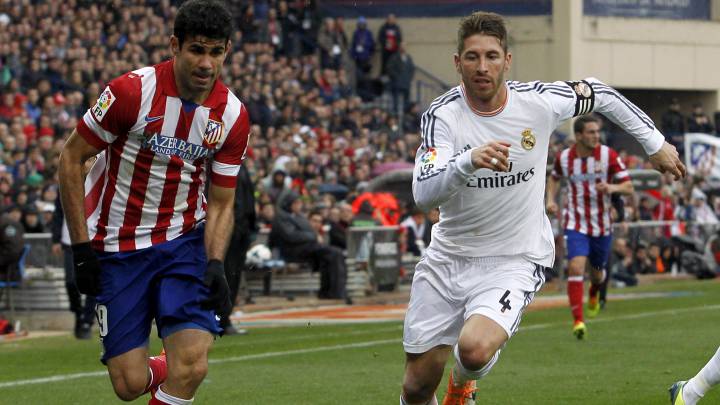 Rivalry and respect
Among the intriguing sub-plots peppering Sunday's Madrid derby is the rivarly/respect between Diego Costa and Sergio Ramos. On previous occasions, the relationship between the two was defined by spitting, kicking, scrapping, butting and insulting, most memorably, and most unsportingly, in December 2012 at the Santiago Bernabéu. That game seems like a distant memory now, particularly given that their relationship is more akin to a friendship than a bout of mixed martial arts after Diego Costa decided to wear the red of Spain shortly afterwards and was welcomed into the Spain set-up by none other than Ramos.
Derby day
Derby day often brings out the best and worst in both players, however: "If we come up against each other again will be going hard at it. I'd rather have him as a team-mate because we always clash. But I also like playing against him because, like me, he wants to win. Whenever we come up against each other we always insult each another, always laugh... in the heat of a game it's normal," Diego Costa recently admitted.
Track records
Moreover, this previous spit-and-sawdust rivalry has not been forgotten as both players go toe-to-toe again in LaLiga. In the derbies featuring both players, Madrid have generally come out on top: both sides have played eight times in LaLiga, with Atlético winning once in 2013 (courtesy of a Diego Costa goal), drawing once and losing six times to their crosstown rivals. In the Copa del Rey they have met on two occasions, with one win for Los Blancos and one for Los Rojiblancos, in the 2013 through another Diego Costa goal. And. of course, not forgetting Real's famous Champions League win in 2014 as the Madrid defender's bullet header dragged his side back into the game in the dying seconds. "Sergio Ramos is a great guy who gets on well with everyone. But I've already told him, and he says the same, that this is a derby and if we have to fight, then we're going to fight," Diego Costa said a few weeks ago. We'll soon see.