MADRID DERBY
Real Madrid 1-1 Atlético Madrid LaLiga: match report
Real Madrid and Atletico Madrid played out a tame draw in the Madrid derby as both sides keep their minds on European competitions during the week. USA vs Mexico: FIFA Friendly live online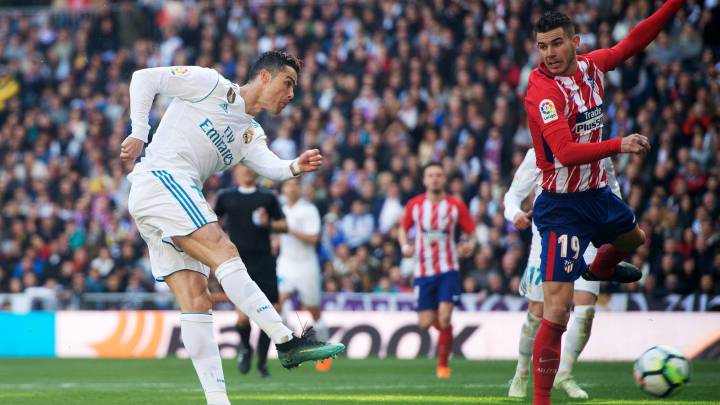 Real Madrid vs Atlético Madrid live: updates
90'+3' Game over! Draw in the Decaf Derby.
90'+3'   One last attack. Carvajal down the right, on to Bale. He sends it towards Ramos and that's the end of the game. 
90'+1'   He nearly scores from the corner too. Header goes just wide.
90'+1'   Ramos with the free. Lovely one too. Oblak turns it over the bar.
90'   Isco fouled on the edge of the square. Savic the man who fouled him from behind. Really good chance now for a right-footer? Bale going to take it.
90' Lucas fouls Bale on the break and gets himself a yellow card.
88' Vazquez hits the ground in the penalty area and is booked for the dive. Savix just shadowed him and Vazquez looking for that.
87'   Carvajal with another nice cross into the box that Bale can't reach.
86'   Bale tries to dance his way through a number of players in Atletico's box. He gets stood on and loses out. Real Madrid pushing for the winner here.
84'   Headed out and falls to Carvajal. He drills a strike towards the danger area andit falls to Marcelo. Lucas Hernandez clear.
83' Vazquez back on but he can't be 100%.
82'   Marcelo fouled by Godin and Real Madrid have a free.
82'   Gameiro replaced by Thomas Partey.
82'   Lovely take down by Griezmann and he send sit across the box to Correa. He cna't reach it. 
81'   Vazquez twists his ankle and is off the field getting treatment. Really sore one and Real Madrid down to 10 men.
80'   Vazquez down and has really hurt himself, it looks like. He turned his ankle quite badly according to the replay.
78'   Modric strike. Wide!
77'   Bale header from a Carvajal cross. Decent chance but he heads wide.
77'   Koke clears as the ball arrives in search of Benzema.
75'   Vazquez hits the deck after a ball into the box. He took an arm to the face from Godin but the defender had eyes only for the ball.
74'   Isco looks for Modric. Loses it and then Real Madrid win it back. 
72' Modric and Isco on for Asensio and Kovacic.
71' Gabi on for Costa.
70'   Saul takes the wrong option as he is clear through and with Costa to his side. Ends up striking with his left. Wide.
68'   Costa and Varane go toe-to-toe in a race and Varane wins. 
67'   Marcelo cross is punched away by Oblak. 
65'   Bale with a foul and Real Madrid struggling now to create anything.
63' Ronaldo replaced by Benzema.
63'   Carvajal sends a ball into the back post. 
63'   Real Madrid trying to assert some control on this again.
62'   Griezmann through. He should have kept going but he cuts back on his left. Strikes and it's blocked. 
61' Angel Correa coming on for Atletico. Vitolo taken off.
60'   Marcelo catches Costa late. 
59'   Koke with a strike that Navas saves. Atletico suddenyl come to life. 
57' GRIEZMANN! Goal. Vitolo chopped down by Navas too. It falls to Griezmann though, who makes no mistake.
57'   Costa with the ball on the left. He plays it to Saul when he runs out of options. Shot comes in and Navas saves.
56'   Asensio clips Vitolo. Free!
56'   Griezmann breaks loose and plays to Koke and back again but Atletico lose out. Real Madrid attack.
55'   Bale with another cross into the centre and Asensio catches it. Corner!
54' Ronaldo GOAL! Bale delivered the ball and Ronaldo slots it home.
54'   Saul with a run forward before being stopped by Ramos.
53'   Atletico struggling here to start this half.
53'   Costa slips and loses out on the chance to run at Real Madrid's defence. 
52'   Ball comes in from the left from Bale. Vazquez headers it but it's handy for Oblak.
51'   Kroos sends it towards goal and Ramos stops, feeling he was fouled. Atletico clear and it is sent up the field. Vitolo can't make it.
50'   Bale across the field to Vazquez. Lucas clears and Real Madrid win a throw. Vazquez fouled outside the box to the right. Chance now for Kroos to send it in.
49'   Thomas recovers it for Atletico.
48'   Benzema warming up now for Real Madrid.
48'   Carvajal cuts it back and it's cleared but Atletico can't hold onto it.
47'   Kovacic to Marcelo and back again. Varane gets involved, as down Carvajal and Bale. Real Madrid holding the ball well.
46'   Zero changes for either side and we are back underway in the second half!
0-0 but a more lively game than the score might suggest. Also poor in spells with neither side showing off their ability in attack. Real Madrid on top and if it wasn't for Oblak, the scoreline might have a completely different complexion.
Estrada has made a couple of poor decisions in this half. The first coming when Godín clearly caught Kroos late in the penalty area. He put his whistle to his mouth, as if he was about to blow, but then waved it away. Lucas fouled Lucas Vazquez in what was another questionable call although you might see how that wasn't given. Then Vitolo was in his own half when he was blown for offside. Both teams can feel aggrieved.

45'+1'   Not as much as a second of injury time! Half-time.
45'   Koke thrown on the ground by Carvajal and that's a handy free. A good few bad calls so far in this one.
44'   Vitolo hits Kroos in the back with a shoulder and he is lucky not to get another yellow for that. Game has certainly picked up!
43'   Griezmann picks up a Carvajal headed clearance. Good work from Juanfran down the right that time.
43'   Oblak saves the rebound. Real Madrid so close to taking the lead.
42'   Marcelo absolutely rattles the underside of the crossbar with an effort. 
41'   Vitolo about five yards onside and he is called for being off.
41'   Bale to Marcelo but that won't cut it. Cleared. Another penalty shout though! Savic with another potential handball. Ref says no.
41'   Kovacic chases down and dispossesses Griezmann. Second time today he did that. French man looks frustrated.
40'   Costa breaks with a pass from Griezmann but Marcelo wins it. Real Madrid putting pressure on to end the half.
39'   Another penalty shout. Bale kicks the ball off Savic's arm. It was outside the box and it was not at all intentional.
38'   Vazquez looking for a penalty. He might have a case too. Challenge came in late but ref tells him to get up.
37'   Saul finds Costa but the pass is straight to his feet at speed and it's hard to control. Sent back to Navas and he clears.
36'   Lovely stepover from Lucas, sends it central to Asensio and he sends it out to Bale. First time cross is blocked but it lands to Vazquez, and is shot is blocked too.
36'   Juanfran fouls Marcelo.
35'   Vitolo with a pass way ahead of Partey and another attack breaks down.
34'   Thomas booked now. Third of the game and that is for a foul on Vazquez.
33'   Saul with a strike. Never really a threat as it was always rising.
32'   Costa beats Carvajal in a race for the ball over the top. He says Carvajal fouled him but the referee says it wasn't. Throw and Costa lucky not to be booked.
31'   Costa strikes again and it's blocked. Much better from Atlético. Costa on the ground now and unclear what happened to him. He's back up but he's not happy.
30'   Costa with the strike. Mistake at the back by Real Madrid. Navas saves at the near post. Corner.
28'   Thomas to Juanfran. Decent spell by Atlético but that ends up going out for a goal-kick with Lucas stretching for the ball in behind. 
28'   Varane nearly strikes it home. Blocked at the front post. Then it's sent back towards goal and Bale tries to head it with Ramos behind him but that's no use.
27'   Ronaldo fouled by Juanfran. He got the ball as replay shows. Juanfran pleads but the ref doesn't listen. Kroos ready to swing it in.
24'   Juanfran with a reckless challenge. Asensio hits the ground. Real Madrid attack. Kovacic strikes after receiving the ball from Carvajal.
23'   Cleared by Atletico but Real Madrid recover.
23'   Corner Real Madrid again.
22'   Lucas surges forward and has it taken off his foot. Atletico recover and Koke gets it after a nice stepover from Vitolo. He kind of falls over and attempts a backheel while still on the ground.Navas gathers.
21'   Kovacic gets the ball at the edge of the penalty area, feeds Asensio and he sends it to the back post. He might have been a little but more selfish and shot there.
20'   Ronaldo picks it up in behind Partey and lets fly with a shot. Oblak tips it over. Marcelo sends it in and Real Madrid win another corner.
19'   Costa with the ball in the back of the net. But he fouled Ramos, quite clearly, in the build-up.
17'   Costa chases down a long ball but Ramos is cool as he plays it back to Navas and Real Madrid work it out.
17' Vitolo booked now. Not enjoying his first start with Atletico Madrid at the Bernabeu.
17'   Lucas hits the ground under a tackle from Vazquez. He wins the throw and nothing else. Quite a chippy affair so far.
16'   Back post, headed clear and Partey picks it up again. 
15'   Juanfran wins a throw, plays it to Vitolo but that's too short. Atletico Madrid win the corner as Marcelo clears.
14'   Kroos booked for a late tackle on Griezmann. Late and a little bit of frustration coming out there.
14'  Ball into the box and Bale jumps for it. Gets a glancer on it but nothing else.
12'   Vitolo tries to battle with Kovacic, who stands his ground and wins a free in his own penalty area.
11'   No penalty! Looked like it was. Kroos taken down by Godín and the ref looked like he pointed to the penalty spot but he says no. Real Madrid players upset with him but he jogs off untroubled.
11'   Lovely ball by Marcelo into the box but Lucas heads clear. Shot comes in from Asensio and it's blocked out by Atlético. Another corner.
10'   Ronaldo at the back post. Flicked on by Bale and Ronaldo almost turns it home. So, so close but Oblak answers the call.
9'   Godin heads a cross out for a corner. Kroos to take.
9'   Real Madrid bossing possession here early on.
9'   Kovacic recovers the ball from Griezmann.
8'   Dangerous cross from Asensio. Headed out by Lucas and Real Madrid take the corner quickly. 
7'   Ronaldo is Marcelo's target for a pass but they win a corner as it's cut out. Marcelo strikes from the corner as it falls to him. 
6'   Thomas gives the ball away twice in as many seconds (roughly) and Real Madrid build.
5'   Kroos with the in-swinger and that's caught by Oblak.
5'   Savic with a foul on Asensio. Unneccesary and the referee agrees. He wants to keep a lid on this one from the start!
4'   Griezmann gets the ball at the edge of the box and Saul takes over but Costa is ruled offside as the ball spins up into the air.
4'   Juanfran with a foul throw. Rare.
3'   Kroos spreads it out to Marcelo. Real Madrid doing a good job of holding the ball. They attack down the right again and Vazquez cross blocked again. Oblak gathers.
2'   Bale drives forward and his cross is blocked by Savic. He finds Vazquez and Thomas wins it back.
1' Early tactical assessment. Koke on the left and Vitolo on the right.
1'   We are underway! 
We're all set at the Bernabeu. Teams in the tunnel and ready to go!
This is the second time Bale, Ronaldo, Asensio and Vazquez have started together this season. They beat Real Betis 5-3 in that one but it was a really poor performance in the first half.
    Diego Simeone says Real Madrid have the best squad in the world, "better than PSG, City and Barcelona's", and he says he couldn't decide on too much before he got the team news. Asensio, Vazquez, Bale and Ronaldo all start, which is rare for Zidane and now you get a feeling or what Simeone meant.
Two teams out on the field and warming up. Diego Costa, as ever the joker in the group, has a laugh with his teammates. He's making Saul chuckle. Sunny but chilly Sunday in Madrid and the possibility of rain is 30%. It's been on and off here all week. Bring your brolly if you're heading for the game!
There's a strange feeling around this one. Real Madrid would normally be looking to the Champions League but there defeat of Juve means that game is somewhat dead in the water. Atlético gave Sporting Club a bit of a beatdown too and with news that Bruno de Carvalho suspended the majority of his first team squad, that game is a bit of a dead rubber too. 
Antoine Griezmann has 12 goals in his last 10 league games and 24 goals in all competitions this season. Ronaldo has 18 in his last nine games! He also has 39 in 36 games this season. What a remarkable record.
Is the Juventus game put to bed? If so, Zidane has no problem, but if you think it's not then he has an issue at the back. Sergio Ramos is out with a suspension. So if Nacho, with an injury and Vallejo is out after pulling up in training too. He has one fit centre-half for that game and Varane has struggled himself recently. The last thing Zidane needs today is an injury to the Frenchman.

Here is the top six in La Liga. Barcelona running away with it and someone will drop points today so they're fine but Real Madrid, after their poor league campaign, could still finish second. Atlético, after getting knocked out of the Champions League early, could finish ahead of their much richer neighbours. So there's still plenty at stake this afternoon in the capital.

Attacking midfield from Simeone! that's interesting. Gabi left out with Thomas and Saul at the base of midfield and Koke and Vitolo on the wings. Costa and Griezmann up front! 
  Atlético Madrid XI: Oblak, Juanfran, Savic, Godin, Hernandez, Vitolo, Partey, Niguez, Koke, Griezmann, Costa.
Looks like Zidane has rested Kroos, Benzema and Isco ahead of the Juventus second leg. If Bale impresses though, he might find himself starting in that game.
Real Madrid start with Gareth Bale and Cristiano Ronaldo. Let's see how the pair line up with Ronaldo potentially playing on the left with Bale as a striker.
What better way to build up to a derby than to analyse a best 'of the ages' XI from both sides, selected by AS' in-house experts. Di Stéfano, Falcao, Roberto Carlos, Cristiano, Simeone, Raúl.... Who would come out on top?

  Oh, and apparently Ronaldo did some sort of goal in Turin.
  Real host Juve this midweek 3-0 to the good in their sides' Champions League quarter-final tie, while Atlético go to the Bernabéu today fresh from a 2-0 first-leg win over Sporting CP in the Europa League last eight. It's fair to say the Portuguese club's president wasn't too impressed with his side.
  Real Madrid defender Jesús Vallejo has been ruled out of the Atlético game after pulling up in training, which, with first-choice centre-back pairing Sergio Ramos and Raphael Varane both available, isn't so much of a problem today. However, Ramos is suspended for Wednesday's Champions League second leg against Juventus, so Real are somewhat banking on Vallejo being able to fill in for the club captain then, given that Nacho is also out.

"Real Madrid have the best squad in the world," declared Atlético Madrid coach Diego Simeone. "It's tremendous and better than PSG, City, Barcelona." Asked how he will approach the derby, Simeone said, not altogether unsurprisingly: "We are who we are and we will look to base ourselves on work and the collective to play an important game." 

Both coaches offered their thoughts on the derby in yesterday's pre-match press conferences, with Real Madrid boss Zinedine Zidane saying that the form of Atlético's Antoine Griezmann is "no surprise" and, when asked about the ever-diminishing big-match game time being given to Gareth Bale, commenting: "If a player doesn't play in a couple of games it doesn't mean anything. He's still an important player." Meanwhile, Zidane also revealed that there will be no Clásico guard of honour for Barcelona should the Catalans seal the title before the sides meet at the Camp Nou in April.
By the way: should you be looking to park yourself in front of TV screen to take in the LaLiga week 31 clash in Madrid, you might wish to peruse our useful guide on how and where to watch.

 Kick-off is at 16:15 CEST, with second-placed Atlético heading to the Bernabéu four points ahead of their hosts, who sit third. It's a match-up that will go a long way to deciding which of the two sides finishes second behind champions-elect Barcelona.

Good afternoon! Join us for live build-up ahead of this afternoon's Madrid derby at the Bernabéu!

Real Madrid vs Atlético Madrid live: preview
Real Madrid welcome Atlético Madrid to the Santiago Bernabeu for a Madrid derby that will do little to decide either side's season but, like any derby, has plenty at stake. Real Madrid's league form has been poor this season and Atlético can't catch Barcelona. For Atlético, finishing ahead of Real Madrid is an objective and at the Bernabéu, it is seen as something that simply can't happen. It's Zidane versus Simeone at the Bernabéu with kick-off at 16:15 on Sunday.
Today is seen as a massive chance for the likes of Gareth Bale and more as Zidane assures everyone that he will stay at the club next year. Real Madrid do face a minor defensive crisis with Jesus Vallejo ruled out of the derby. Raphael Varane is just back and Sergio Ramos is out of the Juventus game and he has to move around some pieces on the puzzle that is his back line to make sure he everyone available for that Champions League game. Sergio Ramos and Diego Costa will be able to renew acqueintance as their derby day battles have become a think of lore.
Diego Simeone says Real Madrid have the best squad in the world and says he can't decide on what way to play until they have their team sheet in hand. Diego Costa has refreshed Atlético and Antoine Griezmann too as he pushes him on to a new level in the rojiblanco jersey. It might be the French attacker's last derby but he will surely be a factor given his recent form.