REAL MADRID 1 - 1 ATLÉTICO MADRID
Cristiano Ronaldo scores 500th LaLiga Madrid derby goal
With the two goals in the derby at the Santiago Bernabéu on Sunday, it took the total to 501 goals in 162 meetings between the local rivals in LaLiga.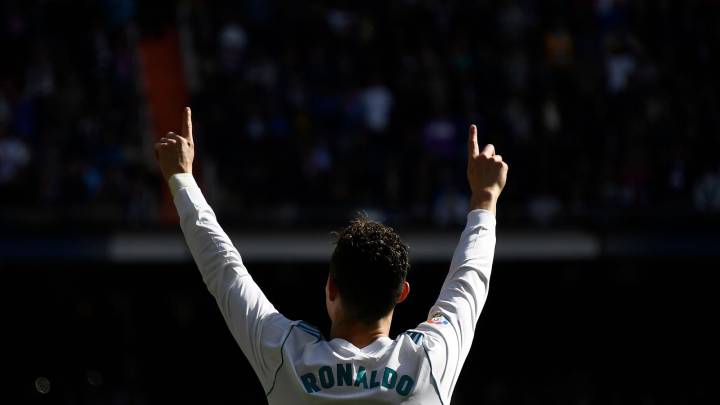 Real Madrid's Cristiano Ronaldo scored the opening goal in the Spanish capital derby which was also the 500th in games between the two sides in LaLiga. Antoine Griezmann equalised for the visitors shortly after, taking the current total figure to 501 in 162 matches.
El Derbi goals 500 and 501
The first half had no goals to show for itself at the Santiago Bernabéu, where home supporters had paid tribute to the Portuguese goal machine and teammates after their impressive win in Turin last week. But early into the second half and Cristiano held his position at the back post to meet Gareth Bale's deep cross and volley Madrid ahead.
Just four minutes later Atlético were level. Griezmann latched onto a loose ball in the area in minute 57 and fired home.
Out of the 162 league meetings between these two rivals, Los Blancos have won 86 of them (53%), the Rojiblancos 39 (24%) and 37 have been drawn (23%). The goals tallies for both sides sits at 286 for Madrid and 215 for Atleti.
More Cristiano Ronaldo milestones
As well as notching goal number 500, it was also the Madrid number seven's 22nd against the neighbours, stretching the record he has of most goals in the derby, ahead of legends Santiago Bernabéu and Alfredo Di Stéfano, who had each scored 17. Not only that but it was also his 650th goal for club and country, his 40th of this season (the eighth successive season he's acomplished that feat), and the 10th game in a row that he has got himself on the scoresheet (something he hasn't done since November 2014).
Out of interest, those that scored the goals for each derby century were: Adrián Escudero (100), Ferenc Puskas (200), Ricardo Gallego (300) and Fernando Morientes, who in 1999 scored the 400th.