REAL MADRID 1 - ATLÉTICO 1
Zidane: I don't like that they say we're favourites for the Champions League
Simeone said Real Madrid were favourites for the Champions League and Zidane said he didn't want to hear that kind of talk and that Real Madrid can't think like that.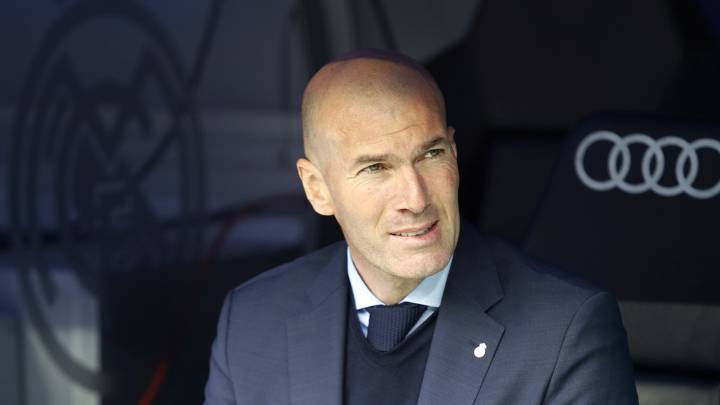 Zinedine Zidane quotes from after the Madrid derby. First was the interview straight after the game with Real Madrid TV and then in his press conference at the Santiago Bernabeu.
The game: "Happy with what happened in the game. We deserved more today. It's a pity because we had a lot of chances. In the end, we could have lost because that's football but we had many chances. The ball wouldn't go in. We had 10 minutes after their goal that were very difficult and they couldn't score on us. I'm content because we had a lot of intent to play and press. The pity is not to get three points."
Cristiano's substitution: "Yes, that's it. We have many games and that's it. From time to time, he has to rest and that's it."
Do you know who you will play in defence: "No, because we have to see how Jesus is. Yesterday, he felt something. When a player has problems we don't want to take the risk. I hope that it's something small and that he's with us on Wednesday. And if not, we will see what we will do. At the moment, first we will see how Jesus is."
Simeone said that Real Madrid are favourite to win the Champions League: "I don't like that and I don't want to hear anything. We have to think about the game on Wednesday, it's a return leg and nothing more. You have to only think about this. The rest doesn't interest me. Not what happened or what is in the future. Only Wednesday. Opinions of people.... nothing, we concentrate on what we have to do."
Why don't you beliebe you are favourites for the Champions League? How will you motivate your players? "Precisely because of this, because the whole world thinks we have already won. This is not how we must think. We can't think we are in the semi-finals. All of the world will try to say that we are in the semis and that we will win the Champions League, but we will suffer a lot on Wednesday."
Would you like to manage Oblak one day? "He is very good but he's not my player. But he is very good. He shows it in every game, in everything he does. The free from Ramos was a save and that's it. But he's not my player."
Having a dependency on Cristiano: "I am not thinking about this. Cristiano is Cristiano, and all of his life he was this player, scoring 50 or 60 goals every season. And it's true, nobody else does what he does. But there are others that can score and who have done it lately. We have to think positively, but the best is that Cristiano is with us."



LaLiga Santander
*Update 8 de abril de 2018