Barcelona can smell LaLiga title against Real Madrid in Camp Nou
Calculators have been out and permutations considered as to when Valverde's Barça will be crowned LaLiga champions and how that fits with El Clásico on Matchday 36.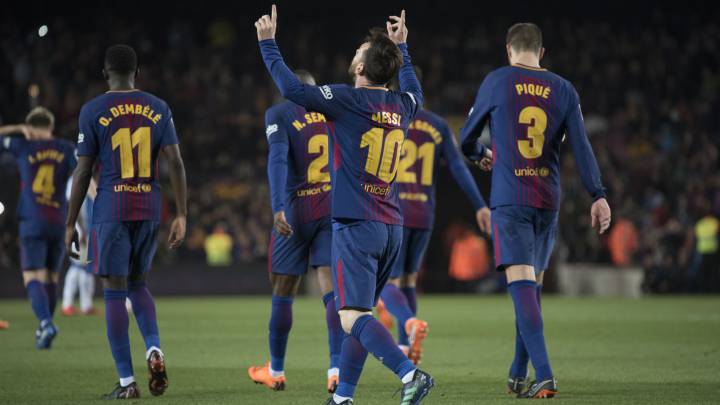 After the 1-1 draw between Real Madrid and Atlético in the Santiago Bernabéu on Sunday, Barcelona are another step has closer to LaLiga title. And thoughts are already on exactly when they will cross the finish line.
Ernesto Valverde's first season at the helm for the blaugrana club is proving rather successful and with 31 games played his side sit 11 points better off than Simeone's men and 15 ahead of Zidane and co. There are only seven more games to be played, allowing a maximum points collection in that time of 21. Madrid's draw reduces the possibility of the potential Madrid guard of honour for their bitter rivals on the day that they travel to Barcelona for the Camp Nou Clásico on Matchday 36. On the other hand, it does increase the chances that El Clásico is when LaLiga is won... that is assuming that the top teams do what is expected from them in the coming weeks.
El Clásico to clinch LaLiga 2017/18
If Barcelona, Atlético and Real Madrid win all of their games between now and the Clásico - or at least maintain the same gap between each other - everything points to a the game in the Camp Nou being the title clincher, with a draw being good enough to take it. Part of the reason for this is that Barça will still have three games to go, thanks to the scheduled game against Villarreal being postponed from 21 April to 9 May due to the Copa del Rey final commitments.
From Barça's point of view, they know that if they win next Saturday against Valencia at the Camp Nou, overcome Celta Vigo on Tuesday 17 and take care of Deportivo at Riazor, regardless of what their rivals do, a draw against Madrid would be the most they'd need to be proclaimed champions of Spain.
That circumstance can be accelerated if Atlético drop points in one of their four matches prior to the Barça-Madrid clash. It's worth repeating that Atlético have four Liga games - Levante (H), Real Sociedad (A), Real Betis (H) and Alavés (A) - in the same time period as Barça's three. Valverde then completes the league with three games after El Clásico.
Barça end of season incentives
Valverde's squad has added incentive to keep fighting for every game in the league as they target the unprecedented achievement of going a full league-winning season without losing. This weekend's win meant they joined Real Sociedad's consecutive games record, and if they avoid defeat in the final six games (a team in white may have something to say) they will be the first to do so since the top division had 20 teams competing.
However, they will be also very aware that there are bigger fish to fry and their 4-1 lead over Roma in the first leg has them on the verge of the Champions League semi-final stage. These games will clearly take priority billing for key players so more rotation may be seen in the league campaign.