Zidane: "Benzema is having a rough time of it..."
The Real Madrid manager said during his press conference ahead of the Juve game that his striker is suffering under the weight of criticism this season.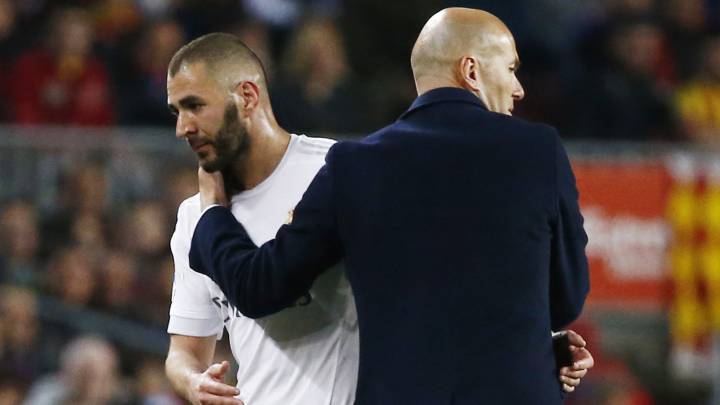 Karim Benzema only came off the bench for 26 minutes of the Madrid derby on Sunday but even that brief cameo was sufficient for further criticism of the striker's season to rain down on his head.
Benzema managed only five touches during his appearance in the Bernabéu, missing one of his attempted passes and not managing a single shot either on target or off.
The Frenchman is going through one of his worst spells in front of goal since joining Real Madrid in 2009, scoring just nine times in all competitions at a rate of a goal every 284 minutes.
Zidane: "Benzema would like to score more goals"
The striker has been subjected to endless whistles and jeers in the Bernabéu and during his pre-match press conference ahead of the return leg against Juventus in the Champions League, Zinedine Zidane admitted that Benzema is under a cloud due to the level of criticism he is receiving during a testing campaign.
"I see him the same as always, the only thing is that he himself is going through a bit of a rough time because of all the things being said about him. He would like to score more goals, but he is working well in training, he is always there with his teammates and he is focused. But he would like to score more goals and to get out of this rut."
Benzema is expected to start against Juventus on Wednesday alongside Cristiano Ronaldo, when he will hope he can find the net for a third time in the competition this season as Real seek to maintain their three-goal advantage from the opening leg.



Champions League
*Update 10 de abril de 2018