CHAMPIONS LEAGUE
Roma 3-0 Barcelona Champions League 2018: match report
Goals from Dzeko, De Rossi and Manolas saw Roma through to their first semi-final since 1984 and sent Barcelona crashing out of the Champions League. USA vs Mexico: FIFA Friendly live online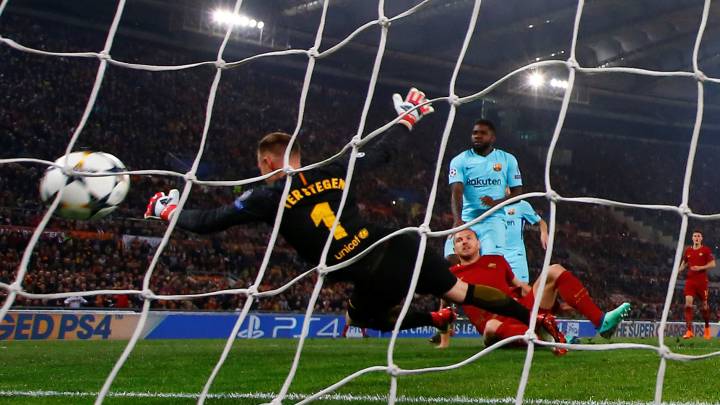 Roma 3-0 Barcelona: match report
Barcelona were knocked out of the Champions League after a thundering performance by Roma to see them through to the semi-final of the Champions League. For the first time since 1984, the Italian side are amongst the best four teams in Europe.
And based on the performance at the Stadio Olimpico, they're worth their place amongst the elite. The gameplan that Eusebio di Francesco involved a lot of running, pressing Barcelona's midfield and limiting the space Messi so often thrives in.
It worked perfectly and while they were helped with their elevated performance since a week ago, Barcelona's lack of intensity hurt them from the start.
The game was a little of two minutes old when Edin Dzeko beat two Barcelona defenders and an unusually hesitant Marc Andre Ter Stegen to give the home side the lead. There was a hint of belief in the air but nothing to get excited about just yet.
It was a bruising encounter and a proper battle in the trenches in the middle. Daniele de Rossi and Ivan Rakitic were going at it every chance that presented itself and Radja Nainggolan was like a man possessed as he looked to be taking up a number of positions.
The second half started and while Roma still believed, it looked like it was going to be a moral victory. They were set to win the battle but lose the war.
Edin Dzeko was pulled down by Pique in the penalty are just before the hour mark and that wind that carried with it hints of belief was starting to pick up. Daniele de Rossi drove the penalty home and Roma were thinking comeback.
On 82 minutes, Roma led 3-0 and were going through. Konstantinos Manolas headed home a corner at the front post and Barcelona's Champions League hopes lay in tatters.
They tried to force their way back into the game but Roma weren't having it. They had come this far and weren't in the mood for handing anything out for free. Even in the closing stages, Barcelona failedto register any damage and Alisson's goal was barely troubled.
Di Francesco said his side would have to perform a miracle to get themselves out of the hole the dug themselves into in the first leg. And as far as footballing miracles go, events at the Stadio Olimpico on Tuesday night are probably as close as you're likely to come.
Roma vs Barcelona live stream online: minute-by-minute commentary
90'+4'   GAME OVER! Barcelona well and truly embarrassed here. 3-0 it ends and Roma into the semi-final.
90'+4'   Suarez was offside as it bame back in.
90'+4'   Fazio heads the goal-kick clear. 
90'+3'   Goal kick for Barcelona. 
90'+3'   Dzeko fouled by Andre Gomes. 
90'+3'   Pique absolutely crunched and Dembele strikes but it's over the bar.
90'+2'   Ball threaded through and Alba gathers and clears.
90'+1'   Ball sent into the box and Alisson saves. Four minutes to be added on here!
90'   Kolarov into Barca territory but fives it away. Ball comes across to Suarez and he strikes it off a defender. 
89'   Busquets replaced by Paco Alcacer.
89'   Corner cleared at the front post.
89'   Messi and Alba combine. Mesis sends it across goal. Cleared. 
89'   Barcelona tasked with going from 2nd to 5th gear here for the last two minutes. 
88'   Ball comes in and Alisson is out to header clear with Dembele breathing down his throat. A few very nervous moments here for Roma. And for Barcelona.
87'   Messi runs into the box. Bobbles off a few arms and Messi eventually strikes but Alisson is comfortable.
86'   Umtiti and Pique collide. Barcelona on the attack now.
85'   Semedo off for Dembele.
84'   Under with the cross now and that's not use whatsoever. A mile wide. Ter Stegen speeding things up now.
84'   Where do Barcelona go from here?
82'   GOAL! GOAL! GOAL! What is happening. Roma going through as it stands. Manolas with the header.
82'   Umtiti clears. Corner for Roma.
81'   Under with a chance. He sends it towards Ter Stegen who covers it easily. 
81' Iniesta coming off. Andre Gomes coming on.
79'   El Shaarawy with the chance of the back post. 
79'  Sent into the the box and into the air. From the left and it's sent to the back post. Ter Stegen saves. My word what a save that was. Roma on the brink here and Barcelona are struggling.
79'   Roma win it back and get ready to launch. 
78'   Messi on the edge of the box. He gets dispossessed but Barcelona keep it. Let's see what they can do with this. 
77'   Nainggolan replaced by El Shaarawy.
75'   El Shaarawy about to come on for Roma.
75' Suarez on the ground. Juan Jesus catches him with a hand across the face.
74'   Dzeko feeds Under. His first touch and he curls it wide with his left foot. Poor effort and a wasted chance. 
73'   Messi strike. Into the waiting arms of Alisson.
71' Schick replaced by Under.
71'   Suarez gets himself a yellow. Not sure what that was for. Something off the ball.
71'   Dzeko gets the ball in the area. His touch takes it into the path of Alba and the striker fouls the left-back. 
70'   Barcelona get their foot on the ball. Long ball to Mesis no hope.
69'   Comes in from the left and De Rossi heads just inches wide. Fazio with another excellent cross.
69'   Corner for Roma.
68'   Dzeko sends a ball into the box. headed clear and Strootman sends it back in. Nainggolan drives a shot low and into the corner but Ter Stegen sees it coming and saves.
67'   Sergi Roberto offside as he battes with Juan Jesus.
66'   Ter Stegen taking his time over the goal-kick.
64'   Strootman with an ambitious effort. Miles wide!
63' Messi booked now. Kolarov tripped on the break.
62'   Suarez handles the ball from a Florenzi clearance. Obvious, really.
61'   Nainggolan chops Rakitic down. Play continues. This is full on now! Hell for leather stuff.
60'   Roma need just one now.
59'   Ter Stegen went the right way but De Rossi's penalty was too powerful. 
58'   De Rossi takes! GOAL!
57'   Roma win a penalrt. Dzeko versus Pique and he pulls the attacker down! No doubt. 
56'   Schick and Umtiti do battle in the penalty area. The defender stands up well and Schick falls. No penalty.
55'   Suarez chases down a ball down the left but it's gone out before he reaches it. Long diagonal ball to Kolarov but Semedo gets there first and the former Man City left-back fouls Semedo.
54'   Iniesta pulled to the ground by Strootman. Free for Barcelona.
54'   Jordi Alba with a hand to the face of Florenzi and he hits the turf. Alba lucky not to be booked. 
53'   Messi flicks one into space for Alba to run onto. He thinks he was obstructed.
53'   Suarez battles for and wins the ball. Messi picks it up inside the boz but loses again. 
53'   Manolas throws Sergi Roberto to the ground. No free. 
52'   Kolarov sends a ball in low that Umtiti clears. 
51'   Roma on the attack again. They have a throw here and attacking down the left.
50'   Florenzi crosses and it beats everyone. Sent back and beats everyone again. Barca survive and recover.
49'   iniesta fouled by Schick.
48'   Roma need a goal soon or this will go down as a moral victory.
47'   Poor pass out from the back by Fazio. Throw Barcelona.
46'   Back underway at the Stadio Olimpico.
45'   Half.time. Roma players absolutely raging with the referee. He tells them to go in and gives them the death stare. Great half of football, it must be said.
45'   Messi back up. That looked like a sore kick to the calf. 
44' Juan Jesus booked now for crunching Messi. 
43'   Dzeko wants a corner now but the referee says it caught him last and not Pique. Barcelona hanging on here until half-time. Roma getting slightly tired.
42'   Dzeko brings the ball into the corner and plays it to Kolarov. He sends it into the box but Dzeko blocks it.
41'   Messi, over the bar! Poor free from the Argentine. I suppose he's allowed the odd one.
40'   Fazio needs to be careful here. Referee has another word with him and he really needs to just shut up. Free for Messi now outside the box. Dangerous position.
38' Booking for Fazio now as he takes Suarez down. The striker used his body well and Fazio dived into the back of him.
38'   Worked short again but whipped in this time. Dzeko heads wide again.
37'   Ter Stegen with a save from Dzeko. He taps it over the bar. Cross deep to the back post and Dzeko heads it back towards goal. Corner.
37'   And that's what they do. Rakitic with a foul now and Roma have the chance to whip this one in. 
36'   De Rossi very lucky not to go into the book for that one. He takes Rakitic out from behind as Barcelona try to mount an attack. Seems as though Barca have weathered the storm but every time I think that, Roma drive forward again. 
35'   Another attack by Kolarov but Barcelona defend it. Roma continue to push forward. Mostly down the left and right but Nainggolan in the middle has been a driving force too.
33'   Corner for Roma. It comes to nothing as they work it short and try to run it into the penalty area. Iniesta fouled.
32'   Penalty! Surely! Umtiti handles a rebound and the referee says no. I'll tell you this... that was close.
31'   That's a foul by Busquets on Schick. 
30'   How did he miss? Schick with a free header. Fazio with a lovely ball. Ter Stegen stranded.
29'   Long ball over the top to Messi. Alisson rushed off his line to put an end to that plan.
28'   Messi fouled now. Barcelona a chance to settle it down a bit.
27'   Roma putting pressure in the middle of the field and leaving Barcelona isolated and with no options. They're winning it back and breaking with purpose. 
26'   Corner. Kolarov cuts inside and Pique slides in to take it off his foot. That was close! 
25'   Roma are playing really well. Dzeko drops his shoulder, spins and drives a strike over the bar. Decent chance for the home side.
24'   Rakitic and De Rossi collide and have words. Barcelona with more possession now. Iniesta fouls Strootman as Roma break. Lucky not to be booked.
23'   Barcelona play it across their back line. Quite risky but they figure it out through Semedo and Pique. then Busquets is fouled by an over zealous Edin Dzeko. 
23'   Alex Ferguson at the game tonight. Throw for Roma.
21'   Strootman to Florenzi and it's crossed into Dzeko. Headed clear by Pique. It comes back to Roma and it's sent back in. Umtiti puts his head down to head that clear and Kolarov sends it back towards goal. nainggolan can't wrap his foot around it. Roma enjoying this but they need another one to truly believe.
19'   Nainggolan fouls Semedo. Free Barcelona. The Belgian is playing really well here and has added a different complexion to Roma's midfield.
18'   Iniesta fouled by Fazio in the middle. 
17'   Long, diagonal ball to Florenzi and he takes it down but Alba wins it back. Barcelona need to slow things down here and take control back. 
16'   Ball pops up to Nainggolan and he strikes. A mile wide. 
15'   Schick drives forward, he feeds Dzeko and he hits the ground but that's no free. Busquets the man who was the man tackling.
14'   Corner comes in and Shick heads just over. Ter Stegen came out and tried to fist the ball but it didn't get that far. He just punched Pique in the end.
13'   Dzeko with a cross. Put out by Alba and that's a corner. Barcelona far from comfortable here.
12'   Roberto sends a hopeful cross high and into the hands of Alisson. Waste of possession really.
11'   Nainggolan with the ball into the box but Umtiti cuts that out. Barcelona doing some defending. 
10'   Messi with the free. OVER! Nice contact but it was always too high.
9'   Messi bearing down on goal and Juan Jesus comes out and puts an end to that run. Free Barcelona from a dangerous position. Messi in lethal form from free-kicks lately.
8'   Not the greatest start by Roma but that's a lovely take and finish from Dzeko. The Stadio Olimpico is bouncing. 
6' GOAL! Dzeko gets on the end of a through ball and scores. He pokes it by Ter Stegen.
6'   Suarez to Messi. He has Rakitic in support but decides to twist and turn and send it back into the box. Roma clear but are under pressure.
5'   Penalty?!?! Kolarov hits the ground under a tackle from Semedo but it's a goal-kick.
5'   Messi shoots now with his left. The ball had to have taken a bobble there because it went a mile wide and Messi doesn't miss like that! Wide. 
5'   Barcelona straight up the other way and Sergi Roberto drives on into Alisson's feet. Good strike.
4'   They win it back but lose it before Fazio wins it again and passes it straight to Pique. Dzeko had done the other way.
3'   Roma chasing the ball here, and shadows more accurately. 
2'   Jesus with another clearance for a throw. Heavily involved in the opening two minutes!
2'   Jesus again covers and fouls Sergi Roberto this time. Looked like both parties were committed there. Ref didn't see it that way.
2'   Long ball to Sergi roberto to start things off. He chases it down the right and Jesus clears.
1'   We are underway at the Stadio Olimpico. Let's see if Roma can get an early goal and make a game of this!
    Lovely rendition it was too!
Two teams in the tunnel and ready to make their way onto the field! The band is warming up their Champions League anthem rendition.
Roma's manager, Di Francesco, says his side "need to produce a miracle" to turn this tie around. The absence of Cengiz Under doesn't help. The attacker is reportedly a target for Barcelona and would have really helped Roma tonight. 
Lionel Messi has scored just two goals in his nine Champions League games in Italy. Although, when people were saying he had an issue against Chelsea, he went out and scored three in two legs to knock them out!
Messi is fit despite concerns over his fitness and Sergio Busquets is back too after missing the Leganes game at the weekend. Nainggolan is back for Roma and he will be tasked with driving them forward but there's only so much he will be able to do! If Barca get a goal or two early, I'd expect Valverde to rest a couple of players like Busquets and Iniesta as soon as he can.
Barcelona XI: Ter Stegen, Semedo, Pique, Umtiti, Alba, Busquets, Sergi Roberto, Rakitic, Iniesta, Messi, Suarez.
  Roma XI: Alisson, Manolas, Fazio, Jesus, Kolarov, Nainggolan, De Rossi, Strootman, Florenzi, Dzeko, Schick.
Hello and welcome to out live online coverage of Roma vs Barcelona in the Champions League quarter-final second leg. Barca lead 4-1 from the first leg and Roma have it all to do! Kick-off from the Estadio Olimpico at 20:45 CEST.
Roma vs Barcelona live steam online: preview
Two own goals by Roma's Danielle de Rossi and Kostas Manolas helped Barcelona into a healthy lead heading into the second leg of their fixture at the Stadio Olimpico. The return fixture sees Vaverde's side travel to Rome to play Di Francesco's men with a 4-1 headstart after the first ninety minutes of the tie - the other two goals were scored by Gerard Pique and Luis Suarez. Kick-off from Rome is at 20:45 CEST.
The big news for Barcelona is that there is no news as Sergio Busquets and Lionel Messi are both fit enough to be included in Valverde's squad and look set to start. Aside from that, Lucas Digne remains out and Phillippe Coutinho is ineligible and will also miss out.
For Di Francesco, he can welcome Radja Nainggolan back to his side but is missing Diego Perotti, who injured his calf recently. The Roma manager is hoping for a passionate display in front of their home crowd, "We'll play our strongest line-up against Barcelona. We must play with passion, heart and belief right up until the final whistle if we want to do the unthinkable. We have a duty to give it everything."