EUROPA LEAGUE
Sporting CP 1-0 Atlético Madrid Europa League
Atletico Madrid scrape through to the Europa League semi-final despite losing 10 to Sporting Clube de Portugal on Thursday night.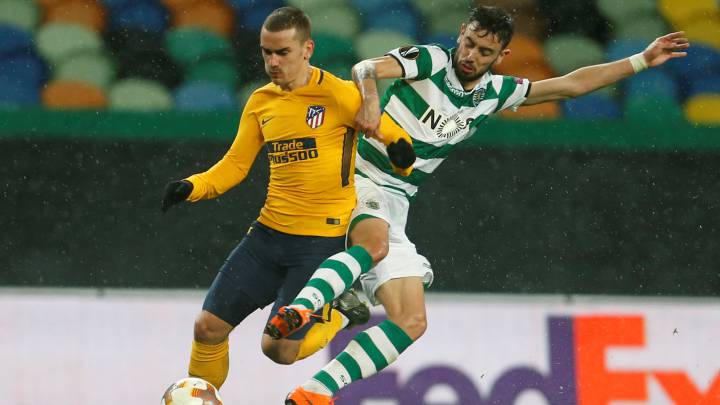 Sporting Clube de Portugal vs Atlético Madrid: as it happened
90'+3'   Nervous moments for Atletico but that's it. Atletico into the semi-final.
90'+2'   Corner. Battaglia knocks it off Saul and keeper and all up the field.
90'+2'   One last attack for Sporting. Gelson all the way across the box. 
90'   Backs to the wall stuff. Shot comes in and that0s too high as Oblak sees it sail over the bar.
90'   Sent into the box. Not cleared fully.
90'   Sporting with a last chance or two.
90'   Godin heads clear. 
87'   Gabi fouls after Correa loses the ball.
85'   Gelson Martins wins the ball back and counters. Sporting don't have the quality to hurt Atletico but they're trying their best. 
83'   Through on goal again and Griezmann misses again! Just not his night.
81'   Griezmann one-on-one and Rui Patricio saves it. That would have ended the tie but Griezmann misses.
77'   Griezmann goes really, really close but wide from the free.
75' Fernandes fouls Griezmann on the break. Booked and Atletico finally have a sustained attack.
73'   Correa falls this time. Sporting up the field and Oblak gathers. Two poor teams here.
73'   Another Atletico attack comes to absolutely nothing.
72'   Another one comes in and Oblak gathers.
70' Yellow for Torres. Nasty one by Torres down the back of Acuna´s calf.
69'   Another counter breaks down for Atletico and strike comes in forcing another save from Oblak.
68'   Atletico with a chance to counter and the ball doesn't arrive to Griezmann. Vrsaljko hits the deck and it's a throw.
67'   Just a late foot left in on Godin.
66' Yellow for Montero. He sythes Godin down.
64'   Shot from Fredy Montero and Oblak saves. Easier for Oblak than it might have looked byt Sporting still testing the keeper.
62'   Atletico looking slightly more dangerous now. Torres heads wide at the front post.
62'   Torres with a chance now. Lovely ball by Griezmann into Torres' path. His shot is blocked and put out for a corner. 
61'   Griezmann races clear and he is offside. Close but replay says linesman got it spot on.
59'   Vitolo gets a talking to by the ref to hurry up going off.
59' Correa ready to replace Vitolo.
58'   Ball falls to Griezmann on the left and he hesitates. He strikes from a difficult angle and tests Rui Patricio but that's easy for the keeper.
57'   Coates with a chilena. Not bad at all but Oblak never under pressure.
56'   Dangerous. Ball into the box and Acuna and Montero link up. Saul gets it out for a corner but that was close. Nice move from the home side.
55'   Bruno Fernandes with a bending shot that is bending the wrong way. It goes well wide btut Sporting are threatening again.
53'   Atletico's injury crisis is becoming a joke.
51' Costa signals for a change too. Fernando Torres replaces him.
51'   Costa offside.
50'   Thrown in by Vrsaljko and eludes everyone before going out for a throw.
49'   Atltico slightly more coherent in this half but sill not much happening in front of goal. Vrsaljko wins a throw.
48'   Koke and Griezmann link up and Costa gets involved. He sends it back towards Griezmann and his flick is nice before Rui Patricio gathers.
47'  Vitolo down the right and hesistates to cross before having the ball taken off his toe.
47'   Bruno Fernandes fouls Savic. 
46' Sime Vrsaljko replaces Lucas Hernandez.
45'+2'   That's it from the first half. 
45'+1'   Atletico survive again. Wouldn't fancy being an Atletico player at the break. Simeone might get violent! 
45'+1'   Two minutes of added time.
45'   Sporting on the break again. Bryan Ruiz with a thundering strike from outside the box. Oblak knocked it over the bar. Corner.
45'   Griezmann wins it back and loses it as quick.
44'   Offside for Atletico again. Free for sporting and Acuna and Gabi do battle. Throw. 
40'   Sporting on the move now. Acuna and Martins link up and sent it back. They're playing the long game now. That first goal has really given them a reason to believe. They're passing it around Atletico.
38'   Again. Atletico attack and Costa's offside. Just a little bit too antsy is Costa tonight. 
37'   Koke buys himself a free as Ristovski catches his legs. He needs to be careful does the defender.
36'   Yeah another nasty one. Vitolo fouled by Coates. Lucky he's not booked for that. Caught him right on the thigh.
35'   Corner falls to Ruiz just inside the box and he strikes. Oblak saves after it takes a deflection.
35'   Acuna and Juanfran down the left and Juanfran loses out. Corner Sporting in the end as Acuna's cross is blocked. 
34' Ristovski booked for the elbow to Lucas' jaw earlier. He's still feeling his face. Sore one.
33'   Atletico have woken up but just slightly. Gabi strikes and it deflects out, looks like it's going for a corner, but Rui Patricio gathers it.
32'   Griezmann takes the free down and into Godin's path but his touch is far too heavy as it slides out for a restart. 
30' Petrovic replaced Mathieu earlier. We missed that one.
30'   Lucas Hernandez is down injured. His jaw is the problem and he looks to be in real trouble.
28' GOAL! Montero knocks it home at the back post. It hit the post from the cross and made it's way to Montero and he knocked it home.
26'   Ristovski fouls Vitolo with a fairly obvious push in the back. Atletico can't make it count though as the ball gets sent towards Vitolo as he streaks forward. Rui Patricio gathers. All the game being spent with the ball at Sporting's feet and far away from their goal.
25'   Ball in from the left and it nearly falls to Gelson but it comes at him too fast. Atletico clear.
22'   Looks like Jeremy Mathieu can't continue. He isn't comfortable as he walks to the sideline.
22'   Gelson wins a corner for Sporting. He is a really lovely attacker and constantly a thorn in Atletico's side. 
20'   Referee having a word with Simeone, who appreciates he was wrong, shakes the refs hand and apologises.
20'   Koke dispossesses Ruiz in midfield. Atletic attack. And then Costa is called offside. Really poor so far from Atletico. 
18'   Gelson fed but he loses out. Ball comes in from Bryan Ruiz and Montero heads over. At an awkward angle and difficult to get on target.
17'   It was actually Bryan Ruiz, who puts his hand in Godin's face in the melee for the corner. 
16'   Corner for Atletico gets whipped in and Dogin gets a head to the mouth.
14'   It's absolutely lashing rain in Lisbon.
14'   Ristovski gets to the ball before it goes out for a throw but it hits the side netting and wide.
13'   The header from Coates was brilliant. Oblak just that bit better.
12'   Oblak with a wonderful save from the header. Corner. 
11'   Sporting win it back and counter themselves. Godin versus Gelson, which isn't a great match-up for the rojiblancos. The Uruguayan puts it out for a corner as a last resort.
10'   Atletico on the counter. Griezmann to Lucas. 
8'   Cross now for Sporting and Bruno Fernandes ready to send it in. He lays it off to Gelson and it eventually gets sent in. Oblak punches it away.
7' Saul picks it up and drives forward but gets it knocked out for a throw. Sporting make their way back. Griezmann, and his new haircut, ruled offside.
6'   Scrappy game so far in scrappy conditions. Juanfran wins a free.
4'   Costa at the back post. He jumps up on ristovski's back and heads wide. Free to the defender.
4'   Acuna gets a head to a cross and that's just over the bar. Nice delivery by Battaglia.
3'   Sporting with most of the possession early on. They cough it up but a ball forward is picked back up by the home side. Gelson picks it up.
2'   Gabi with an early foul. Free for Sporting.
1' Game on!
No sign of Coentrao, he's suspended tonight anyway but his loan is about to be ended after the row between players and president at the club after the game last week.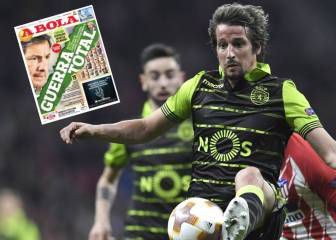 Handshakes out of the way. We are ready for action.
Sporting fans have every right to be annoyed but they're in good voice! Singing their hymn with the two teams in the tunnel and ready to emerge. 
Saul will play his 50th game in Europe for Atlético Madrid tonight with 11 goals in that time.
The big news out of Atlético Madrid this week was that Fernando Torres is leaving at the end of the season. He is on the bench tonight!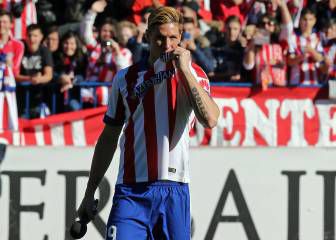 Jorge Jesus with four changes from the side that was beaten by Atlético in Madrid last week. 
Sporting XI: Rui Patricio, Ristovski, Coates, Mathieu, Pinto, Acuña, Battaglia, Bryan, Martins, Fernandes, Montero.
Diego Simeone indeed decides to stick with Vitolo and the same backline as Sunday with the only change being Gabi for Thomas Partey in the middle.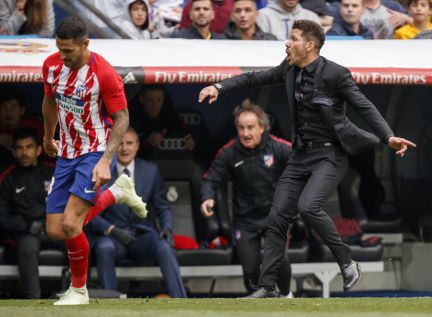 Atletico Madrid XI: Oblak; Juanfran, Savic, Godín, Lucas; Vitolo, Saúl, Gabi, Koke; Costa, Griezmann.
Hello and welcome to our ñiver coverage of Sporting Clube de Portugal and Atlético Madrid with kick-off from the Estádio José Alvalade at 21:05. Atlético lead 2-0 after the first leg!
Sporting Clube de Portugal live online: preview
If Sporting Clube de Portugal thought they had an uphill task after losing 2-0 in the first leg at the Wanda Metopolitano, that became even more steep a challenge when the club's manager suspended most of the first team for not trying during the game even though they denied such a thing ever happened. They will try their utmost to turn the tie around against the rojiblancos regardless of talk of turmoil and suspensions with kick-off from Estádio José Alvalade at 21:05.
The Portuguese club's manager, Jorge Jesus, denied players had been suspended, however, according to the BBC: "The players, president and coaching staff had a meeting, which will remain private within the team," he said.
"What is important was the liberty that I was given by the president to play players of my choosing. There was never any refusal to practice from any player," added Jesus.
"Only back when I was a player did we refuse to practice because we weren't paid for seven months, that doesn't happen here."
Diego Simeone is expected to pick a similar to to the one that drew with Real Madrid in La Liga on Sunday with Costa and Griezmann expected to line out up front and Vitolo ready to continue in the starting line-up.