Barcelona - Valencia live stream online: LaLiga 2018
Follow all the action from Camp Nou as league leaders Barcelona host Valencia in week 32 of Liga action. Kick off at 16:15 CEST live on AS English. USA vs Mexico: FIFA Friendly live online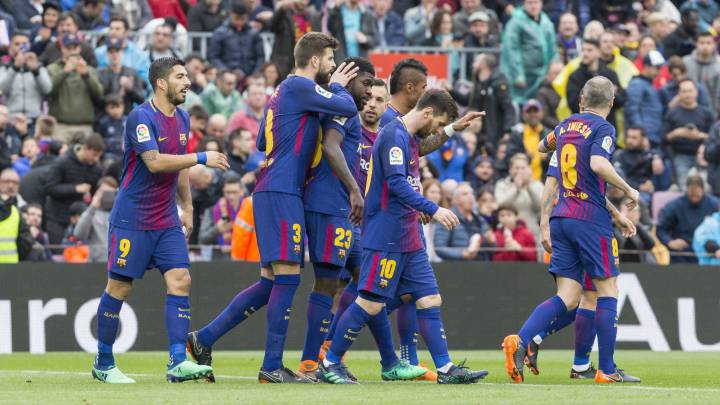 Barcelona strengthened their grip on the 2017-18 Liga title at Camp Nou on Saturday with a 2-1 victory over Valencia, who did their best to prise at least one claret-and-blue finger from the trophy but ultimately were thwarted by an excellent display by Marc-Andre Ter Stegen in the home goal.
Marcelino sent his side out to attack and in the early exchanges Barça's back five were rattled by the pace and incisiveness on the left of Gonçalo Guedes, who gave Sergi Roberto the run-around for the opening 45 minutes. The visitors zipped into more tackles and hit more shots than the hosts but the Germany international was in inspired form, denying Guedes in the third minute but it was the home side who found the net first, against the run of play, when Philippe Coutinho matched Luis Suárez's expert run with an inch-perfect ball that the Uruguayan could hardly fail to hit low past Neto.
Valencia continued to press and Ter Stegen made a flying stop to turn Rodrigo's effort onto the bar a few minutes later. Guedes also went close when his goal-bound shot glanced off Sergio Busquets for a corner but despite the visitors carving the home defence open at will, the Barça number one held his nerve and maintained his side's advantage until half time.
Barça's unstoppable momentum challenged by Valencia's guile
After the break Valencia came out with their guns blazing afresh and should have equalized four minutes after the restart. Samuel Umtiti, who was otherwise flawless all afternoon, slipped in his own half and Valencia threaded the ball swiftly to Rodrigo, who looked certain to score when he beat the onrushing Ter Stegen. But Gerard Piqué had read the situation and was on hand to make a clearance off the line.
Umtiti then extended Barcelona's lead with a towering header from a Coutinho corner, which temporarily sucked the wind out of Valencia's sails. Both the Brazilian and Messi went close to making it three, the Argentinean with an aesthetically wonderful volley that flashed just over Neto's goal. Andrés Iniesta, who delivered another midfield master class, forced the Valencia keeper into a smart stop from Messi's cross with a volley that had the Camp Nou on its feet but the visitors weathered the storm.
Barça were made to pay for not putting the game out of reach earlier when substitute Ousmane Dembélé committed a rash challenge in the area to concede a penalty in the 86th minute. Valencia captain Dani Parejo duly stepped up and hit possibly the weakest penalty of his career but somehow Ter Stegen conspired to guess correctly, smother the ball and then watch helplessly at it inexplicably eluded his entire frame and dribbled over the line.
Both sides had their chances to hit the net again in the final exchanges, Denis Suárez firing straight at Neto after being played in by Messi and Simone Zaza failing to fully connect with a header from two yards out.
Barça won't face many sterner tests at home this season as they aim to claim the Liga crown and become the only side to end a campaign unbeaten in Liga history. In the meantime, Saturday's victory handed Ernesto Valverde the distinction of beating Real Sociedad's long-standing Spanish record of 38 consecutive top-flight games without defeat as his side moved one step closer to regaining the title.
Barcelona vs Valencia live online: as it happened
90'+3' Barça break through the middle but there's no time for more and ref blows for full time, bringing a thoroughly entertining game to a close. Full time. Barça 2, Valencia 1.
90'+2' Sergi Roberto heads off for Semedo, in no hurry whatsoever.
90'+2'   Zaza almost meets a cross but it glances off his bonce and out. So close for Valencia.
90'+2'   Ter Stegen spots Messi charging forward and hurls the ball to him. The Argentinean finds Denis Suárez and the youngster hits a decent enough shot but Neto makes a fine save to keep his side in the hunt.
90'+1'   Corner to Valencia as Piqué makes a bizarre, but necessary, clearance.
90'   Three minutes added...
88'   Neto hoofs a goal kick upfield but Piqué meets it firmly. Valencia building an attack but it's cut short, perhaps unfairly, as Periera as taken down but the ref is unmoved.
87'   Three minutes of normal time remaining, no more Valencia subs, nothing much to lose. What will Marcelino do here? Order the entire visiting side to go for it? Let's hope so...
86'   Gooooooooool! Parejo hits a rubbish penalty but it somehow squirms under Ter Stegen's body and rolls over the line! Barça 2, Valencia 1.
85'   Dembélé can have no arguments there. He absolutely scythed through Pereira...
85'   Penalty! Penalty to Valencia!
83' A huge ovation for Iniesta as he trudges off after another fine performance. He can't really be considering leaving Camp Nou can he?
83'   Valencia are knocking it about but the Manics spring to mind. They're walking Las Ramblas but with little intent.
81'   There's a sense among both sides that this is done and dusted now. Valencia can't quite believe they haven't got on the score sheet and Barça are trying to ensure they don't rather than pushing for a third.
80' Rodrigo saunters off for Simone Zaza to come on.
79'   Valencia try to go through the middle again but Piqué is having none of it and covers with ease.
78' The Camp Nou roars afresh as Coutinho goes off and Dembélé comes on.
78'   Messi has the Camp Nou on its feet as he rushes the Valencia defence on his own. Three defenders are unable to stop him and he unleashes a shot just wide.
77'   Parejo fancies his chances of beating Ter Stegen from 30 yards but he doesn't really get much behind it and it's no problem for the Barça number one.
76'   Umtiti again shows his class as he chases Pereira back, takes his time, eyes his spot and nicks the ball of his opponent's feet as clean as a whistle. Little wonder that severl clubs are eyeing his low release clause with interest.
75' Gabriel goes in the book for chopping down his compatriot Coutinho. No complaints there from Gabriel. It was from behind, late and not lacking a little venom.
74'   Barça go all the way back as they look to take the sting out of Valencia's tail. They feel they've got this one wrapped up.
72'   Barça free-kick as Iniesta dances his way out of trouble but is tripped by Big Geoff.
71'   Vietto gets involved immediately, gliding out to the right but his cross is poor and Ter Stegen barely has to move to grab it.
70' Santi Mina heading off now for Luciano Vietto as Marcelino chucks the kitchen sink at Barça.
69'   Iniesta! That would have been a goal and a half. Messi dinks a cross in and the Barça captain has to adjust in mid-air to hit a left-footed volley but Neto makes a great save to deny the White Knight!
68' Guedes is heading off for Valencia, with Andres Pereira coming on. The Portuguese has run himself ragged on the left today.
67'   Barça pour forward, Messi tries to thread a pass but it's straight into a makeshift wall of four white shirts.
66'   And it's not far off! The Valencia captain hits a curling effort that has Ter Stegen beaten but just glances wide of the post.
65'   Valencia free-kick in Parejo range...
64'   Messi! The Argentinean hits a glorious volley from Busquets' cross, connecting beautifully and sending a vicious effort just high and wide. Choruses of "Messi! Messi!" rain down from the stands.
64'   Iniesta! Alba feeds the ball into his captain and Garay has to be quick to react and clear.
62'   Gaya twists and turns in the area looking to unleash a cross but Roberto stands firm and out it goes for a throw.
60'   Guedes spots Rodrigo making a run into the Barça area and fires a ball over in his direction but it's just too high for the striker to bring down.
59'   Coutinho! The Brazilian flashes a shot just wide of Neto's right-hand stick.
58'   Valencia play the ball into the area but Umtiti reads it perfectly and intervenes with pure class. Other than that slip, he's having a great game today.
56'   Free kick to Valencia on the right as Soler has his heels clipped on the break.
55'   Messi buys himself a yard with a feint and lets loose but his shot is straight at Neto.
54'   Valencia ping it about and Mina gets in a cross that Piqué hammers out for a corner. Garay rises to meet it but plants his header over the bar.
53'   Barça are turning the screw now on the edge of the area, looking for the KO. How will Valencia react to that second goal? They should have a couple om their dance card already.
52' Valencia come back swinging but a little too feistily for Gil Manzano's taste as Iniesta is clattered in midfield.
51' Gooooooooool! Umtiti! Barça finally decide to bung a corner into the box and the France international towers above the visiting defence to power a header past Neto! Coutinho with his second assist of the game, Barça lead 2-0!
50'   Suárez then gets through at the other end but Gabriel gets in front of the Barça striker and it's out for a corner.
49'   Piqué! Salvador! Umtiti slips in midfield and Valencia are through... Rodrigo's shot beats the onrushing Ter Stegen but Piqué is back to clear off the line! 
47'   Valencia enjoy a period of possession, looking for a way through. Eventually Mina slings in a cross from the left but it's bread and butter for Ter Stegen, who plucks it from the air with little fuss.
46'   Iniesta almost ghosts through the defence but Vezo swings a leg and hooks it clear. He had to time that to the second.
No changes at half time.
46'   We're back underway at Camp Nou!
Guedes has been a livewire throughout and can think himself unlucky not to have provoked a goal during a frantic first half.

Barça only managed two on target for their part but lead at the break.
Barça have Ter Stegen to thank for going in at half time with a clean sheet. Valencia had 10 shots in the opening 45, four on target, four blocked. The German made four saves, one of them absolutely spectacular to deny Rodrigo.
45'+1' Valencia have the final word of the half as a cross flies in. Barça clear though and it remains 1-0 at half time. It's been pretty even so far but Suárez's strike separates the sides after the opening 45 minutes.
45'   Just a minute added on.
44'   Piqué needs to cool his boots here... Mina goes down in a fairly innocuous challenge with the defender and Piqué reacts by grabbing the back of his neck. Gil Manzano calls the miscreants over for a quiet word and leaves it at that. He's had a good half as well, the ref.
42'   Ter Stegen again! He's having a fantastic game. Rodrigo lets fly and the German gets hold of it. Looked as though Valencia had a decent shout against Piqué for handball there, the Barça man is also on a yellow of course...
40'   Kondogbia looks up nervously as he clatters Paulinho to the ground and for a moment it looked like he might be off! The ref notes the shirt number through and keeps his cards close to his chest. He did get the ball first, but the follow through was two footed, studs off the turf. Could have gone either way that. Big let-off for the Valencia midfielder.
38'   A 50-50 in midfield leaves Coutinho and Gabriel writhing in agony and there's a bit of a pause as both get the once over with the magic sponge. They're ok to continue though.
38'   Guedes, who is on fire like the fallas, bursts down the left again and frankly Sergi Roberto doesn't seem to be able to stop him doing so at will.
36'   Guedes gets away down the left but a poor touch sends him out wide when he wanted to move inside. He puts in a cross though and Mina gets a head to it under pressure from Umtiti but can't guide it onto the target.
34'   Messi goes down in the area trying to reach an Iniesta ball over the top and the Camp Nou seethes. There was nothing in it though and even Messi doesn't bother to protest too much.
33'   And Valencia reply in kind, bursting forward. Umtiti is forced into a sprawling block to deny Rodrigo. Great play from the France international.
32'   Kondogbia loses out in midfield and Barça swarm forward. It falls to Messi to try another with his head but again he can't control it and it loops over the bar. Devastating break by the home side.
30'   Alba finds Messi in the area but the Argentinean glances his header harmlessly out.
28'   Corner to Barça again as Alba's shot is deflected behind. It comes to nothing again.
27'   Barça are pushing for a second but Valencia are holding firm. Messi is feeding off scraps at the moment. That's where the visitors want him.
25'   Barça work it into the area with Messi lurking but he's gently guided away from the ball by Guedes.
24'   Ter Stegen! Barça make a hash of getting the ball clear and Valencia ping it quickly to the feet of Rodrigo, who blasts at goal from inside the area. The German stretches, gets a hand to it and turns it onto the post! What a reaction save.
23'   Barça get it clesar and it falls to Guedes, who is clearly in the mood today. He turns and hits one from a way out and its high and not very handsome.
22'   Valencia patiently building an attack, Umtiti clears, the visitors come again, probing, but Rubén Vezo tires of the short ball and hammers a shot from distance. Out for a corner.
20'   Guedes! That was going in! The Portugal international hits a pearler from inside the area and it takes the mildest of deflections off Busquets and out for a corner.
19'   Coutinho tries to sneak through but his compatriot, Gabriel, is there to usher him out. Goal kick to the visitors.
18'   The ball is still zipping about on the damp turf and Busquets, looking for Iniesta, finds the touchline instead.
16'   Barça with their tails up now, coming at Valencia from all angles. Valencia break though and Guedes lets fly from a fair distance out, warming Ter Stegen's gloves for a second time. 
15'   That has pulled Suárez level with Cristiano Ronaldo in the Pichichi stakes, both on 23 goals for the season.
14' Gooooooooooool! Suárez! The striker makes a splendid run between the central defenders, Coutinho spots it and picks out his teammate expertly and the Uruguayan makes no mistake from close range! Barça 1, Valencia 0.
12'   Valencia hit on the break again and win a throw out on the left. Everything is going through Guedes so far.
11'   Big Geoff finds his way into the book for chopping down Paulinho in midfield. The Brazilian is a tough nut but being hit by the Valencia man must surely sting a bit.
9'   Coutinho wins a corner on the right. Barça inevitably take it short. And Valencia pinch it and break! But Alba scurries back and puts in a fine tackle on Guedes. Has anyone ever told Barça you're allowed to kick corners more than five yards?
8'   Barça are stroking it about, looking for a crack in Valencia's defensive shield, but the visitors are looking comfortable at the back in the early exchanges.
7' Piqué goes into the book for hauling Mina down with Valencia threatening to break. He chuckles ironically, the crowd jeer, but the ref was spot on. He knew what he was doing there.
6'   Suárez! Oh my word. Iniesta glides into area and picks out the Uruguayan with a fine ball but Suárez gets it caught in his feet and air kicks with the goal at his mercy!
5'   Barça attempting to control the tempo of the game in midfield now after Valencia's frantic start.
3'   Kondogbia steals the ball in midfield and goes on a powerful stride through the Barça midfield. The home side clear but Guedes swings a boot at the ball and forces Ter Stegen into a flying save!
2'   Valencia attempt to release Guedes on the left but the ball skids out of play. It's a fast surface today and there could be a fair bit of that.
1'   Early free for Barça as Big Geoff Kondogbia brings down Iniesta. Valencia are out of the blocks like a whippet, chasing everything in the Barça half.
1'   And we're off!
38 games unbeaten for Barça. 38. That's a whole season. And they're looking to go the entirety of 2017-18 unbeaten as well. Can Valencia upset the cart holding the manzanas? We're about to find out. The Barça anthem blares out as the players take to the pitch.
The teams are about to emerge from the tunnel. Pretty thin in the stands at the moment, the fans taking their time to leave the cover of the walkways to brave the elements.
Ivan Rakitic misses out today in Camp Nou after fracturing a finger against Roma, adding injury to insult.
Rodrigo, who has scored 15 times for Valencia this season, will hope to use today's stage to press his case for a place on the plane to Russia.
Marcelino has gone a long way to fixing Valencia's traditional Achilles' heel this season, taking 27 points from a possible 45 on the road.
In the last four Liga meetings between the sides in Camp Nou, honours are even. Two wins for Barça, two wins for Valencia.
This has been a reasonably even fixture over the last few seasons but one result Valencia fans won't want to be reminded of is the 7-0 drubbing the visitors received in the Copa del Rey under Gary Neville.

Our resident tipster reckons today's game will finish all square at 2-2. But really it's one of those that could go either way. This fixture traditionally produces a fair few goals and the question is how Barça will react to their Champions League exit in midweek. 
Valencia striker Simone Zaza gave an exclusive interview with AS ahead of the game and explained that Valencia's success under Marcelino this season has been based on "togetherness" and that Valencia this season are "where we should be." You can read the full interview here. 
As ever, we've knocked together a handy guide as to how and where you can follow the action from Camp Nou today.
If Barcelona are victorious today, Valverde will break the Liga record for consecutive unbeaten top-flight games of 38, set by Real Sociedad in 1980.