LALIGA
Málaga 1-2 Real Madrid LaLiga gameweek 32: match report
Goals from Isco and Casemiro in either half were enough to see Real Madrid move into third place in LaLiga despite conceding late on.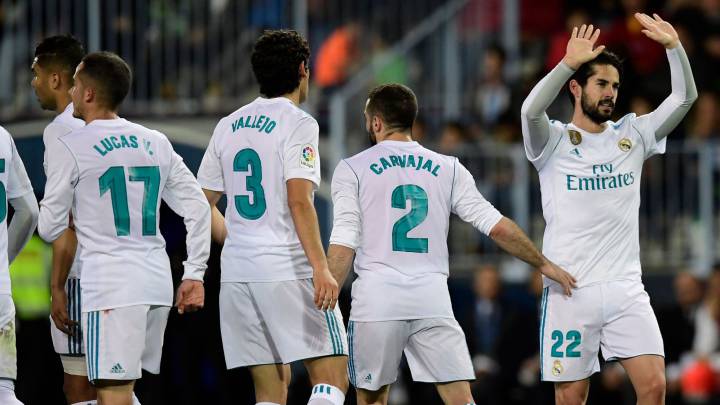 Malaga 1-2 Real Madrid: match report
Real Madrid beat Malaga 2-1 on Sunday night to move into third place in LaLiga with the help of goals from Isco and Casemiro.
Isco, returning to his former club, scored a cracking free-kick to open the scoring as he curled it out of Roberto's reach having beaten the wall. It looked like it might be a rout at that stage but Malaga improved.
It looked as though they might score before Casemir stole the ball in midfield and played it to Benzema. He played it on to Isco and put it on a plate for Casemiro, who had continued his driving run into the box.
The game petered out but Malaga scored with the last kick of the game after a mistake from Jesus Vallejo. They play Athletic Bilbao on Wednesday and will try to solidify their place in third spot.
Malaga vs Real Madrid live stream online: as it happened
90'+3'   Vallejo mistake and Rolan scores. Game ends without a tip-off. Weird end to the game!
90'+3' Malaga score.
90'+2'   Theo taken down by Rosales. 
90'   Into added time now. 
89'   Real Madrid holding onto the ball well now as times expires.
86'   Real Madrid break. Ramos to Benzema and he plays it back into his path. He gets a foot to it after a poor first touch but Roberto saves. Lovely move that ends with nothing.
85'   Rosales with a cross that turns into a shot. Navas palms it over. Corner for Malaga.
81'   Another yellow. This time for Ivan, who makes his debut today. He chops Carvajal down in the middle of the field.
81'   Real Madrid lose it, Kovacic. Maxime Lestienne tries to curl one past Navas but it's just inches wide.
79'   Real Madrid just trying to see this one out.
78' Ideye replaced by Lestienne.
77'   Mayoral with a strike but that's tame and into the hands of Roberto.
77'  Where do Malaga go from here?
73'   Vazquez in behind but he's offside.
71' Miquel replaced by Ivan Rodriguez.
71' Real Madrid sub. Mayoral replaces Isco, who gets a round of applause.
70'   Kovacic with a lovely pass into Vazquez but there's too much on it.
70'   Ricca down injured and he can't continue.
69'   Lovely delivery by Ceballos. Low and hard into Isco. He tries a flick and it falls to Benzema. Blocked again.
68'   Malaga counter and Theo fouls. Ideye the man felled. Free comes in and Navas punches it clear.
67'   Another corner. 
66'   Casemiro heads the corner clear, drives forward and recieves it again. Wins a corner.
65'   Cross comes in and Carvajal knocks it behind for a corner.
63' GOAL! Casemiro just taps home. Benzema plays it to Isco and he tees up the Brazilian. Handiest goal of his career but he won it back to set it up.
61'   Malaga on the attack again. Carvajal blocks an attempted cross this time and Real Madrid counter.
60'   theo heads clear at the back post. Malaga growing into this game.
59'   Oh lord. Vallejo out after colliding with Navas. Rolan with the cross and Navas punches clear. 
58'   Malaga counter. Rosales gets it and lays it off to Ideye Brown.
56'   Malaga to swing one in now. Headed on by Bueno but that doesn't have enough on it to even test Navas really.
55'   Theo absolutely cleaned out of it down the left. Iturra booked.
54'   Another cross by Carvajal to Benzema. He loses it.
53'   Lacen replaced by Alberto Bueno.
52'   A little more even since that goal but Malaga still not creating much.
50'   Isco with a lovely ball though to Vazquez and he clips it to Benzema. Headed out for a corner. 
49'   Theo with a cross that arrives at Asensio's feet. Asensio is bundled over. How is that not a penalty? Rosales takes him down.
48'   Ball to the back post but Carvajal heads back to Navas.
48'   Ramos missed out but Vallejo recoers well for him.
46'   We are back underway at La Rosaleda.
45'   Half-time.
45'   Real Madrid concede the corner. Shot from Ricca in the end. Well over. Real Madrid making this unneccessarily difficult.
44'   An absolute howler by Casemiro. He gives the ball away and forces Navas into a one-on-one. Save.
42'   Rosales takes but that's over. Not a bad effort though.
42'   Carvajal launches himself into a tacke with Rolan and fouls. Free for Malaga outside the box. La Rosaleda singing now. 
41'   Dangerous. Ricca slide at what looked like a lost cause but he gets a foot on it before it flies into the box. Cleared by Real Madrid.
40'   Vazquez with a foul on Rolan.
39'   Corner is headed out as far as Isco. He strikes, and strikes it very nicely too, but it's into the waiting sternum of Roberto.
39'   Kovacic gives a couple of Malaga defenders the run-around and plays it to Theo. Another corner.
37' We had a yellow card from one of those corners. Hard to see what happened but either dissent or pulling and dragging goin on. Ricca the man in the ref's book.
37'   Asensio loses out and it's a goal-kick.
37'   Vazquex no with a cross but it's another corner.
36'   Asensio cross but Benzema is offside. It looks that way but he didn't interfere in play. Corner as it's cleared out by a Malaga defender.
35'   A rare Malaga attack. Carvajal chests it down to Navas. 
33'   They lose the ball high up the field just as I was typing that and Isco tries to take advantage of the takeaway. But he drives wide at the near post.
33'   Really long ball sent down towards Navas. He gathers. Malaga have improved since the goal. 
31'   Asensio drives forward and looks for Vazquez. Nowhere nears its target. 
30'   That forces Malaga to attack a little bit more. They were sitting ducks for a large part of that half. Let's see what they have up their sleeves.
29' GOAL! He returns to his hometown - well, very close - and curls the opener into the side netting. He won the free and scored it too.
29'   Looked like Ramos would pull rank but Isco takes it!
28'   They win it back and Isco is fouled. Free outside the box. Let's see who takes this. Ramos? Asensio?
28'   Malaga squeeze Real Madrid out of it again. 
26'   Ramos and Chory end up on the ground. The Malaga player collided with Ramos and then feel quite heavily on his back. Winded, possibly? He looks to be okay. Ramos brushes himself off too.
25'   Theo with a chipped ball to the back post. It's left for Vazquez and he pulls it back to Casemiro. Headed wide at the back post by Benzema.
24'   Fast break and it comes to Isco but his cross is to the back post and cleared. Kovacic strikes and it takes a deflection off a Malaga player. Corner.
24'   Free for Malaga and Navas grabs that with ease. 
23'   That's Real Madrid's best chance. Kovacic finds Benzema and he pops it to Isco. He puts it into Vazquez' path and the winger drives over from close range.
22'   Ball headed over Chory's head in the box and he swings a foot at it. A mile and a half wide. 
21'   Rolan wins a throw off Theo. High up the field too. Malaga in unchartered territory.
20'   Another attack breaks down. Vazquez to Benzema and he finds himself in a tight spot. Dispossessed.
19'   Goes over everyone's heads and out for a throw. Yes, it was THAT deep.
19'   Casemiro out wide to Vazquez. He lays it off. Ball winds up at the feet of Asensio and his cross is far too deep.
18'   Isco chips one towards goal and that's no use at all to anybody. Except, maybe, Roberto's stats. He gathers that one with ease. 
18'   Carvajal down the right and he cuts it back to a waiting Benzema. Strike but it's blocked. Real Madrid back on the ball.
17'   Theo surges forward, pops it to Asensio and Malaga recover before kicking it out for a throw.
16'   Holy Moly! What a save. Vazquez with a perfect cross and Kovacic with a powerful header but Roberto keeps it out. Excellent save.
16'   Theo loses out to Chory and Malaga attack down the left after shifting the ball quite quickly. They lost it again though.
15'   A poor pass in the middle of the field and audible groans from the crowd at La Rosaleda. 
15'   Real Madrid laying the pressure on thick. 
14'   Benzema strike arrives. Way over the bar.
14'   Ball goes up the field and they lose it again. 
13'   Roberto gathers a tame Isco try. Malaga get to catch a breather here for a second or two.
12'   Latest spell of possession ends with a Carvajal cross to Benzema. Cleared but Benzema picks it up again. Cross from Asensio that's cleared as well. But, you guessed it, Real Madrid win it again!
11'   Real Madrid properly dominating now. 
10'   Real Madrid play it around a bit as they advance up the field. Isco plays it to Carvajal and it goes out for a throw. 
9'   Casemiro back on the ball and Real Madrid on the ball. Isco on it now but very deep.
8'   Casemiro needs to change his boots.
7'   Long ball sent across to Theo but that has way to much pace on it. Throw for Malaga.
6'   Unorthodox as they work it short and central. Comes to Rolan and he tries to go by Isco. He loses out and falls but no contact and no dive.
5'   Rolan is fouled by Casemiro. Nice position to send it into the box.
4'   Ramos brinfs the ball out from the back, plays it to Theo and he passes to Benzema. Throw as Benzema fails to control it.
4'   Ideye receives the ball in the box and is suddenly surrounded by white jerseys but he was offside anyway. 
1'   Vazquez breaks at speeds. He lays it off and it comes back to Benzema. Strike but wide!
1' We are underway! 
Players in the tunnel now and ready to emerge onto the field.
Malaga were on a run of seven defeats on the trot before a draw with Celta Vigo and a win over Villarreal, two European contenders. They lost to fellow strugglersin the last game but battled until the end in a in that 3-2 defeat. Things are looking up but playing Real Madrid is a completely different proposition.
Ramos, the most experienced in the team might not be able to catch Raul at the top of this list but he might come close. 
Zidane also using this chance to blood Vallejo a little more. He will partner with Sergio Ramos today instead of Varane as he gets the chance to play alongside different styles of centre-halves.
According to out friends at Opta, Real Madrid have won their last seven games without Gareth Bale and Cristiano Ronaldo, scoring 26 goals in the process. That's nearly four goals per game!
Real Madrid's subs: Casilla, Kroos, Marcelo, Llorente, Achraf, Mayoral, Ceballos.
Real Madrid arriving in Malaga earlier. It's 21 degrees there now but there is a chance of rain down south tonight. 
Malaga XI: Roberto, Rosales, M. Torres, Miquel, Ricca, Iturra, Lacen, Chory, Rolan, Adrián, Ideye.
Karim Benzema is back in the starting line-up and Zidane makes six changes to the side that played in the Champions League during the week. Ramos, Theo, Kovacic, Vazquez, Benzema and Asensio all benefit from the rotation.
Real Madrid XI: Navas, Carvajal, Vallejo, Ramos, Theo, Casemiro, Kovacic, Isco, Lucas Vázquez, Benzema, Asensio.
Hello and welcome to our coverage of Malaga versus Real Madrid in LaLiga. Kick-off is at 20:45. Real Madrid are all but sure of Champions League qualification and Malaga are desperately trying to fight the drop. We will have all the updates before and during the game right here!
Malaga vs Real Madrid live stream online: preview
Real Madrid travel to La Rosaleda without Cristiano Ronaldo, Gareth Bale, Luka Modric or Raphael Varane as they are rested after Champions League during the week. Malaga are coming off a 3-2 loss to fellow strugglers but things are starting to look up after a 1-0 win over Villarreal the week before.
Valencia lost on Saturday to Barcelona and that gives Zidane's side a chance of jumping los Che in third place with a win a La Rosaleda. They will have to do it without their four stars, however, as they keep one on Athletic Bilbao at the Bernabeu on Wednesday night.
Malaga are at the bottom of the table and are 14 points points off the pace. Jose Gonzalez welcomed Diego Rolan, Miguel Torres and Chory Castro back to training before the game and make the squad. The andalusians will be without Diego González, Juanpi and Peñaranda remain out along with Recio and Juankar, however.