Sevilla face summer havoc if they lose the Copa del Rey and finish 7th in LaLiga
If Sevilla lose to Barcelona in tomorrow's Copa del Rey final, they could be left facing up to 10 official matches between 26 July and 30 August.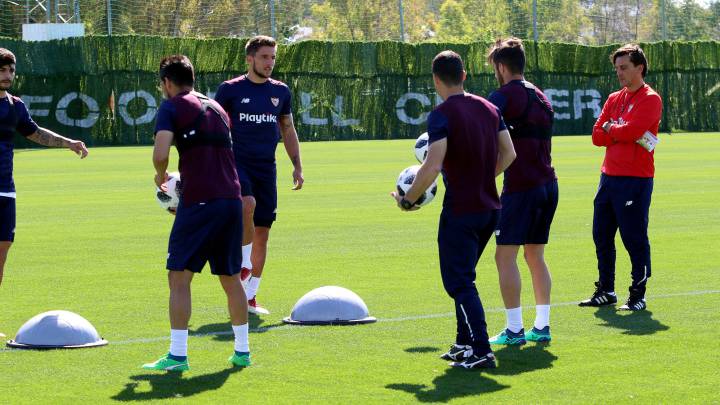 Sevilla will be playing for a lot more than just a piece of silverware in tomorrow's Copa del Rey final at the Wanda. Vincenzo Montella's team deserves praise for what has been a positive and productive season - Sevilla reached the Champions League quarter finals for the first time in 60 years and will also contest the Copa del Rey in Saturday's final; but they still have no guaranteed their place in European competition next season and that is a major concern.
Sevilla currently outside of the European places
If they fail to beat Barça in tomorrow's Cup final and finish the league where they currently sit, in seventh, Sevilla will face a nightmare summer. And Montella's team are not even assured of finishing seventh - Girona are only a point behind and Getafe, three points.
Changes to pre-season programme
Finishing seventh and losing the Copa del Rey would mean Sevilla might have to play 10 official games between 26 July and 30 August. Having additional commitments could also mean they would be forced to withdraw from taking part in the International Champions Cup, in which they have games lined up against Benfica in Zurich on 20 July, Chelsea on the 28th in Warsaw and against Inter Milan in Leece on 7 August.
Qualifiers
Finishing seventh in LaLiga (or sixth if they beat Barça to win the Copa) would mean Sevilla would need to play up to three qualifying rounds in the Europa League. They would enter the tournament in the Second Round, with ties played from on 26 July and 2 August; should they progress to the Third Round, they would have qualifiers on 9 and 16 August to make the Play-Offs with home and away legs on 23 and 30 August.
Barcelona have as good as sewn up LaLiga and could mathematically clinch the title in A Coruña next week. That will add the Spanish Supercup to Sevilla's summer itinerary, with the dates for those games still to be confirmed by the RFEF - together with the opening two games of the 2018/19 league campaign, before the international break at the start of September. It would be a hectic start to the new campaign by anyone's standards...
LaLiga Santander
*Update 20 de abril de 2018