Bayern Munich and Real Madrid's record under Björn Kuipers
The Dutch referee has been assigned to the Champions League semi-final first leg in the Allianz Arena on Wednesday night.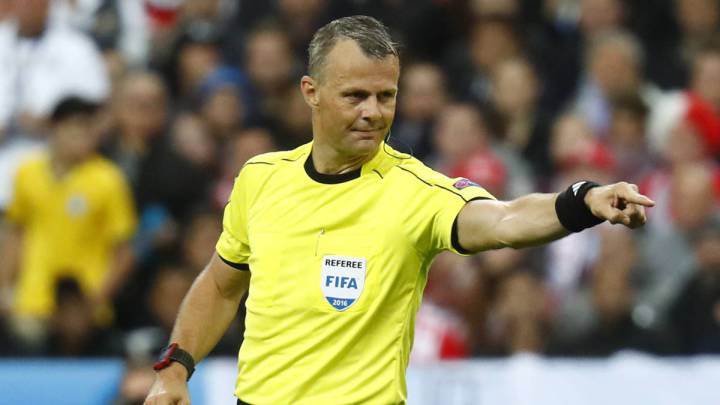 Dutch referee Björn Kuipers has been selected to take charge of the Champions League semi-final first leg between Bayern Munich and Real Madrid at the Allianz Arena on Wednesday night.
The 45-year-old from the Netherlands last oversaw a game featuring Madrid in the group stage of this year's Champions League when Zinedine Zidane's side ran out 3-1 victors over Borussia Dortmund in the Westfalenstadion.
Kuipers was also the man in the middle for the final in 2013-14, when Sergio Ramos forced extra time against Atlético in the dying seconds in Lisbon and Madrid, then coached by Carlo Ancelotti, went on to lift the long sought-after Décima at the expense of their city rivals.
Kuipers in charge when Lewandowski hit four in Dortmund
The Dutch match official also took charge of a game Madrid will remember less fondly, the Robert Lewandoswki-inspired 4-1 away destruction at the hands of Dortmund that saw the Bundesliga side through the final against Wednesday's opponents in Munich. He was also on the whistle when Madrid drew 1-1 at CSKA Moscow in the last 16 the previous season.
In total, Kuipers has refereed four Real Madrid games, with a balance of two wins, a draw and a defeat.
Bayern have been overseen three times by Kuipers, with two victories and a draw: a 3-2 home win against Napoli in the 2011-12 group stage, a 3-1 away triumph over Manchester City, again in the group stage in 2013-14, and a 2-2 draw against Benfica in the Estádio da Luz in the 2015-16 quarter-finals.



Champions League
*Update 23 de abril de 2018
Champions League
*Update 23 de abril de 2018