"Champions League unleashes special powers in us" - Toni Kroos
Real Madrid's German midfielder spoke ahead of the semi-final clash against Bayern Munich on Wednesday night recalling his time under current manager, Jupp Heynckes.
Toni Kroos, Real Madrid's reliable German midfielder, is back in his homeland to play former club Bayern Munich in the Champions League semi-final first leg. Speaking to uefa.com the 28-year old shared that there is something very special about European club football's showpiece competition as well as touching on his time under current Bayern manager, Jupp Heynckes.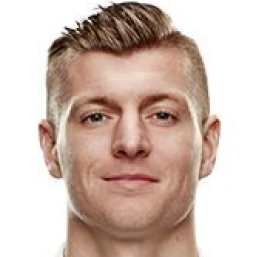 Madrid's 'special powers unleashed' 
"This competition is the hardest to win. Maybe that unleashes special powers in us," said Kroos. "Emotions always play a part, especially on Champions League nights at the Bernabéu. You can see that in our performances."
"A lot of the players have played in plenty of big games and we can stay calm in difficult situations because we know we can beat everybody. Even when we are not winning, we can change a game. We've experienced lots of situations, so we don't get anxious."
Everyone listens to Zidane
"Everyone knows what a player he was and the character he is," the German said when asked about his current manager Zinedine Zidane. "The team's morale with him is great and that is really important. He experienced everything as a world-class midfielder, which is why we accept what he says and try to implement it. He doesn't need to use a loudspeaker – we all listen to him."
Heynckes has made Bayern harder to beat
The midfielder was with Bayern Munich from 2006 to 2014 when he moved to the Spanish capital meaning this semi-final carries even more significance. He was also full of praise for the manager who was brought back to the club after a disappointing start to the season under Carlo Ancelotti.
"Of course it's special when you play against a team you represented for six or seven years. I'll see a lot of players I used to play with, or who I still play with in the national team.
"I played under Jupp Heynckes myself for a long time and I know he's a top coach. When he came back, he changed the feeling of the whole team. Since he arrived, they've played much better so I think they're harder to beat than last year, but we'll see. I was there last season in the quarter-finals, when we managed to get through [after extra time], and now we'll see what happens this year.
Back-to-back Champions League winners
Toni Kroos was an integral part of the Real Madrid team that won the club's 11th then 12th European Cup and knows it was an impressive achievement.
"The Champions League is a tough competition and, of course, winning it twice in row is a great achievement. The 2016 final was my second one. I played in 2012 when Bayern lost, and I didn't play in 2013 due to injury, so it was special to win and have the feeling I'd contributed to our success. [Retaining the trophy in 2017] was special because no team had ever managed to win it twice in a row, and it will be difficult for any team to repeat that. I don't think anyone expected that before the start of the season.
Read the full interview with Real Madrid's Toni Kroos on the uefa.com website where he also talked about winning the Champions League with bayern Munich in 2013.