Iniesta: France Football regrets never handing over Ballon d'Or
The editor of the magazine responsible for the individual award referred to the Barcelona and Spain star's absence from the awards as 'painful'.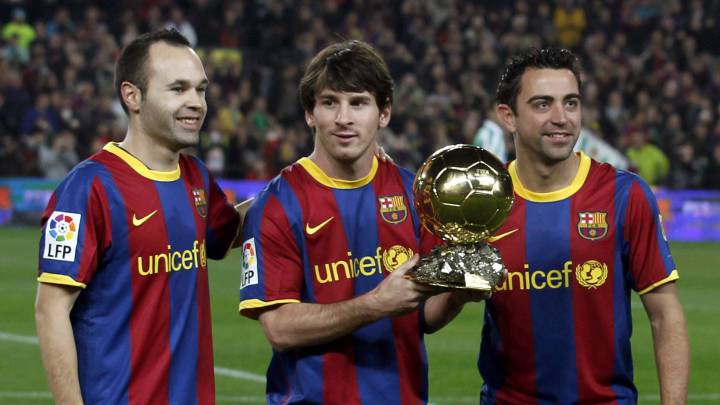 "Perdón Andrés"
"Sorry Andrés." Written in Spanish, not French or English. France Football's editorial published on Tuesday was a direct message to the Barcelona and Spain player who will be leaving LaLiga at the end of this season.
Tributes for Iniesta
The apologetic title came on the back of Andrés Iniesta's eye-catching performance on Saturday in the Copa del Rey final demolition of Sevilla. Another trophy for the man from Castile-La Mancha and headlines around the world paid their respects to a man who has given so much joy to football fans of all colours.
And from the country that gave us the Ballon d'Or, a heart-felt tribute was made by the magazine's editor, Pascal Ferré, who referred to him as 'the best controller of a game the world has ever seen'.
"Most of his contemporaries complicate life (...) but over 15 years he simplified everything. With no conceited thinking (...) he brought the game to life," wrote the Gallic journalist.
Ferré went even further and highlighted the decisive contribution of Iniesta to the success of other players.
"Without him, Messi would have tired much faster at Barça (...) His talent is making it work for others".
Ballon d'Or regrets
For this reason, Ferré explains that his "absolute altruism surely deprived him of even greater recognition," in reference to him never winning the Ballon d'Or. Starting back in 2010, when the Spaniard finished second to teammate Lionel Messi, there has always been another name on the trophy. And the journalist, who has one of the 180 Ballon d'Or votes, says that it has been an "anomaly" that Iniesta has never won, "one of the great absences in the Ballon d'Or list."
Ferré concluded by admitting that this is something that "hurts" them but that this summer's tournament in Russia could open a door to salvation.
"We can only hope that a divine performance at the World Cup helps us to repair this anomaly."