Zidane: "We won't shit ourselves against Bayern"
Zinedine Zidane said James Rodriguez won't be any more motivated against Real Madrid and says he didn't want him to leave in the summer.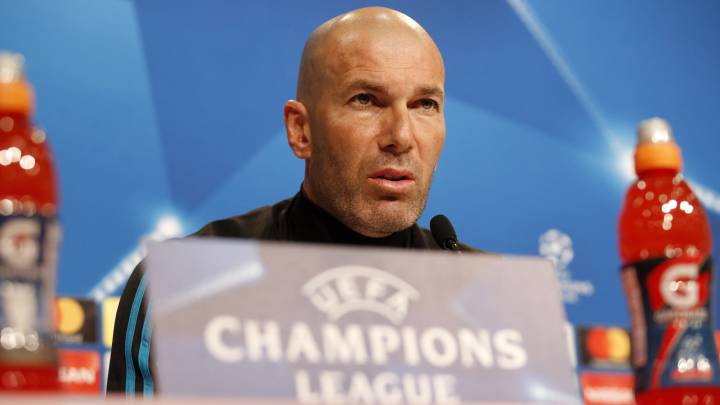 Zinedine Zidane and Toni Kroos faced the press before Real Madrid's game against Bayern Munich on Wednesday night in the Champions League. Both men were typically cagey in their answers with Kroos praising the work done by Jupp Heynckes in his return to the club. Zidane was upbeat and answered questions on James Rodriguez but none on Gareth Bale ahead of the game.
Zidane was asked what the difference is between when he was a player and now and he said, "Nothing has changed. Anything can happen but we won't shit ourselves. I always enjoy these occasions."
The Real Madrid manager was referring to the UEFA Cup final in 1996 when hs Bordeaux side were hammered 5-1 by Bayern over two legs. He also said there are no favourites for the tie despite Bayern pushing the label on his side, which is something he never likes.
Zinedine Zidane press conference: as it happened
Real Madrid are already in Germany as they prepare for battle against Bundesliga champions Bayern Munich on Wednesday evening. Los Blancos, by their very high standards, haven't had the most successful of seasons, however, with a upturn in form since 2018 arrived, find themselves in the Champions League semi finals, just three games away from an unprecedented third consecutive title.
    Zidane asked about James. "I think he will be motivated because he is a football player. He doesn't have to prove anything to anyone. Anyone that thinks I am against James is wrong. He will want to go out and prove himself but because he likes football and that's it," Zidane says.
    What is it that Real Madrid have that keeps them going in these games. "In the league, you have to be consistent every three days and we weren't at the start of the season and that's the difficulty we have. We still have the Champions and we are in the semi-final but that means nothing. We have to play this game tomorrow."
"It's always the same, some players miss out," he finishes.
    You kept Isco and got rid of James. "I didn't want James to go, he decided to go. I never had any problem with James and it's more about what is said in the press."
    You conceded goals from the wings against Juventus. Can you improve in this area? "We know the strengths and we will stop them from doing what they do well but it's important that we remember what we can do. Thanks for reminding me about those three goals but we have to remember what we are going to do and how we do it."
    Can you tell us how you felt when you played here as a coach? "Nothing changes. Anything can happen, we are lucky to play these types of games. I always enjoy these kinds of games."
    What do you say to players to motivate them? "You know I can't tell you what I'm going to say. That's something that stays in the dressing room. I like to talk to them in the last session. The most important is what we do in training and not what is said before the game. Tonight we will go out and get a feel for the pitch but that's all I can say."
    What did you learn about Real Madrid from the Juventus game. "Nothing, we always watch the games, of course, but that's in the past. We need to be focused on the game tomorrow."
Does your third consecutive semi-final change anything? "No, the players want these types of games. It's more difficult to play a game that's not so important. That motivation is important but there's no problem with motivation in these types of games."
    "We're in the semis of the Champions. More than thinking of winning the Champions, we are thinking of winning the game, playing against a great team, who have already won their league."
    Can Ronaldo be decisive? "We know the weight of Ronaldo and we know how important he is. We know he can always score and that's important."
    What does Ramos give to the side? "Yes, he's out captain, our leader, and is a very important player and always has been. Having Ramos is better for the team."
Speaking about defending Benzema. "I'm going to defend all of my players. That's why I'm here, they help me every day. They fight and work very hard and go into battle and run and I will always support all of my players," Zidane says.
    "It's a club that is ready to play at this level," Zidane says about Real Madrid's record. "When you look at the history of the club, it's more than that, it's determination against great sides. We've come through again and we are happy to be here and to play in this kind of game."
    Asked if he likes Bayern making Real Madrid favourites and whether he has spoken to Ribery. "I don't think there are any favourites on either side. It's a very different game than last year. It's the same as last year but it's different and it's a different time. I know we will have to suffer during the game but that's football," he says and doesn't respond to the Ribery question.
    Heynckes says he admires Zidane as a player and as a coach. Zidane asked what he thinks of his opponent tomorrow. "Well, he's obviously done something very well. I have a lot of respect for him. He did great things at Real Madrid and Bayern Munich and that's admirable. I have only good words about Heynckes but that's it. We have a game tomorrow that we have to go out and play tomorroww. It's a big game against a big club," Zidane says.
What do you have to do tomorrow, he is asked first. "We have to be physically and mentally prepared and we are. All players like to play in these games and I hope we go out and play a great game," he says.
"Last year, it was very tight. I don't think there's a clear favourite in this rivalry. The things in the past don't really worry me but what's important is what happens on the field tomorrow," Kroos says.
    "You know what to do in certain situations," he says and points out the experience in the side.
    "I think my former coach is right, you can't just buy the Champions League. I think what you see in the last few years especially with Real Madrid, there are players that have players that are ready to play at the highest level and that's the same with Bayern. That helps you," he says. 
    Heynckes says you can't but the Champions League. "What do you think it is that gets them to the final," Kroos is asked.
Kroos says Bayern have a side with loads of excellent players that he has played with. "There's not one player I would like to say is more difficult to play against than any other," he says.
    But he also says they are both very similar in stature.
    "Perhaps, the Spanish people are more passionate for football than Germany. That's the feeling I get," he says.
Kroos asked about playing for the two sides in tomorrow's game. How are they similar and in what ways are they different, he is asked. "They are both very demanding. It's hard to win everything every time you play. It's not easy to win the Champions League but when you win it, you can say you're the best side in Europe," Kroos says.
    "This is the only chance we have this year to win a title. Last year it was similar that we went through and this year we are very motivated to defend our title. It would be very unique to win it three times in a row," Kroos says.
Kroos says the side are happy that Ramos is back and that he hopes they can improve from the second leg against Juventus.
    "He's managing to keep this together," Kroos continues as he says it's great what the Bayern manager is doing. "In the past, there were a few problems with communication but it seems now that everything is going in the right direction."
    What does Heynckes add to this squad. "He's 72 and it's amazing that he's still a coach," Kroos says.
    He points out that Lewandowski didn't play last year and that "they are in good form, that's the feeling I get from them and we need to do something to change that."
    Kroos asked what Zidane's comments about this Bayern side being better than last year's. Kroos says, "I think they're in better form this year in general."
Kroos is speaking at the press conference first. 
This game would have been worthy of a final, as many have already suggested, but getting to see these two heavyweights juke it out over 180 minutes is 100% better, literally, than just one game. It will more than likely make it more tactical too as Bayern will be trying to avoid Real Madrid scoring at the Allianz Arena on Wednesday night. That said, they will also believe in themselves at home enough to attack with intensity against Real Madrid. Likewise for Real Madrid but they think they can win wherever they play! Let's see if Zidane gives us any clues as to his plans tonight. Press conference is kicking off in 10 minutes.
    Zidane will surely be quizzed on Bale though during the presser.
It's becoming increasingly more likely that Gareth Bale won't be starting tomorrow night with a fight going on between Asensio, Vazquez, and Benzema for that last forwar position. Isco and Ronaldo seem nailed on. Other than that, it's as you were in every other position as Casemiro is set to return to the fold after being rested against Athletic Bilbao. 
Let's see if Zidane has anything to say about these "special powers" that Toni Kroos speaks about. He said in an interview with UEFA before the game, "This competition is the hardest to win. Maybe that unleashes special powers in us. Emotions always play a part, especially on Champions League nights at the Bernabeu."
The Bayern Munich boss Jupp Heynckes spoke about neither side being clear favourites and that he "respects Cristiano; but has Lewandowski"
Everyone's getting excited about the game as
Germany's unstoppable force meets the Champions League's seemingly immovable object
. 
Good evening and welcome to live coverage of Zinedine Zidane's press conference as he speaks ahead of the Champions League semi-final to be played on Wednesday 25 April against Bayern Munich at the Allianz Arena.
Champions League: historic treble?
Bayern Munich have dominated their domestic league since Jupp Heynckes took over from Carlo Ancelotti in the first half of the campaign, and opposite number, Zinedine Zidane and others, including Toni Kroos, have spoken of the impact that the former Real Madrid manager has had in Germany and the challenge that faces them in the Allianz arena. The French coach knows that success for his club lies solely in Uefa's showpiece tournament and has travelled with his entire squad for the encounter.
Zidane on: Cristiano, line-ups, referee...
Ahead of the press conferences, fans and analysts have been looking at the referee chosen for the match and the potential for key players to be missing. Questions on these topics as well as a focus on a likely protagonist over the two legs, Cristiano Ronaldo, are expected to be covered as Zidane gives his comments to the world's gathered media.