Real Madrid: Gareth Bale has bittersweet Bayern memories
The Wales international has played at the Allianz Arena twice, with very different outcomes. He shone in 2014 and limped off in 2017.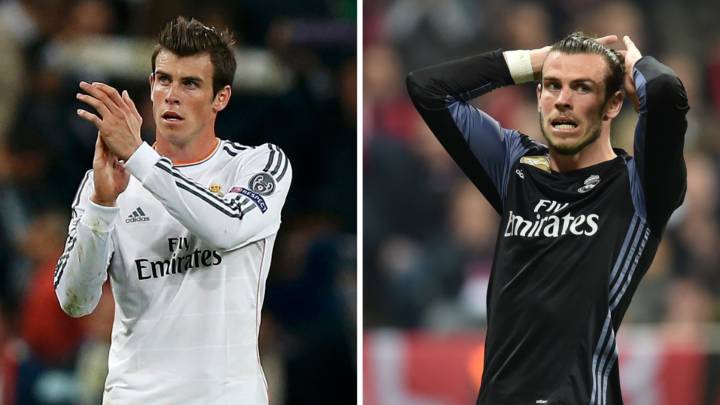 Gareth Bale is back at the Allianz Arena, a stadium that has etched two very different memories in his memory. Bale was on the winning side on both occasions, but while in 2014 he appeared the answer to Real Madrid's present and future, by 2017 he was under scrutiny after another injury. We take a look at both matches.
Bayern 0 - Real Madrid 4 (Champions League semi-final return leg, 2013-14)
Karim Benzema scored the only goal of the first leg at the Bernabéu, putting Madrid in control at the half-way stage of the tie against Pep Guardiola's Bayern. Yet the German press still ramped up the possibility of a comeback. "They're going to burn to the trees," led one newspaper.
The match came towards the end of the bbC's first season together and doubts surrounded the attacking trio: did their attacking contribution outweigh the defensive frailties they caused? Carlo Ancelotti had no doubts, as he opted for a midfield-three of Xabi Alonso, Luka Modric, and Ángel Di María behind Bale, Benzema, and Ronaldo. Bale complied with his orders to drop back and form a four-man midfield. The result could not have been better.
Bale aided his full-back – Dani Carvajal – on the right flank, and the pair managed to contain Franck Ribery and David Alaba. Moreover, the ex-Tottenham man was vital in attack in what has proved to be his most fruitful season in Spain (22 goals and 19 assists). Sergio Ramos and Cristiano Ronaldo both scored braces, but Bale was heavily involved in the build-ups. The victory over Bayern sent Madrid to the Champions League final against Atlético in Lisbon, a match in which Bale scored as Los Blancos lifted the trophy.
Bayern 1 - Real Madrid 2 (Champions League quarter-final first leg, 2016-17)
After Ancelotti guided Madrid to an eleventh European Cup with another victory over Atlético, Zinedine Zidane returned to the Allianz Arena on the way to a twelfth continental triumph. Zidane – like his predecessor – opted for the bbC in attack. It was a controversial decision given that Bale was not at full fitness, Karim Benzema had been slack in front of goal, and Isco, Lucas Vázquez, and Marco Asensio were all pushing for places.
Bale was again sent out with instructions to tame Ribery and Alaba. He did so, but lacked sharpness in attack. He left the pitch after 59 minutes with the scored at 1-1. Asensio came on in his place and made a much stronger impression, providing the assist for Ronaldo's goal that made it 1-2. After the match it emerged that Bale had suffered another muscular injury, with eleven days until the Clásico.
He managed to return in time and Zidane handed him a place in the starting line-up. Yet Bale lasted for half-an-hour before limping off in a match that Lionel Messi would decide with a stoppage-time goal. Bale's injury was more serious this time. He did not make another matchday squad until the Champions League final in Cardiff, his home city. Zidane had learnt his lesson and Isco played from the start with Bale on the bench.
It seems more and more like that substitution at the Allianz Arena in 2017 – Asensio for Bale – was a changing of the guard at Real Madrid.