Liverpool 5-2 Roma Champions League 2018: goals, action, report
Diego Perotti and Edin Dzeko scored late to give Roma a glimmer of hope, after goals from Mo Salah (2), Roberto Firmino (2) and Sadio Mane had steamed the Reds ahead. USA vs Mexico: FIFA Friendly live online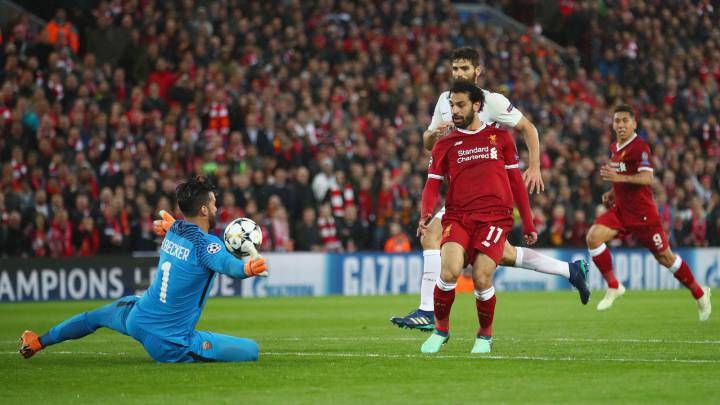 It is rare for a 5-2 victory to be tinged with disappointment, especially in a Champions League semi-final. Liverpool soared in to a 5-0 lead against Roma at Anfield but Edin Dzeko and Diego Perotti scored in the dying stages to allow a glimmer of light to peep back in to this tie.
Mo Salah continued his sensational form to put Liverpool two goals ahead at the break. With the Egyptian so clinical, Jürgen Klopp's side will still travel to Rome confident of sealing passage to the final. Salah then served Sadio Mane the third goal on a silver platter, before repeating the favour for Roberto Firmino to make it 4-0. Firmino grabbed his second, and Liverpool's fifth, with 20 minutes remaining.
Roma had been the architects of their own undoing for most of the match. The visitors fielded a three-man defence that Salah, Mane, and Firmino exposed at will. Yet Dzeko and Perotti scored the late goals that give Roma another opportunity to attempt a comeback. They overturned a three-goal deficit against Barcelona in the quarter-final and although the chances of a repetition are slim, they do exist.
Liverpool 5-2
Rom
a:
as it happened
90'+4' FT. Phew. 
90'+4'   Roma win a free-kick deep in their own half. Fazio pumps it forward. 
90'+3' Klopp tries to sure things up by introducing Klavan for Firmino. 
90'+2'   Florenzo misjudges an inswinging cross, sending it straight to Karius.
90'   Four added minutes. 
90'   Nainggolan's shot is deflected behind. Roma corner... Fazio meets it but his header goes wide. 
89'   Schick ghost inside and lays the ball out to Perotti, waiting on the left. He tries to find the corridor of uncertainty but hits it too close to Karius, who gathers. 
88' Fazio is booked for a foul in the centre circle. 
87'   Dzeko sallies down the left and whips a low ball across the face of goal. Perotti prods a toe at it, but sends the ball wide of the near post. 
86'   Oooof, Edin Dzeko lashes the ball just over the bar from 30 yards. Karius gestures for the Liverpool players to calm down. They're rattled. 
85' GOOOOOOOOOOOL! Perotti tucks it in the top corner. Roma have a glimmer of hope. 
85'   A handball by Milner, Perotti over it... 
85'   PENALTY TO ROMA! 
84'   Roma sense a second as Dzeko drags a weak shot straight at Karius. One more away goal and the door opens, ever so slightly, for Roma. 
81' GOOOOOOOOOOL! Dzeko pulls one back! Roma finish off a good spell of possession as Nainggolan lifts the ball over Lovren for Dzeko to bring down on his chest and lash in at the near post. 
75' That is what you call a standing ovation. Mo Salah is replaced by Danny Ings and Anfield salutes its Egyptian hero. 
74' Dejan Lovren is booked.
73'   Patrick Schik nods Perrota's cross towards the bottom corner. He's denied by a sharp save from Karius. 
71'   Roma almost draw level in fortuitous circumstances, as Patrick Schick charges down Lovren's clearance. It rebounds off the rangy forward and flashes just wide. 
69' GOOOOOOOOOOL! Firmino again! The No.9 nods Milner's outswinger beyond Alisson and in to the bottom corner. Slack marking, incisive finishing. 
68'   Gonalons misplaces a pass and sends the ball out for a Liverpool corner. The Roma bench look utterly dischuffed. 
66' Here come the two subs: Gonalons replaces De Rossi, Perotti replaces Juan Jesus. 
65'   Roma prepare a double-change. Ship sailed, horse bolted, etc. 
64'   Liverpool have a corner... this could be five or six. Make that seven or eight as Alisson spills a cross at the feet of Mane. Jesus positions himself well to block on the line. 
61' GOOOOOOOOOL! Firmino scores the goal that will surely send Liverpool to the Champions League final. Alexander-Arnold frees Salah with a first-time pass. He jinks past Jesus and lays it to Firmino to slot home at the far post. 
59'   Patrick Schick improvises well to dink Kolarov's low cross towards goal. It bobbles wide and Liverpool come forward again. 
58'   Alexander-Arnold looks up inside the Roma half and realises he's in space. The young full-back looks for the back of the net but finds the Kop. 
56' GOOOOOOOOOOOL! Mane! Salah peels off the defensive line to run on to Alexander-Arnold's ball. He's offside but the linesman doesn't spot it, and Salah spurns the chance to get his hat-trick, instead rolling it to Mane for a tap-in. 
55'   Once again, the Roma midfield is nowhere to be seen as Salah, Mane, and Firmino isolate Roma's defence. The visitors get a lucky escape as Mane ambles offside. 
53'   Fazio gifts the ball to Salah just inside the Roma half. If Salah had been able to control the ball, he would have been clean through on goal... but it bounces off his foot and through to Alisson. 
51'   Nainggolan receives the ball from Dzeko in the box and shoots with his left foot. Lovren slides in to block and it looks like the ball hits the Croatian's arm. Not for the referee, who waves play on and then rejects another handball appeal at the other end, where Salah knocks it at Jesus. 
48'   It's Alexander-Arnold who strikes... in to the wall. 
47'   Milner knocks the ball against Strootman's arm and the referee awards Liverpool a free-kick 30 yards out, right in the centre. Alexander-Arnold eyes it up. 
47'   Roma are now playing with two strikers, as they did in the comeback against Barça. The three-man defence remains. 
46' We're back underway! 
Half-time change for Roma: Patrick Schick replaces Under. 
One away goal for Roma and, suddenly, everything is fairly positive for them again. But without some kind of tactical switch, the chances of the Italians keeping Liverpool out for another 45 minutes look slim. 
Of course, Salah has been excellent. But Roma's tactics have been suicidal in equal measure. The three-man defence means Salah, Mane, and Firmino are constantly creating one-on-ones against the centre-halves. 
The things he can do with that left foot... 

45'+2' HT. Liverpool are firmly in control thanks to Salah's brace. 
45' GOOOOOOOOOOL! Salah again! Firmino drives Liverpool forward on a razor-sharp counter attack before threading the ball through to Salah. He always has the pace advantage over Juan Jesus, and draws Allison out to the edge of the box before dinking it in to the corner. 
43'   Salah and Firmino combine again. The Egypt international skips in from the flank and lays the ball to his team-mate. Firmino uses Salah's continued run as a decoy to create space for a shot. Manolas deflects it behind for a corner, from which Alisson catches Lovren's header. 
41'   Alisson is back in action, diving to his left to keep out a low effort from Wijnaldum.
39' Alexander-Arnold is the first Liverpool play to enter the book. His crime was a scything tackle on Strootman to ensure a counter-attack stopped in its tracks. 
38'   Lovren rattles the bar from a corner! Roma are now just aiming to reach half-time one goal behind. 
35' GGGGGOOOOOOOOOLLLLLL! What a stunner from Salah! Dzeko and Strootman both go down on half-way and, surprisingly, the referee waves play on. Firmino lays it off to Salah, who checks inside and arcs a shot in off the underside of the bar. 
34'   GOOOOO.... No! Mane turns Robertson's low cross in to the net, but he was comfortably offside and the linesman hoists his (now fully-functioning) flag accordingly. 
32'   Roma survive this onslaught. Anfield, however, smells blood. The atmosphere goes up another notch as the Serie A side show signs of vulnerability. 
31'   Now Salah has a go, forcing Alisson to beat the ball away towards the corner flag. Roma are under a lot of pressure. 
30'   Mane misses again. Firmino twists Manolas inside and out before laying the ball across goal to Mane, who has peeled away from his marker. He leans back and lumps the ball wide from ten yards. Two big chances as Liverpool turn the screw.
29'   Mane, through on goal! He sets himself free with a silky touch just inside the Roma half. He bears down on Alisson but scoops it over at the crucial moment. 
26' Juan Jesus goes in to the book for a ver, very late tackle on Mané.
25'   Ünder bombs forward for Roma after Manolas heads a cross in to his path. For a moment it looks like Liverpool might be caught out, until Jordan Henderson mops up the danger. 
22'   Roma enjoy their longest spell of possession so far, with Nainggolan at the heart of it all. 
20'   Oxlade-Chamberlain is stretchered around the outside of the pitch, drawing applause from the Liverpool fans. 
18' Wijnaldum takes Oxlade-Chamberlain's place. Meanwhile, Lovren nods the ball behind for a corner. De Rossi's outswinger fizzes all the way to Kolarov, who thrashes a shot against the crossbar from 30 yards. Replays reveal it was very shaky goalkeeping from Karius. 
17'   Liverpool's physio spins his finger to communicate that Oxlade-Chamberlain will have to go off. Play restarts with Roma in possession and Liverpool momentarily down to ten men.
15'   Oxlade-Chamberlain is writhing around on the turf after getting his leg trapped underneath him while trying to dispossess Kolarov. It's a knee injury and it doesn't look good for him, especially with the World Cup two months away. 
14'   Kolarov whips a cross towards Dzeko at the far post. Karius plucks it out of the air with the Bosnian lurking behind. 
11'   De Rossi bobs up and down on the balls of his feet, waiting for the ball to arrive from Nainggolan (who is everywhere). The captain then looks up and sprays a ball to the right, looking for Florenzi. It's a little too heavy and the ball skims out for a goal kick. 
10'   Anfield gets excited as Juan Jesus meanders out of defence and loses the ball, allowing Salah to nip in on the right. Manolas and Strootman get back to recover. 
8'   Oxlade-Chamberlain picks the ball up 30 yards out and wallops a low shot straight at Alisson. He scored from similar range in the quarter-final against City. Liverpool are establishing control, with Virgil Van Dijk directing from defence. 
6'   In all of the flag pandemonium, the linesman misses that Firmino is narrowly offside when he rushes on to Salah's pass. Firmino runs deep in to the box and rolls the ball just wide. It later transpires that the lino simply didn't have a functioning flag. This is a pleasingly Sunday-league start. 
5'   Early substitution! The linesman's flag has broken and the referee has to jog across with a replacement. 
3'   Salah jinks inside from the right and skids a shot in to Alisson's arms. End-to-end stuff. 
2'   An edgy first couple of minutes. Kevin Strootman takes aim and fires the first shot of the match in to Karius' arms after good hold-up play from Dzeko. Liverpool burst straight up the other end with a long kick, and Alisson just gets to the ball ahead of Mané. 
1' Off we go! Roma kick-off amid a cascade of boos from the crowd. What have they got in store for us?
The teams gather in the tunnel as 'You'll Never Walk Alone' booms out. Henderson and De Rossi the captains. And here they come after a tap of the 'This is Anfield' sign. 
Plenty of flags fluttering on the Kop as kick-off approaches. Anfield is simmering. 
'Ring of Fire' by Johnny Cash rumbles through the speakers at Anfield, evoking memories of half-time in the 2005 Champions League final. 
Liverpool owner John W. Henry was left 'bitching' in the summer because he thought he had overpaid for Mo Salah, according to Roma president James Pallotta. 
This interview with Jürgen Klopp - available at The Guardian - is a fine way to get in to the mood for tonight's match. 
Buenas noches! This is going to be fun, isn't it? Jürgen Klopp's gung-ho Liverpool 'welcome' - hopefully not with another shower of missiles at the away team coach - Roma to Anfield in the first Champions League semi-final. I'll be here typing away on minute-by-minute duty throughout the build-up, the ninety minutes, and the post-match analysis.