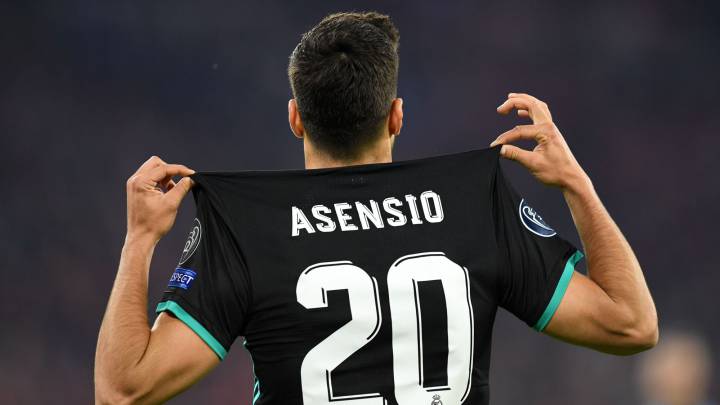 Bayern 1-2 Real Madrid: match report
All eyes were on who Zinedine Zidane picked to start in the last attacking position alongside Cristiano Ronaldo and Isco. It was the man who he left out, Marco Asensio, that ended up winning the game for Real Madrid as they take a 2-1 lead back to the Santiago Bernabeu for the second leg.
For two familiar foes playing in Europe, the opening exchanges were as frenetic and tense as you might expect. There was little or no pattern to the game and it was coast-to-coast type football from both sides. Bayern settled into a rhythm before Real Madrid could but the opening goal came from a counter attack by the home side.
Joshua Kimmich broke down the right, with Marcelo left struggling to make it back to his position. The right-back drove a hopeful shot towards goal and found Keylor Navas badly out of position too as the ball slammed to the back of the net.
If Marcelo was out of position for that goal, he was right where he needed to be 16 minutes later. The ball scuttered to him across the box and as Ronaldo considered a chilena, everyone waited to see if he would chance it. He didn't but it bounced to the Brazilian and he drove past Ulreich in goals, who barely saw it let alone have any chance of saving it. His dive in the direction was a token gesture and five yards short of meeting the ball before it nestled in the bottom corner.

Bayern pushed for a goal to put them back ahead but it never came as Real Madrid rode their luck until the break.
Zidane, who is never shy of a change at the break, switched Isco with Marco Asensio. It would only take him 12 minutes to put his side ahead. A howler from Rafinha gifted the ball to the substitute and after a one-two with Lucas Vazquez, he hit a chip/shot hybrid past the Bayern keeper.
Bayern pushed for the equaliser and came close on a number of ocassions but an ominous blend of dreadful finishing and excellent goalkeeping kept them from troubling the scoreboard.
Jupp Heynckes side have areas to improve on but were the better team on the night. Yet, once again, Zidane's charges are heading into the second leg of a Champions League knockout with home advantage and a healthy scoreline to boot.
---
Zinedine Zidane: "Isco made the difference"
Sergio Ramos: "We've done nothing yet, we need to finish this at home"
Jupp Heynckes: "We gifted them two goals, it's no surprise we lost"
---
Bayern 1-2 Real Madrid: as it happened
90'+4' Real Madrid win! Game over. It's Marco Asensio's goal that changes the complexion of the game.
90'+4'   Ribery again. He is exhausted.
90'+3'   Ribery lets the ball run out for a throw after Bayern win it back. Bayern just exhausted. They've nothing left in the tank.
90'+1'   Ronaldo offside. Benzema chipped it to him but he was offside. Looked close but ultimately the right decision. That could have sealed it.
90'+1'   Four minutes of added time.
90'   Marcelo bundled out of the way. Bayern bring the ball up the field. Tolisso misjudges it and it bounces over his head and out. 
89' Yellow for Thiago as he pulls down Kovacic. Fairly blatant. 
88'   They find a way through. Lewandowski misses. That was a dreadful miss. It went so far wide that it looked like a save but he actually missed. Very poor.
88'   Bayern will give it anothe rattle but they can find no way through Real Madrid's wall.
87'   Free for Bayern. Headed clear again.
85'   Ball bobbles around in the box for a bit but Real Madrid clear it.
84'   Bayern's one and only route towards goal is on the left. Kimmich trying on the right but he loses out again.
83' Kovacic replaces Casemiro.
82'   Lucas gives and goes with Modric but the feed from Modric is too heavy. Ulreich gathers.
81'   Kovacic warming up.
81'   Tolisso tries to feed the ball into Muller from a ball from Sule. It's straight to Navas. 
80'   Corner in and Real Madrid clear again. Varane the man who got his head to it. A powerful header too but Bayern pick the ball back up.
79'   Ribery again down the left. Vazquez blocks it for a corner.
79'   Poor delivery by Thiago. Headed back in by Sule but Real Madrid deal with that one quite easily.
78' Casemiro booked now for a foul on James. Looked like he got the ball but referee blew the whistle late. Replay shows he did catch his former teammate.
78'   Real Madrid weather the storm, it looks like. Ribery has run out of steam.
77'   Lewandowski flicks the ball up into the path of Benzema. He hurt himself now too. He strikes the ball at Ulreich's feet. Decent chance.
76' Javi Martinez replaced by Tolisso.
75'   Thiago very lucky not to be booked. "I got the ball," he says very clearly.
74'   Real Madrid trying to assert some control back on this game. Thiago fouls Vazquez.
73'   Ribery launches a cross across the field to Kimmich but that's miles off.
71'   He's raging though and says it wasn't. He would though.
71'   Ronaldo scores! But he handled the ball. He says it hit his shoulder. Yes, replays shows he definitely did.
70'   Real Madrid try to break but Ronaldo gives it away. Bayern back in possession. 
69'   Ribery again. Out for another corner . That was close. Corner into Muller but Marcelo clears. This is impressive pressure from Bayern.
69'   Muller had no chance of a penalty there, to be fair. He kicked Ramos' knee when he swung a leg at the ball.
67'   What a chance that was! Muller hits the ground and wants a penalty. Cross came in and headed back towards the danger area. A few Bayern players lined up and they can't score. Muller has a shot but is blocked and wants a penalty.
66' It's Carvajal for Benzema, meaning Vazquez goes right-back, I presume.
66'   Carvajal down again. Interesting to see what happens because Benzema is coming on.
65'   Bayern on the ball. They've made plenty of chances. James with a cross this time inside the box but it's blocked out for a corner.
64'   Not yet. 
64' Benzema coming on for Real Madrid.
64'   Carvajal fouled by Ribery, who needs to be seriously careful as he is on a yellow.
63'   Thiago shoots and it's blocked. Ribery picks it up and drives a shoot at Navas as he saves. 
62'   Bayern remain on the ball.
62'   They think about kicking the ball out but decide against it.
62'   Bayern on the ball again. Ribery pops it into Lewandowski and he hits the gground. He's down and injured. 
60'   Kimmich with the delivery and that's way too deep.
60'   Bayern down the left again and they win another corner.
60'   Real Madrid taking their time now. 
59'   Ribery with a mavellous run. He strikes and Navas saves.
58'   Carvajal puts the ball out for another corner.
57' GOAL! Marco Asensio makes it 2-1. Mistake by Bayern Munich as Rafinha looks for Kimmich at the back and gifts it to Asensio. He plays it to Vazquez and then back again. Lovely finish from Asensio.
56'   Muller with a cross and Lewandowski heads it back towards goal. Modric kicks it out for a corner. Headed out by Varane.
55'   Ball over the top looking for Ronaldo but that's straight to Ulreich. Very cagey affair here.
54'   Real Madrid on the attack now. Marcelo out to Asensio and Kimmich blocks him before putting it out for a throw.
53'   Ribery with another run but forces it and crosses wide.
52' Varane and Ribery go into a tackle and Varane has his foot stood on. Yellow card for the attacker. Allianz Arena attendants don't like that decision.
52'   Benzema warming up.
52'   Reall dangerous from Bayern but nothing comes from it. 
51'   Ribery yet again and he slides it across goal. Muller nearly gets to it.
51'   Ribery takes it down though and drives forward. Ball comes in from the left and Ramos heads out.
50'   Bayern back on the ball but it's all very tame. 
49'   Modric fouls Thiago now after Bayern won the ball back.
49'   Muller is limping after trying to foul Asensio after he had lost the ball to him.
48'   Asensio wins it back off Muller after losing it. Ronaldo cuts inside and takes a shot that goes out for a throw. Woeful shot.
48' Real Madrid with all the ball to start the half. Asensio seeing plenty of the ball.
46'   No changes for either side.
46'   We are back underway at the Allianz Arena. 
It will be interesting to see if Real Madrid make a change at the break. They were on the ropes before Marcelo's goal. Zidane has his away goal now though so unless it goes horribly wrong, they can be happy enough with this result. Even a 2-1 isn't the end of the world.
45'+2'   Referee blows half-time. What a half!
45'+2'   Corner comes in and Lewandowski is pulled back. He wants a penalty and then Muller misses at the back post. A very good case for a penalty.
45'+2'   Ribery takes on Carvajal and gets a cross in. Marcelo out for a corner. 
45'+1'   Wonderful ball in by James and Lewandowski meets it. Navas parries to himself and gathers. Great chance but the striker couldn't get enough on the header.
45'   Two minutes of added time.
45'   Ribery pulled back by Vazquez. Free for Bayern from outside the penalty area. Maybe too far out for a shot.
44' WHAT A FINISH! Marcelo hits it on the bounce. Ronaldo thinking about the chilena but leaves it. What a strike that was. 
42'   Another nice move from Bayern. Muller gets a shot away this time. He hits it just lovely on the half volley. Blocked for a corner. That corner comes in and it's headed up into the air. Navas gathers.
41'   Marcelo heads out for a corner as Bayern continue to apply pressure. Corner comes in and it's headed on by Lewandowski. It lands at the back post to Hummels and he swings a foot at it. Wide! Decent chance for Bayern.
40'   Thiago versus Varane. Rafinha jobs over to it.
39'   Hummels with a free that goes straight to Navas. That's a terrible pass.
38'   Carvajal fouls now and the Allianz are baying for blood. Rafinha the one fouled. The referee has a long chat to him, with Carvajal throwing in his two cents. No card on this occasion. He's slightly lucky and needs to slow it down.
36'   Modric flicks it out to Vazquez. He loses it after playing it to Modric. Fairly bone-crunching tackle but it comes back to Vazquez and Bayern get it away. Big cheer inside the Allianz.
35'   Real Madrid slightly frustrated now. James chopped down by Carvajal.
34'   Thiago puts it on a plate for Ribery and he makes a complete mess of it! Into Navas. Should have been 2-0.
34' Second change for Bayern. Sule the man to replace him.
33'   Ribery versus Vazquez and he buys a yard to cross. Navas punches it away.
31'   Boateng down now with a hamstring injury and it looks like he can't continue.
30'   Lewandowski showing off his speed as he gets to the ball before Ramos. 
29'   Now tha Allianz Arena is back to life. Lewandowski tries to bulldoze his way towards the ball and he falls over. Chance for a penalty but no chance really.
28' Kimmich breaks free down the right and Marcelo is caught out! GOAL! What a finish that is.
28'   Vazquez crosses and Ronaldo meets it but that's out for a goalkick. Bayern break.
26'   Another Real Madrid attack but they lose out this time. Bayern back on the ball. 
24'   Real Madrid have played this perfectly so far. They've starved Bayern's attack of the ball. Ball comes in from the left and that nearly makes it to Ronaldo. They win a corner instead. Ref blows a free from the set play.
23'   Isco stopped inside the box. They win it back and work it into the box. The ball lands to Carvajal and he absolutely rifles one into Ulreich's bread basket. Not bad. 
23'   Ramos fouled by Javi Martinez. Real Madrid improving now and have a nice spell on the ball. 
22'   Thiago gives the ball away again. Real Madrid with a throw. 
21'   Kroos sends in the corner and gets it back but he's in an offside position.
20'   How did Ronaldo get so free? Looked like he was offside but he wasn't. Comes in from the right and tries to centre it. Blocked for a corner. Not very wise to leave Ronaldo in so much space.
19'   Rafinha has a strike that bounces before Navas and he gathers it in his chest. The type of shot that might trouble a goalkeeper. Navas will be glad to get his first save of the night.
18'   Rafinha looks like he's fouled by Carvajal but referee plays on. Bayern in control now. 
17'   Isco shoots and Javi Martinez blocks. Bayern win it and Ribery is fouled by Casemiro.
16'   Casemiro launches one to the left. Ronaldo ducks and Bayern win it. Carvajal steals it back and Ronaldo counters. Boateng trips up Ronaldo, it looks like, but ref gives no free.
15'   Hummels with a dreadful ball out over the sideline. Throw for Real Madrid. He shanked that out properly.
14'   Thiago and James stand over it and James sends it in. Lovely ball as it's just in the sweet spot where Navas doesn't know what to do so he stays. Ramos out for a corner. The corner comes to nothing but Bayern win it back.
13'   Boateng lets one fly to Lewandowski and he takes it on his chest before losing out to a combo of Ramos and Varane. Vazquez fouls Rafinha as Bayern get ready for their first set piece.
12'   Bayern taking control of this one. Real Madrid quite compact and defending well so far.
11'   Bayern in possession now. Thiago with a very ambitious pass in the air and that's out for a throw.
10'   Both players back on their feet. Some magic spray for Ramos and he jogs it off.
9'   Hummels looks for Lewandowski and the Polish player gets a touch on it before Ramos slides in. The Real Madrid captain was caught on the shin by Lewandowski and he writhes in pain. 
8' Robben off for Thiago. Wow! That's a blow for Bayern.
8'   Ramos to Casemiro. Marcelo looks for Vazquez. Bayern recover and work it out from the back. The game has settled down into somewhat of a normal pace. It couldn't keep going the way it was! 
7'   Ronaldo picks it up, plays to Vazquez and he goes back to Modric. Real Madrid with a semi-decent spell of possession. It ends with an offside. Casemiro looks for Ronaldo over the top and he's off.
6'   We are back underway.
5'   He is feeling his groin as the physios take a look at him. He is up on his feet and walks off without a limp. Let's see how that one progresses. Really unlucky for him if he can't continue.
5'   Thiago warming up. 
5'   Robben is injured here. Looks like he can't continue.
5'   Casemiro to Carvajal and he miscontrols it. Rafinha with the throw. Bayern applying pressure on Real Madrid all over the field and buzzing around like crazy.
4'   Bayern in the penalty area now. Shout for a handball. Real Madrid scramble it away but James picks it up and loses possession again before he can shoot. He was lining it up though! It was Ribery, who kicked the ball of Carvajal's shoulder. No chance of a penalty.
3'   Ribery caught by Luka Modric. Much ado about nothing really.
3'   Ulreich plays it long in search of Muller but Real Madrid win it back. Kroos breaks down the left and centers it but no Real Madrid jersey waiting for him. This game is really open so far.
2'   Real Madrid break and Boateng catches Isco. Lovely feet for the malagueño.
1'   First chance! Bayern are in after a mistake by Real Madrid. Lewandowski squares for Muller but he falls over. Lewandowski says he was pushed in the back and wants a penalty.
1'   We are underway at the Allianz Arena. 
    Pretty loud now in Munich! This is why we watch football, folks! Drink it in...
  Zidane and Heynckes embrace and have a chat before the game. Ramos and Muller meet at half-way. Muller not as happy as Ramos.
    And there's the Champions League anthem.
Nacho obviously not fit enough to play is wearing a suit. The subs for Real Madrid are: Vallejo, Benzema, Bale, Casilla, Hernandez, Asensio, Kovacic.
The amount of Bayern glags flying in the Allianz Arena is quite something! incredible stuff. Two teams in the tunnals and ready to come onto the field. James with hugs for his former teammates.
We are minutes away from action now. Real Madrid not quite in the zone yet. They wait for the Champions League anthem to play before that happens. Bayern Munich at home and will be very keen to get a positive result. This has all the ingredients for a historic clash! 
One player who has improved massively under Jupp Heynckes is Thomas Muller. He has been involved in 29 goals in 29 games since the manager's return. 

    Still, he left in the summer as he wanted more minutes. Zidane said, "I wanted him to stay. He decided to do and anyone that says I have something against James is wrong" as he answered questions yesterday during his press conference.
James has played in all of Bayern's Champions League games so far this season but he has just one assist. What a time it would be to get his first goal in Europe for the Bundesliga side.
    Plenty of attention on James Rodrigurz in the build-up as Bayern warm up too.
The players are out on the field warming up. Real Madrid playing a small game amongst themselves. Qute rigorous. It's a lovely 20 degrees in Munich.
    The Champions League trophy after a fresh shining. 

A closer look at team news for both sides. https://en.as.com/en/2018/04/25/football/1524678605_051502.html
Bayern will line up in a 4-1-4-1 (diamond?). Alaba doesn't make it and is replaced by Rafinha. Javi Martinez will be tasked with stifling Isco in midfield. Real Madrid could have problems if Marcelo, in particular, and Carvajal find themselves too high up the field, leaving space in behind.
    And Zidane has so many options off the bench. Asensio, Bale and Benzema. 
So, there's no Benzema, Asensio or Bale. Lucas Vazquez gets the nod ahead of all of them. It could be a 4-3-3. It does look like Ronaldo will play as the pure striker though.
Bayern Munich XI vs. Real Madrid: Ulreich; Kimmich, Hummels, Boateng, Rafinha; Martinez; Robben, James, Ribery; Müller; Lewandowski.
Real Madrid XI vs. Bayern Munich: Navas; Carvajal, Ramos, Varane, Marcelo; Casemiro, Modric, Kroos; Isco, Cristiano, Lucas Vazquez.
Zidane was asked if James will have extra motivation for the game tonight. He said no and that he would be motivated regardless of who he is playing because he is a professional footballer. Heynckes said that James was very down after his Real Madrid exit. Regardless of what way you look at it, James will have a chip on his shoulder tonight and would love to knock Real Madrid out of the Champions League. 
Robert Lewandowski was speaking before about Real Madrid but he decides now it is better off to stay mum on the issue. Maybe, it's because there is something to it, or alternatively, because he knows whatever he says will be taken out of context and used to unsettle him.

  Two heavyweights go at it tonight. Lewandowski and Ronaldo's numbers are crunched here by Opta.
The people have spoken and picked their starting XI for tonight. They seem to prefer Asensio over Benzema but that might be at odds with what will actually happen. It looks like Benzema is going to start but, of course, this is based on educated guesses. Lucas Vazquez and Gareth Bale have fallen backwards and it looks like they are out of contention. 

We trust that anyone watching last night's offering between Liverpool and AS Roma has now been able to take a breath, and for those that enjoy goals you'll be looking for more of the same after the seven provided at Anfield.
Hello and welcome to our build-up to the huge Champions League semi-final first leg between Bayern Munich and Real Madrid from the Allianz Arena. We'll be bringing you all the latest team news as well as tidbits of information throughout the day to hopefully have you salivating by the time our minute-by-minute live feed of the match takes over.