LEGANÉS
Garitano: "Leganés never had the chance to sign Mariano"
The Leganés manager said he is currently managing in a top job and isn't think further ahead as well as speaking about salvation on Saturday at the Bernabeu.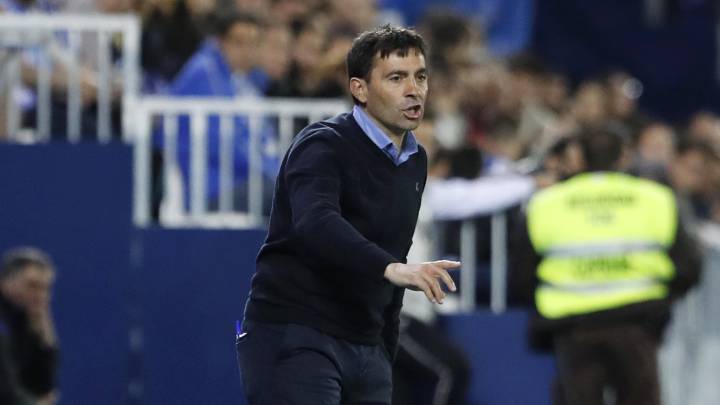 Asier Garitano returns to the Santiago Bernabeu on Saturday night with an objective a little less high-profile than making the Copa del Rey semi-final but more important. A draw would mean that Leganés are mathematically safe in LaLiga, which is something they have been fighting for on a weekly basis this season.
The manager spoke to EFE about the season, his team and his future.
What did you learn from the victory at the Bernabeu and what do you think Real Madrid learned?
For Real Madrid, you'll have to ask them. For us, we learned that you have to go there convinced that these things can happen and that you have to go knowing how hard it is, because the situation is very complicated. The stats on people who won there are small. But we have to try because we are missing one point and our opponents will demand a lot.
Zinedine Zidane will be in the other dugout. Do you feel something special when you shake the hand of one of the best players of all time?
He's a a coach now and he is also one of the best with what he's doing. We are in the top flight, there are great coaches here. I'm happy to be here, to be able to greet all those people and be able to compete with all of them.
It's said that you decided not to sign Mariano on loan when you were offered him. Is it true?
I get the feeling that Leganés never had the chance to sign Mariano.
Would you like to sign him?
And Benzema too... But, has the chance to bring Benzema here ever arisen? No. And Mariano either. It doesn't make sense. Also, I would like Lucas Vazquez and Marco Asensio. But it was never possible to bring any of those.
Do you visualise training a big team?
What's big and what's small? What is great is being able to work, being able to train in the top division. This is one of the best leagues in the world and only 20 managers have the chance to be here. For me, that is already great.
LaLiga Santander
*Update 26 de abril de 2018