ARSENAL-ATLÉTICO
Arsenal 1-1 Atlético Madrid Europa League: match report
Antoine Griezmann equalised for Atlético Madrid after Arsenal took the lead through Alexandre Lacazette in the Europa League first leg semi-final on Thursday. Cruz Azul vs America: Liga MX, live online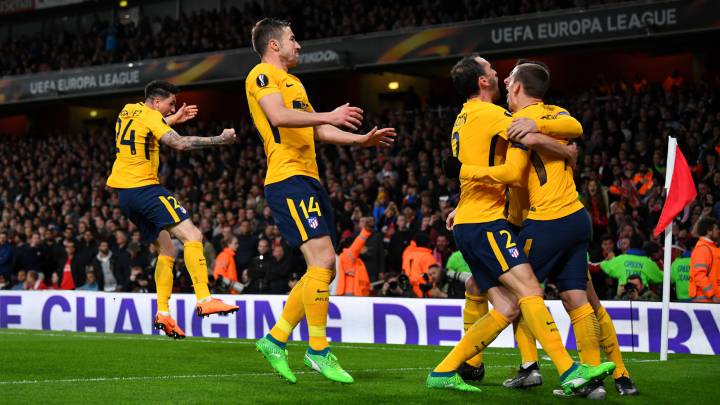 Arsenal 1-1 Atlético Madrid: match report
Arsenal had a man advantage for 80 minutes of their first leg encounter on Thursday night in the Europa League semi-final first leg. They failed to take full advantage, however, and allowed Atlético to get an away goal through Antoine Griezmann late on after Alexandre Lacazete opened the scoring for the Gunners.
If Arsenal are one of the last teams you'd want to play for 80 minutes with 10 men, Atlético are not the kind of team you want to encourage into a defensive position. They were forced to retreat after Sime Vrsaljko was given his marching orders after 10 minutes with a foul on Jack Wilshere and then on Aaron Ramsey minutes later.
Arsenal dominated the spell after that shock, which also saw Diego Simeone sent to the stands for abuse of the referee.
As Arsenal attacked from every angle, Atlético found their feet and actually finished the half in better shape than their hosts. They didn't start the second half that way though. Atlético started to pour it on with the rojiblancos struggling to get the ball at their feet let alone anywhere near David Ospina's goals.
Alexandre Lacazette headed home after 61 minutes when he outjumped Diego Godin and Lucas Hernandez at the back post. Simeone sent on two defensive players in Gabi and Stefan Savic as they settled in too accept the 1-0 loss.
On 82 minutes, however, the ball was sent long to Griezmann, who fought hard to get it under control. His initial shot was saved but he followed up and clipped it over Musafi, who could only help it into the roof of the net.
Atletico got their away goal and will be delighted that Arsenal have to come out and score at the Wanda, which is not something that many teams do. It ended 1-1 and perfectly poised for the return leg in a week's time.
Arsenal vs Atlético Madrid live stream online: as it happened
90'+3' FULL-TIME! Arsenal throw away a man advantage for 80 minutes. Draw and makes it perfect for the second leg! Very interesting.
90'+3'   Header from Ramsey. Oblak saves.
90'+2'   Atletico throw now and they are taking their sweet time over this one.
90'+1'   Three minutes of added time.
89'   Ramsey with a shot that is blocked for another corner.
89'   Atletico concede another corner. They are soaking it all up now.
86'   Corner comes in and Atletico clear.
86'   Ramsey header. What a save from Oblak. he was at full stretch. 
85'   Griezmann off now for Torres.
84'   Atletico Madrid get their away goal. So important. 
82' GOAL! Griezmann makes it 1-1. Ball over the top and Griezmann fights for it, wins it, shoots, sees it saved but follows it in and slots it to the roof of the net.
81'   Fernando Torres will be Atletico's last sub.
80'   Lacazette fouls Gimenez and Gimenez wants a card. He says he had acres of space to run into. Ref tells him to calm down and doesn't produce the card.
78'   Koke with a terrible touch again.
78'   Arsenal probing again. Down that left hand side again too. Savic has gone right-back.
77'   Koke loses possession now with a dreadful touch.
76'   Simeone looking increasingly nervous on the sideline.
76' Correa on for Savic. 
75'   Shot from Xhaka. Just over.
74'   Arsenal toying with Atletico outside the box now. 
73'   Stefan Savic coming on. 
72'   Yet another corner. Cleared this time. Correa breaks and sends it across to Griezmann but that's cleared by Arsenal. Ball hardly been in Arsenal's half tsince the second half started.
71'   So, so close. Lacazette nearly makes it two. He heads down to the back post but it's just wide.
70'   Corner for Arsenal. Laczette revs up the crowd. 
69'   That's another scare. Monreal heads down towards goal. Godin clears. 
68'   Danger! Ball sent across the box by Lacazette and Welbeck nearly gets to it. Atletico survive another scare.
67'   Atletico being made to suffer now. Arsenal on the ball and it's swung in by Xhaka. Makes it to the back post and Arsenal win it again.
64' Gabi coming on for Gameiro.
64'   Oblak punches clear and was fouled in the process. 
63'   Atletico struggling to get out from the back. Whenever they manage to, they're losing it. Gameiro with a heavy pass to Griezmann now and he takes a heavy touch.
62'   Atletico Madrid need to keep the score at 1-0. But they could do with an away goal themselves.
61' GOAL! Lacazette heads home. One of those crosses from the left was always going to hurt Atletico. Nice finish from Lacazette.
60'   Simeone in the stands now speaking with an Atletico official. Seems to be giving him some very specific instructions.
58'   More nervous moments for Atletico as Arsenal push forward. Cross from the left again and it's cleared.
58' Diego Costa warming up now.
58'   Now a ball comes over to Ozil at the back post. He mishits it and that's wide. 
57'   Gameiro and Partey attack. They lose out with plenty of Arsenal players back to defend. 
56'   Cross from the right and Koke clears. Arsenal laying on pressure now.
54'   Atletico mess around at the back and Saul loses it. He tries to go around two Arsenal players before being robbed.
54'   Ball reaches Monreal bur another cross is cleared. Griezmann seems to catch Wilshere but play continues. Ref tells him to get up. 
53'   Arsenal starting to control the ball now. It's quite docile though. Gimenez launches a clearance up the field. 
50'   Ramsey shot. Saves by Oblak.
49'   Lucas and Xhaka get into it. Lucas was chasing a ball down the line and felt an arm so hit the ground. Xhaka thought he took a tumble. Referee seperates them.
48'   Ramsey with another foul on Griezmann. Griezmann wants a yellow now. It's not coming though. A few fouls now for Ramsey.
47'   Arsenal counter though with Wilshere. Welbeck on the left and he clips it back inside to Wilshere. Welbeck sends a cross across the goalmouth. No good. 
47'   Ball sent into Arsenal's penalty area and Arsenal clear. Just about as Griezmann picks it back up. Atletico on the front foot to start this half.
46'   Early chance for Atletico but Arsenal snuff it out and clear.
46' We are back underway for the second half. 
45'+2'   Arsenal will be unhappy with that, I'd say. They have the game by the scruff of the neck but let Atletico back into it. They need to be doing more with a man advantage.
45'+2'   And that's it for the first half. 
45'+2'   Into the second minute of added time now and Gameiro happy enough to see the ball out for a throw.
45'+2'   Corner comes in and Atletico block it again. 
45'+1'   Two minutes of added time. 
45'   Saul wins the ball back but Griezmann and him are on the wrong page. Arsenal win it back and win a corner.
45'   Correa breaks into space on the left. Ball bounces up lovely for him after cutting inside and he drives over the bar. Ooooooh close! 
43'   Xhaka with a clip on Griezmann from behind. Free for Atletico as they look towards half-time.
42'   Arsenal trying to get back into this one. they throw it around and then a cross comes in. Plenty of intricate passing. Nothing happening for them and Atletico backs to the wall.
41'   Free comes in and it's saved by Ospina. Arsenal counter but Oblak gathers.
39' 39' Mustafi with a foul on Griezmann now as he introduces his forearm to Griezmann cheek. Tame enough really but Atletico want a yellow.
38'   Shot from Arsenal come sin. Over the bar again. 
38'   Best chance of the game for Atletico by far.
38'   Thomas with an excellent run towards goal and it falls to Griezmann. He strikes and Ospina saves again. 
37'   Atletico just lacking the shots on target now. Lucas heads one back towards goal. 
36'   Ospina put under pressure and Correa nearly gets a touch before the clearance. Ball comes down to Oblak and he gathers. Atletico have weathered that early storm and it's much more even now.
34'   The ball is flat and Lucas Hernandez has to stop the game.
33'   Griezmann with a strike. Takes a slight deflection and Ospina saves. Nice effort.
32'   Another cross and it's headed out as Griezmann chases it. Another throw. Lucas takes and Atletico win another throw.
31'   Correa swings one in and that's cleared by Arsenal but they concede the throw. A rare attack from Atlético.
30'   Monreal with a shot now from the left. Ball comes over to him and he strikes it first time on the volley. Good effort but just wide.
29'   Gimenez to Thomas and he is whistled for a high foot. Quite obvious too.
29'   Oblak with the ball now and he's taking his time. He eventually clears and Atletico get control of the ball.
28'   Another corner and it's cleared before Godin buys himself a free. Ramsey with a push in the back.
27'   Correa down in a heap and the referee doesn't give anything. Ramsey the man with a high foot.
26'   Another one into the box and Godin heads clear.
25'   Another foul by Koke. This is all Arsenal so far. Ozil takes it outside the box and tries to curl it into the corner. That's over the bar.
24'   And Koke launches into a tackle and then Saul is fouled. Referee needs to be careful not to lose control of this one.
23'   Lacazette with a dive in the box. 
22'   Griezmann gets on the ball and loses it.
21'   Ball into the back post and Koscielny hits it wide. Fell to him at the back post but it was awkward. He corkscrews it wide.
21'   Welbeck through on goal and Oblak saves with his feet.
20'   Atletico holding Arsnal at bay here but for how long. Their only outlet is to Gameiro and he is struggling up there on his own.
19'   Another ball comes in from the left and Wilshere heads into Oblak's arms.
18'   Atletico give it away on the edge of the box and they nearly score. Godin blocks and Arsenal chance spurned.
17'   Ozil drills one across the box. Headed out by Thomas. Arsenal all over Atlético now. Not even 20 minutes in.
15'   Ball comes in from the left and Lacazette heads it over.
14'   Atletico have settled into the game. Ball over the top for Gameiro and Arsenal recover. Foul on Nacho by Correa.
12'   Simeone is sent off now too. He asks for a card for a free by Bellerin and he gets sent to the stands.
10' RED CARD! Vrsaljko red-carded. Just ten minutes in and he catches Lacazette's ankle. 
9'   Thomas out to Vrsaljko and he whips in a cross first time. Griezmann driving into the box and can't reach it.
9'   Welbeck shoots and Oblak gets down to save the shot.
8'   Ozil moves into the box and Gimenez clears to an Arsenal player. Arsenal camped out just outside Atlético's penalty area.
7'   Another Arsenal chance and Oblak rejects the header. Arsenal all over Atlético here.
6'   Koke runs into trouble. Arsenal win it back and move up the field. Correa loses it and Arsenal counter. Ball comes across to Lacazette and he misses. Good chance! 
6'   Goal kick for Oblak.
5'   Dangerous ball in from Bellerin. Headed out and Arsenal enjoying this so far.
4'   Gameiro kicks it up the field but it's off target. Strange effort from Gameiro as he kicked it with his right before hitting it with his left. Arsenal dominating possession so far.
3'   Bellerin takes off down the right and has Lucas for company. The French defender puts it out for a corner.
2' Yellow for Vrsaljko now. Early time to get a card. Gimenez left him short with a pass and he dives in on Wilshere. Sloppy.
1'   Atlético win the ball back from Arsenal and win a couple of throws. 
1'   We are underway at the Emirates.
Simeone looking very relax on the bench!
The players emerge onto the field at the Emirates. Atlético in their yellow kit. Wenger looking for Simeone and has a wave for the fans. Great atmosphere!
"We go into every like like it was a final," he says.
German Burgos being interviewed before the game and says winning is the only thing they're thinking about tonight.
Diego Costa has been given the all clear tonight but he starts on the bench. He has played against Arsenal six times, winning four and scoring three goals. He lost two of those games too. No draws.
Aubameyang is out for Arsenal but Welbeck and Lacazette start up front and will be tasked with getting goals. Simeone spoke highly of Ozil's quick thinking before the game and he starts tonight and will feed the two up front. Will be interesting to see if Simeone has a plan for Ozil.
Diego Costa starts on the bench for Atlético Madrid as Diego Simeone opts for Gameiro and Griezmann up front. He also has Vrsaljko, Godin, Gimenez and Lucas at the back. He might have some injuries to contend with but that's a fairly formiddable defence. Gabi is out as Thomas Partey gets a start in a bold attacking decision by Cholo.
Arsenal team news: Ospina; Bellerin, Mustafi, Koscielny, Monreal; Ramsey, Xhaka, Wilshere; Ozil, Lacazette, Welbeck.
Atlético Madrid team news: Oblak; Vrsaljko, Gimenez, Godin, Lucas; Correa, Thomas, Saul, Koke; Griezmann, Gameiro.
No matter which of these teams progresses to the final in Lyon, the players will be bumping into each other again in the not too distant future. Both clubs will be participating in the pre-season Champions Cup (although at least one of the managers will have moved on by then!)
Arsenal FC, both at their previous home of Highbury and now at The Emirates, have been criticised for not creating deafening atmospheres. Atleti fans will be hopìng to take advantage of that tonight as around 1,500 supporters travelled across to London to make themselves heard. An early Griezmann goal would certainly help. 

  As well as being in a seat at the Emirates Stadium and following our thrilling minute-by-minute coverage of the game on AS English, you can also catch the semi-final first leg from a number of lesser sources. Here's our simple guide.
Arsenal vs Atlético... in words and numbers.

Diego Simeone on Arsene Wenger: "The first thing that comes in to my head is admiration for a coach, a manager with a great ability to stay for so long. He has had to reinvent himself so many times and for us, and I see myself as a young coach, it's about observing, watching, learning, and admiring."
One man in the Atlético team has a particular knack for netting against Arsenal. Watch four of Fernando Torres' best goals against the Gunners from his time in the Premier League. 

Atlético Madrid will be roared on by 1500 travelling supporters this evening. 

Buenas tardes! Welcome to our live news feed ahead of the Europa League semi-final between Arsenal and Atlético Madrid this evening. We'll be bringing you updates throughout the day. 
Arsenal vs Atlético Madrid live stream online: preview
Atlético Madrid travel to London to play Arsenal in what they are hoping is Arsene Wenger's last tie in Europe with the club he has managed for 22 years. The Arsenal legend announced he will be leaving his post at the Emirates at the end of the season. While Gunners' fans around the world will be looking to send him off with a European trophy, Diego Simeone is hoping to crush that dream. 1,500 rojiblanco fans have travelled to watch the game as Simeone looks to bring back the first piece of silverware he won at the club back in 2012.
Arsenal are struggling in the Premier League and have little or not chance of making the Champions League places, which are occupied by Manchester City, Manchester United, Liverpool and Tottenham. As far as options for the game go, Pierre-Emerick Aubameyang is out as he is cup-tied while Mohamed Elneny is out with an ankle injury.
Diego Simeone is thinking about resoting to drastic measures in the drastic times he has found himself in. By drastic, we mean playing a three-man back line when he has grown to become one of the best managers in the world thanks to his undying loyalty to the 4-4-2. He is without Juanfran and Filipe Luis meaning he only has six defenders and one of them has been brought up from Atlético's B team. Diego Costa is in the squad though even if it's unlikely that he will start as Cholo considers Griezmann and Gameiro his best bet in the capital of England.