Iniesta sheds a tear as he says goodbye: "Barça have given me everything"
Visibly emotional and with his voice trembling from time to time, Iniesta announced he will be leaving Barcelona and expressed his gratitude to the club and fans.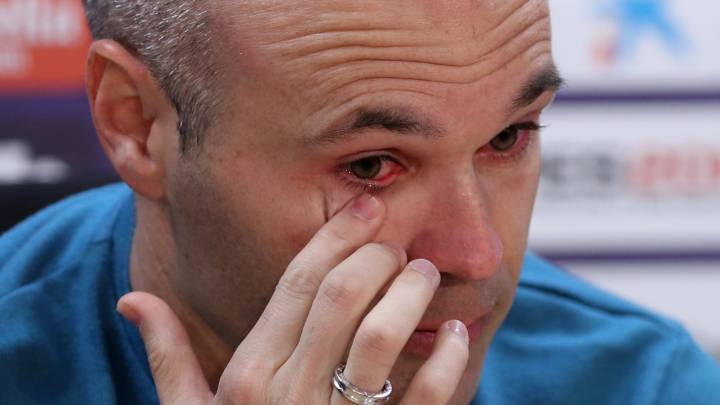 Andrés Iniesta took his place in a packed press room at the Ciutat Esportiva this afternoon to formally announce his departure from FC Barcelona, the club where he has spent the last 22 years, at the end of the season. He says goodbye after having won 31 trophies with the Blaugranas - a number which is almost certain to rise to 32 in the next few days, and in front an audience which found it impossible to control their own emotions - team mates, family, coaching staff, club employees and over 100 members of the international media.
Iniesta began will a speech before taking questions from the press: "Good afternoon everyone. The motive for this press conference is to publicly announce that this season will be my last here. It's a decision which I spent a long time thinking through - both internally and at length with my family. After 22 years here, I know what it means to be a player at this club - for me the best club in the world. I also know the demands and responsibilities which go with being a player here and what is expected year after year. This club has given me everything, they took me in when I was 12 years old and made me who I am. I realize that in the immediate future, I will no longer be able to give the best of myself - both physically and mentally. If I could have envisaged ending my playing career here, it would have been exactly like this - feeling useful, important, a first choice in the team, with the chance to win trophies and with the same positive sensations I have had over this season about to end. It's a very difficult day for me, to be sat here saying goodbye when I've spent my whole life at Barcelona. But I also understand that it's just the Law of Life and what is in store for me from this point on will be difficult. I could not allow myself to be in a position where I feel uncomfortable at a club which has given me everything and made me who I am. I have to thank Barça and La Masía - a great deal of who I am as a player and as a person is down to them.
"I also want to thank my team mates past and present - those of us who worked together every day; to all of the people and fans who have shown me affection at moments during my career. For any person, that's something incredible. To my parents, my sister... 22 years ago, we came here by car, and now, they are here with me today with the most wonderful person I have ever met in my life, my wife and our three treasured children - the most important things in our lives. And finally, to all Culés, who have seen me grown as a player, and accompanied me in the good and bad times, thank you. I'll carry your love and affection in my heart. Thank You to everyone because a little bit of all of you has made me a better man".
Happy and at peace - "my only aim was to triumph at Barcelona"
Following a lengthy round of applause, with those watching struggling to contain their own emotions, Iniesta spent the next 20 minutes taking questions from the media.
Out of all of the moments you have lived through at Barça, which one stands out?
It's difficult to choose just one - I have been fortunate enough to experience many, magical times - some of which I could never have imagined I would go through. I'll always remember the day I made my debut for the first team in Brussels. Everything that happened to me after that day has been a dream. All of the trophies and success came after that, but that was the most significant day for me.
France Football have apologised for never having awarded you with the Ballon d'Or, has not winning it been something which has caused you anguish or regret during your time at Barça?
No, I've got nothing really to say about it that I haven't said before. It's not a thorn in my side or a case of unfinished business for me not to win the Ballon d'Or. Like at said at the time, just being there, Xavi, Leo and myself, was magical; and the way I look at football and my own perception of happiness wouldn't change if I had won the Ballon d'Or or not. The thing I am most proud of is the respect and love which I have from everyone - my team mates, the people who are close to me... for anyone it's always nice to receive awards but it won't change my opinion, and nor does anyone have to apologise to me.
"Now I face other challenges; I hope I'm as happy as I have been here"
How do you hope people will respond in your last remaining games?
I have never expected anything, or hoped that people will give me any kind of acknowledgement or reception. They have already shown me their affection and an incredible respect for which I am very grateful for. My final games will be emotional and my plan is to enjoy them to the full. We'll try to secure the league title as soon as we can to see out the rest of the games with the pressure off.
What memories of all of the coaches you have worked under will you be taking with you when you leave?
I have had a lot of coaches and I have great memories of all of them - each one of them has been special at different points in my life. I have been very lucky in that respect - with all of the coaches and team mates I've had over my career. I'd like to thank them because they have always treated me really well. I hope all of what they showed me will make me a better player and a better person.
An honour and a privilege to have shared it all with Messi
What has it meant to you to share all of these years with a Barça legend like Leo Messi?
For me, it has been, and continues to be an honour and a privilege to be part of the same team as him - to share the everyday things and also so many magical times, because I know that there is no one quite like him, and I think it will be very difficult to see another player like him. To have played alongside him for so many years has been magical and a one-off experience - that's the only way I can describe it.
How would you like to be remembered by Barcelona fans?
It's quite easy - I'd like to be remembered as a good footballer and a good person, because in the end, when our football days are over, that's all we are - just people. That's all that will remain. I don't know how people will remember me but that's how I'd like it to be, and what I have tried to do during all of these years - be a great footballer, a great sportsman, and a great person in every sense. I've tried to represent this club in the best way possible, and I hope I managed to do that.
LaLiga Santander
*Update 27 de abril de 2018