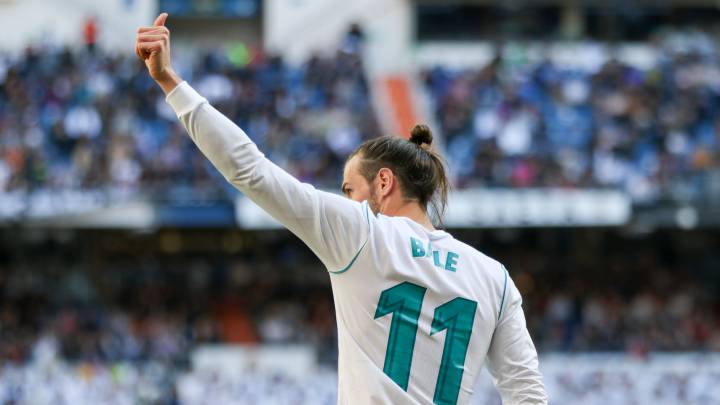 Real Madrid 2-1 Leganés: match report
Real Madrid beat Leganes 2-1 in La Liga on Saturday after coach Zinedine Zidane heavily rotated his side in preparation for Tuesday's Champions League semi-final second leg against Bayern Munich, including leaving out top-scorer Cristiano Ronaldo.
Wales forward Gareth Bale produced an acrobatic finish from close range on the volley to put Madrid ahead against their neighbours in the eighth minute of the game, narrowly beating the offside trap despite protests from the visiting players.
Borja Mayoral doubled their lead right at the end of the first half by stabbing in from a metre out. Again Leganes appealed for offside but the goal was eventually allowed to stand after the referee consulted with his assistant.
Leganes were unfortunate to go two goals down at the interval after coming to close to scoring on three occasions, including Watford loanee Nordin Amrabat striking the crossbar.
They eventually pulled a goal back in the 66th minute when Darko Brasanac knocked a cutback from Amrabat into an empty net.
Leganes forward Gabriel was sent off after the final whistle for reacting furiously to the referee for ending the game just as he was shaping to shoot at goal from outside the area.
Real are third in the league on 71 points, 12 behind runaway leaders Barcelona and one behind second-placed Atletico Madrid.
Atletico visit Alaves on Sunday while Barca play at Deportivo La Coruna, where a point will see the Catalans become Liga champions for a 25th time.
Real Madrid vs Leganés live stream online: commentary
Red card after the final whistle. Gabriel was about to shoot when the referee blew full time. He said something a little unsavoury to the referee, it seems.
90'+2' The referee blows full-time at the Santiago Bernabey. Real Madrid survive a real scare.
90'+2'   Another tame effort that Casilla smothers.
90'+1'   Two minutes of added time. Have Real Madrid seen off Leganes' threat.
89'   Cross sent in and rejected by Real Madrid. Bale wins a free as he races back and wins the ball before being pushed over.
87'   Darko with a nice turn inside the box but Casilla is out to smother it.
84'   Before Leganes win it back.
84'   Real Madrid trying to hold onto the ball now as they see to kill of the game. Leganes chasing them and los Blancos win a throw. 
83'   Ball sent into the back post. Theo heads away with Beauvue waiting for the ball to drop to him.
83'   Leganes win another free on the wing. Bale fouls this time. 
82'   Amrabat with another shot. Just wide this time as Casilla sees it off.
80'   Achraf puts it on Bale's head...almost. He glances it wide.
78'   Beauvue with a strike from miles out. He sees Casilla off his line and strikes. Won't come down in time but that was worth a shot. Lands on the top of the net.
76'   Sent towards goal and headed out by a Leganes head amongst a sea of bodies going for it. Real Madrid survive again.
76'   Theo fouls Zaldua and Leganes with another free. 
75'   Reall good chance for Leganes. Cleared by Casilla on the line.
74'   Bale with a foul now down the left as Leganes have the chance to send it towards goal and into the box. 
73' Zaldua foul on Ceballos. Bulldozed into the back of the player.
72'   Beauvue in the box and Casemiro nearly lunges. Casilla gathers his poor touch.
72'   Casemiro to Ceballos. Comes in from the left and Bale fires over.
70'   Bernabey not happy now. This isn't great from Real Madrid. Amrabat shoots again and Casilla saves.
70'   Mayoral takes the ball off Ceballos' foot as he lines up a shot. 
69' Shot comes in and Casilla saves.
66'   Beauvue out to El Zhar. It gets passed out to Amrabat and he centers to Darko. GOAL!
65' Guerrero replaced by Beauvue
63'   Cross from the right again and Real Madrid deal with it.
62' Kroos for Kovacic.
62' Benzema replaced by Asensio.
59'   Benzema fouls Zaldua.
59'   Cross by Diego Rico. Gathered by Casilla.
58'   Ball over the top to Benzema. Offside. 
57'   Very tame affair this second half has been.
55'   Casemiro shoots the free and that hits the wall before going straight to Cuellar.
55'   Oh. Sore one for Bale as Darko cleans him out of it late. Catches him on the calf. Sore but he's back up.
54'   Casemiro with a perfect tackle in the box and rejects Leganes.
53'   Kovacic finds Benzema as Real Madrid launch another attack. 
51'   They're on the attack again. They reject it again with Vallejo and get it again. The ball nearly falls to Amrabat as it's sent into the box. His touch takes it away from him.
50'   El Zhar crosses and Guerrero heads down and into the hands of Casilla. Great chance for Leganes.
50'   The Mayoral-Benzema axis is not working at all.
49'   Theo pops one to Ceballos and gets it back. It's sent inside to Mayoral, who looks for Benzema but that pass is way off the mark. Cuellar gathers.
48'   Gabriel and Casemiro fight for the ball at the back and the Brazilian watches it roll out for a goal kick.
46'   No changes at the break. 
46'   Back underway at the Santiago Bernabeu.
45'   The ball was sent in, Mayoral was onside. It came off a Leganes defender's head, Mayoral was in an offside position but it didn't matter as it was a Leganes player who hit it. Goal stands correctly.
45'   That's it for the first half. Controversy but it's 2-0, that's all we do know.
45'   Mayoral turns it home at the back post. There was talk of offside but the referee says it was on. 2-0 at the stroke of half-time.
45'   We need confirmation here. 
45'   GOAL! No.. wait. It's offside. Or a free. Or something! Mayoral sent it towards goal and the referee said it wasn't a goal. Then he said it was.
45'   Benzema freed down the left. Siovas gets a foot in and puts it out for a corner.
44'   Cross rejected again by Real Madrid. Ceballos gets a shot away but that's over. 
43'   Amrabat crosses and it's sent up into the air before Casilla gathers.
42'   Free for Zaldua and Leganes for a foul by Llorente.
42'   Nice move forward by Real Madrid. Ceballos to Llorente and on to Benzema. He tries a centred pass but that's no use. Blocked and Leganes clear.
40'   Real Madrid win a corner. Played short and Ceballos plays it out to Achraf. Bale gets a head to it but glances it over with the crown of his head.
38'   Acrhaf drives forward and wins it. Leganes recover and counter.
38'   Bale fouled. Real Madrid trying to gain control of this one again.
37'   Shot from Amrabat hits the crossbar. Just over! Leganes getting closer.
36'   Ball sent in and acrobatic effort from El Zhar is repelled by Real Madrid.
36'  Cross from Zaldua all the way to the far corner where Amrabat is waiting. 
35'   Bale down the right and he cuts in, plays it to Ceballos. The former Betis man's shot is saved by Cuellar. Far more even now after 35 minutes than it was in the opening exchanges. 
35'   Another ball in from the right. Vallejo clears. Darko gets it and he pulls it back but that's weak and Llorente covers and clears.
34'   Theo with a thumbs up as the ball is swung out his way. It's high and over his head but he appreciated the effort.
33'   Mayoral fouled. Ref looks for advantage but it's not coming and he blows. 
32'   Amrabat loses out and Kovacic recovers. 
32'   Theo controls the ball out to him. He turns and crosses but it's deep and Leganes put it out for a corner. Bale at the back post hoping it would fall to him.
30'   Vallejo leaves a ball back to Casilla. Real Madrid lose it again and El Zhar crosses but Casilla gathers this time.
29'   Cuellar parries a shot into the path of Mayoral. He shoots but Leganes block it on the line. Real Madrid looking soft at the back but dangerous every time they attack.
27'   Zaldua through and he squares to Guerrero. The striker tries a back-heel with a spin while he's at it but failes to make contact with the ball. Another good effort.
25'   Looked like a save by Casilla? Or maybe a touch by Theo.
25'   Clipped towards the front post and Rico heads it but Real Madrid get it away. Just about. That was very close! 
24'   Casemiro takes Amrabat down as he flicks the ball past the Brazilian. Very, very lucky not to get a yellow.
24'  Ceballos with a nice few touches, Real Madrid eventually let the ball into Bale but Siovas recovers. 
23'   Siovas down to Gabriel but he can only catch the ball with the top of his head. Into Casilla's hands.
23'   Bale gets it this time though and moves down the right before being overtaken by two players. He loses the ball and then fouls Rico. Tame enough free.
22'   Ball out to Rico and Bale nicks it off his toe. He concedes the throw though.
21'   Ball out wide to Theo and that's too heavy.
18'   Bale gets it on the right. First time cross and it's blocked back out to him, hits him and goes out for a goal kick.
17'   Kovacic run and pass to Theo before Darko fouls Theo. Free from the left now for Real Madrid. They recycle it instead of sending it towards goal.
17'   Zaldua sends in a cross and Guerrero nearly gets a head to it. Leganes putting pressure on. No chances yet though. 
15'   Real Madrid settling into more defensive position now. Leganes enhoying more possession. Gabriel chips one towards Amrabat, who is out on the left now. 
14'   Goal kick for Leganes. Ball played back to Cuellar and he launches it forward but it comes straight back at him and it's out behind for a restart.
12'   Leganes improving into this one. Amrabat tries to break forward in the centre but Bale dispossessed him. 
10'   Bale now has 12 goals in 17 games.
9' 1-0 Gareth Bale! Scuttery finish and Bale was about two yards offside. 
8'   Bale with a nice no-look pass to Achraf and he wins it, turns Siovas and moves into penalty area. Slide comes in and he loses it.
7'   Kovacic on the run again. Stopped in his tracks and turns back. Theo coughs up possession and Leganes try to create their own counter.
6'   Leganes get ideas. Kovacic breaks it up and plays back to Casilla.
5'   Uneventful start to the game. Both sides eyeing each other up.
5'   Achraf on the right. Madrid setting up shop in Leganes half. Ceballos in the penalty are and after it bounces off a few players, Leganes clear.
4'   Marcos Llorente moves forward down the right and Siovas stops him.
3'   Ceballos into Bale and outside the box, he shoots! Over. Very over.
2'   Interesting to see how Real Madrid line up. Ceballos on the right and Bale seems to be on the left. 
1' We are ready for action at the Bernabeu! Ref blows his whistle and we have action.
It would be a sad day when Garitano leaves Leganés. He has lead them from Segunda B to the Primera where he has kept them safe for two years now (provided they get a point in their next three games).
Real Madrid will be looking to keep this streak going. They only time they didn't score was against Atlético back in November. 
There is growing concern that Asier Garitano will leave Leganés at the end of the year. They were as high as seventh after 14 games and were riding the crest of a wave. Since them, however, they have collapsed and while they need just one point to secure safety in the top flight, it seems the parting of ways between the two parties is coming. He might have options heading into the new year with Athletic Club and Real Sociedad potentially looking for new managers. He's from Guipúzcoa in the Basque Country and might fancy a move home.
It's rotation all around as Bayern name their youngest starting XI since 1971 in the Bundesliga on Saturday. Real Madrid trying to keep pace with them with 10 changes from the side that played on Wednesday.
Asier Gariatno says: "We will go there with the same ideas and the same intentions (as the Copa game). We know that we are missing one point to achieve out objective."
Leganés XI: Cuéllar, Zaldua, Siovas, Bustinza, Rico, Gabriel, Rubén Pérez, El Zhar, Darko, Amrabat, Guerrero.
    Complete rotation for Zinedine Zidane. He starts Bale, Benzema, Ceballos, Mayoral, Achraf, Vallejo.... The number of talking points is incredible. Casemiro starts at centre-half as he is the only real option. Zidane really hopes he doesn't get injured because A) he has no other centre-backs and B) he desperately needs him for Tuesday night!
Real Madrid XI: Casilla, Achraf, Vallejo, Casemiro, Theo, Ceballos, Kovacic, Llorente, Bale, Benzema, Mayoral.
Hello and welcome to our live online coverage of the LaLiga clash between Real Madrid and Leganés from the Santiago Bernabéu. Kick-off is at 18:30 CEST. Follow us for team news and updates before the game along with minute-by-minute commentary once the game kicks off!
Real Madrid vs Leganés live stream online: preview
Forget about the Champions League for a second, Real Madrid are trying to close the gap on Atlético Madrid in LaLiga to jump into second. They play Leganés at the Santiago Bernabéu on Saturday night in a repeat of the Copa del Rey quarter-final that saw Real Madrid exit the competition. Kick-off from the capital is at 18:30.
For Zinedine Zidane, it is Gareth Bale and 10 others, as he plans to rotate heavily in the game. Cristiano Ronaldo, Sergio Ramos and Raphael Varane were left out of the squad and options are limited at the back with Dani Carvajal out along with Isco. Both players are as good as out of the Champions League second leg on Tuesday night against Bayern Munich but Zidane has opted to rest several of his heavier-hitters too with minutes guaranteed for some of the forgotten faces in the team.
Asier Garitano's future is up in the air as the club and the manager himself are growing increasingly pessemistic about his continuation in the suburbs of the capital. He has a deal until the summer and has managed to keep Leganés in the Primera division but he might have options further afield and there seems to be an acknowledgement that he is not long for the bench at Butarque stadium. As far as injuries go, he is without Omar Ramos, Szymanowski and Ezequiel Muñoz as they look to repeat the success they had at the Bernabéu in the Copa.