Mayoral: "I'll probably have to leave to get playing time"
The 21-year-old striker said after today's win over Leganés: "It's been two years now with not many minutes and I think I need to be playing".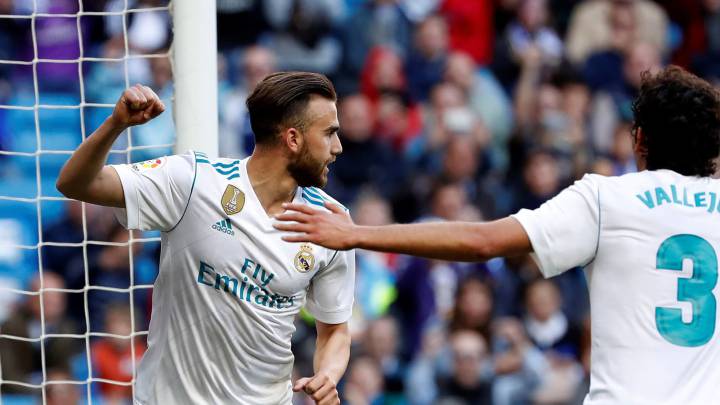 Real Madrid forward Borja Mayoral admitted that "in all likelihood" he will have to leave the club at the end of the season. Mayoral was on target in this evening's 2-1 victory against Leganés - his sixth goal of a season in which he has hardly featured.
"I'm sure I'll have to leave at the end of the season to find regular playing time somewhere else. At the end of the day, it's been two years now for me without getting many minutes and I think I need them, I'm young and I need to be playing", the 21-year.old told Gol.
Back-post finish
"There are a few games left and I don't know what will happen", Mayoral added. When asked about his goal against Leganés, Mayoral said he didn't know whether to celebrate or not because the linesman deliberated in signalling while the visitors appealed for offside. Replays showed the ball skimmed off Bustinza's head and land at the feet of the Madrid forward, who was arriving at the back post and in an advanced position. "I didn't know whether to celebrate or wait for the ref. It was given and I'm happy to have played and to have scored my sixth goal of the campaign".
Making the most of every opportunity: "I'm very happy because I'm working hard every day to get a chance in the team like this - and you never know when they will arise. So you need to be ready and give everything in every training session. To be honest, whether you enter the team or not you always have to be at 100% for the coach".
Madrid reserves get a run-out: "We can be happy because some of the younger lads got a chance to play today. We're not getting many minutes, but we won and that's what matters. This result will set us up nicely for the Bayern game, with the support of our fans, we will have to go flat out from kick-off to win the game".
Tuesday's return leg against Bayern: "I'm not going to talk about motivation because having the chance to make the final of the Champions League says it all. We know our fans won't let us down, we have to prepare well for the game and go for them from the first minute. We can't wait".



LaLiga Santander
*Update 28 de abril de 2018