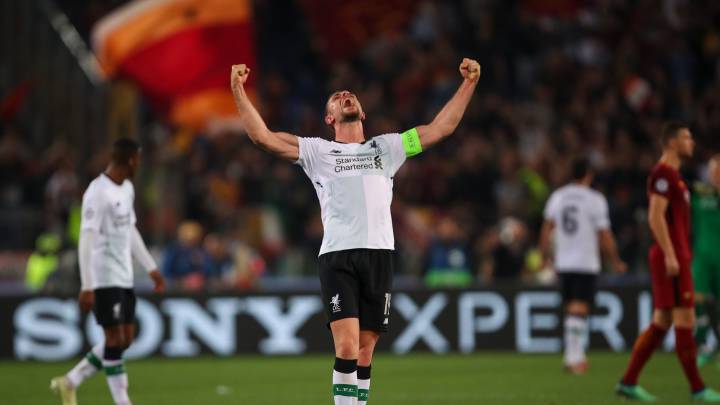 Liverpool will travel to Kiev to face Real Madrid in the Champions League final after edging past Roma in a thrilling semi-final.
The home side ran out of time at the end of a tie that yielded 13 goals and will survive in the memory as a scalding, high-octane clash in which Liverpool were lucky to avoid conceding a pair of penalties.
Roma were relentless after the break, but the three-goal deficit from the first leg and woozy defending in the opening half meant that passage to the final was always slightly beyond them. Liverpool held them at arm's length, but those arm muscles were wobbling at the end as Radja Nainggolan thumped an injury-time penalty in to the roof of the net. Roma were one goal from taking the tie to extra-time when the referee blew his whistle and prompted a relieved Jürgen Klopp to gallop on to the pitch.
Liverpool thought it would have been more straightforward when Sadio Mane opened the scoring in the tenth minute. That was the crucial away goal that was supposed to tranquilise Roma. The home side drew level through a slapstick own-goal from James Milner, who watched with a sore cheek as Dejan Lovren's clearance cannoned off his face and in to the net. There was a hint of Benny Hill to the goal, and the same vibe surrounded Liverpool's second. Georginio Wijnaldum nodded past Alisson after the Roma 'keeper had lolloped out of his goal and in to no-man's land.
Roma had not registered a shot on target at half-time. But the excellent Eden Dzeko found the bottom corner seven minutes after the break. That goal reinvigorated the crowd and a period of sustained pressure ensued. The officials denied Roma two clear penalties. First, Karius upended Dzeko in the box but escaped unpunished as the linesman raised his flag. Replays revealed the striker was onside. Trent Alexander-Arnold escaped a red card and a penalty soon after when he deflected Stephan El Shaarawy's close-range shot over the bar with his hand.
When Radja Nainggolan eventually made the breakthrough for Roma with a lethal shot from the edge of the box, only four minutes remained. The final whistle blew immediately after the same player scored a penalty deep in to added time. Roma had the beating of Liverpool but they could not beat the clock, and it is the Reds who progress to the final.
---
Jürgen Klopp: "Real Madrid needed luck and so did we"
---
Roma 4-2 Liverpool (6-7): as it happened
90'+4' FT. There's no time for another phase of play and Liverpool are through to play Real Madrid in the Champions League final. 
90'+4' GOOOOOOOOOOOL! Nainggolan thumps it in to the roof of the net! Just one more needed! 
90'+3'   Ünder's touch hits Klavan on the arm. Nainggolan to take. 
90'+3'   ROMA PENALTY! 
90'+2' Klopp runs the clock down with Clyne replacing Alexander-Arnold in a like-for-like swap. 
90'   Only three minutes of added time. 
90' Solanke booked for a spot of time-wasting. 
89'   Schick is fouled 40 yards out. Every Roma player and their dog rumbles in to the box, but Manolas drifts offside. Sloppy. 
88'   It's now or never, Roma. Get that kitchen sink and chuck it. 
88' Klopp replaces Firmino with Solanke. 
86' GOOOOOOOLAZO! A cracker from Nainggolan! He waits on the edge of the box and watches the ball run across his body before rifling it in off the post. Karius barely moved. The Belgian midfielder's reaction is understated. He just ushers everyone back to go again. 
84' Frustration boils over in the Roma ranks. Robertson responds to Florenzi shielding the ball out of play by launching Florenzi on to the athletics track. Manolas goes over, barking insults, and is booked. Robertson also sees yellow for his original judo throw. 
83' Jürgen Klopp makes his customary under-the-cosh mortar substitution. Klavan comes on to sure things up and hold the defence together. Mane makes way. 
81'   Dzeko threatens again. He drifts behind Alexander-Arnold and takes the ball down without breaking stride. By the time he has it at his feet, the angle is narrow and Karius blocks with a firm left hand before a defender hoofs clear. Up at the other end, Alisson gets himself in a pickle outside his box and is forced to slide tackle Salah to send the ball in to touch. 
79'   Dzeko peels to the far post and meets a corner on the volley, in a kind of reverse-Van Basten situation. He catches it very cleanly with his left boot... flies wide. 
78'   Antonucci is there to meet Kolarov's cross at the near post, but can't adjust his body in time to direct it towards goal. Roma keep the ball until Schick bends a first-time curler just wide from the edge of the box. Time is running out for the home side. 
76' Florenzi accepts a booking for a scissor-action tackle on Mane. He gives the referee a knowing tap on the shoulder and trots back to his position. 
76' Final change for Roma: Antonucci replaces El Shaarawy. 
75'   Lovely touch from Mane. He watches the ball out of the sky on the edge of his own box, cushions it with his thigh, and scampers forward. 
73'   Roma are flagging. They had a 10-15 minute spell of pressure and should have had two penalties. And yet they still have to score three, and that reality appears to be dawning on them. 
71'   A slip of concentration from Manolas, who passes the ball straight in to Firmino's shin. It bobbles to Salah and the pair gallivant forward. It comes to nothing and up at the other end, Gonalons slices a shot over from 25 yards out. Get your head over the ball, son! 
70' Gonalons replaces De Rossi. 
69'   Salah slips a surruptitious reverse pass through to Firmino, who lashes the ball across goal. Alisson saves with his foot. 
67'   Roma have been brilliant in this second half. The rub of the green has evaded them, though. Nainggolan delivers a cross that's slightly behind Dzeko, making it very hard for the striker to avoid leaning back as he strikes the ball. As a result, it's in to the crowd. 
66'   Liverpool are on the rocks. Well, as much as you can be with a three-goal advantage. Dzeko flashes a shot just wide from inside the box. 
63'   And they go close again! Dzeko glances Nainggolan's cross to the far post, where it ricochets off Schick and falls to El Shaarawy. He takes aim for the top corner and and Alexander-Arnold flies across and blocks. Replays reveal that it hit Alexander-Arnold's hand and that should have been another penalty to Roma. The Liverpool right-back should also have been sent off as it was a goal-line block with his hand. 
60'   Roma go close! A sensational, defence-splitting pass from De Rossi floats in to the path of Schick's diagonal run. The forward gets a touch on it, but not enough of a touch to tease the ball past Karius. Sighs of relief in the away end. 
58'   Wijnaldum robs Kolarov on the edge of the Liverpool box. Straight to Firmino, then on to Salah in the blink of an eye. Manolas mops up. At the other end, Dzeko twists and turns and plays the ball across the face of goal. Schick started his run slightly early and it runs behind him. 
56'   Free-kick to Roma on the corner of the box. Kolarov over it... it floats to Dzeko, who climbs higher than Wijnaldum at the far post but sends the ball over the bar.  
55'   Liverpool appeal for handball in the box against Nainggolan. No penalty for me. It did hit his hand, but it was in a natural position and the ball came from point-blank range.
53' A first change for Roma. Ünder replaces Pellegrini, whose performance was notable only for a woeful free-kick. 
52' GOOOOOOOL! Dzeko! Moments after he was wrongly denied a penalty, the ball drops to Roma's No.9 after Karius can only parry a shot from El Sharaawy. Dzeko takes a touch and finishes calmly, over Karius and in to the corner. 
49'   Roma should have a penalty. Dzeko races on to a through-ball and rounds Karius, who upends him. The linesman's flag is up... incorrectly. The Bosnian forward was onside. 
48'   Van Dijk prods the ball behind for a corner to prevent Dzeko shooting. Roma take the corner short and work it in to the box, but Karius claims. 
47'   Salah shoots from the edge of the box, Fazio removes the sting, Alisson claims. 
46'   Mane misjudges a cross at the far post and it drops over his shoulder. Pellegrini assumed Mane would clear, and therefore isn't prepared when it drops to him. He tries to trap the ball but it squirms out for a goal kick. 
46' Right then, four goals in 45 minutes is what Roma need. Let's see if they can do it. The second half begins. 
The teams are back out on the pitch and limbering up ahead of the second half. 
No shots on target from Roma, four from Liverpool. That tells a story about the disparity in incisiveness between these two. 
Liverpool are cruising in to the final thanks to goals from Mane and Wijnaldum, either side of a Milner own goal. Roma need to score four in the second half just to send this to extra time. 
45'+1' HT.
45'   One minute of added time. 
45'   Pellegrini tears at his shirt in frustration after overcooking his delivery. He went for pace and whip. He got pace and a dirty look from the fan in Row Z he hit. 
44' Lovren goes in to the book for leaning in to El Shaarawy just outside the box. That seems like a harsh decision, not least because the Roma winger appeared to just slip over. 
42'   Roma work an overlap on the right, allowing Florenzi to strike a bouncing ball. He hits across the ball and slices it out for a goal kick. 
41'   Mane rushes on to a diagonal pass and attempts a back-heel to stop it going out of play. It hits his standing leg and dribbles out. It looks good when it comes off... 
40'   El Shaarawy squares up against Alexander-Arnold and jinks in to the box before flopping over. The referee waggles his finger. It looked like a dive but the man in the middle just waves play on. Meanwhile, Mignolet is warming up. 
37'   Roma look very vulnerable when they have an attacking corner, paradoxically. Karius punches this one clear and Mane immediately has the ball. Nainggolan steams back to dispossess him, but Roma can only put themselves in that position so many times without conceding another. 
35'   Roma hit the post! El Shaarawy wriggles inside and shoots towards the far corner from the edge of the box. It looks comfortable for Karius until a defender prods it with his toe and deflects it on to the upright. 
34'   Things aren't clicking for Roma, shown as El Sharaawy watches the ball ricochet off his own leg and behind for a corner as he attempted to navigate Alexander-Arnold. 
30'   De Rossi swishes his fringe and prepares to deliver a cross from 40 yards out, in the centre of the pitch. Wijnaldum heads clear and Manolas sweeps up to prevent the quick-release pass from finding Salah. 
29'   Liverpool throw-in from the right, Firmino flick, Salah races in to the box. Only a last-ditch tackle from De Rossi averts the danger. 
28'   Nathaniel Clyne is warming up, with Alexander-Arnold walking gingerly after Kolarov trod on his foot a few minutes ago. 
26' GOOOOOOL! Wijnaldum! Roma fail to deal with the corner, which goes up in the air a couple of times before Wijnaldum nods it towards goal. Alisson goes from hero to zero as he stumbles out in to no-man's land and watches the ball bobble past him. Extra-time is on... 
25'   Point-blank save from Alisson! Robertson bulldozes past Florenzi and cuts the ball back from the byline and Mane meets it. He slams it in to Alisson's calf and it goes behind.
24'   Fazio heads Milner's clearance straight in to the path of Firmino, who immediately looks over the top for Salah. Manolas has watched it all develop and screens across to clear. 
22'   El Shaarawy beats Alexander-Arnold for pace as he scoots down the left flank. His cross is too close to Karius, however, and the Liverpool 'keeper plucks it from the air. 
20'   A good delivery and an equally good defensive header, from Van Dijk I think. Florenzi hangs the ball back in the air and Schick appears to knock it against Lovren's elevated arm. The crowd bay for a penalty but the referee's arm points in the other direction, having deemed that Schick pushed Lovren in the back. 
19'   The volume goes up another notch as Kolarov knocks the ball against Alexander-Arnold for a corner. 
17'   The Stadio Olimpico has perked up again. Liverpool possession is met by a cascade of whistles and boos. 
15' GOOOOOOOOL! Roma equalise with a bizarre own goal! Lovren wallops the ball clear deep inside his box. It hits James Milner square on the cheek and loops back where it came from, and in to the bottom corner. The Roma fans should burst in to a rendition of the Benny Hill theme... 
That was the first goal Roma have conceded at home in the Champions League.
13'   'Allez, allez, allez' is the chanting ringing through the night air. 
11'   Wijnaldum tumbles over Manolas' outstretched leg right on the edge of the box. It looked like a clear foul but the referee kept whistle and lips apart. Roma make their way back up to the other end, where Nainggolan lumps a shot on to the athletics track. 
9' GOOOOOOOOOOOOOOL! Mane! Kolarov gives the ball away inside his own half. Firmino picks it up and strides forward before sliding a pass through to Mane on the left. He takes a touch to steady himself and strokes it under Alisson. Good night Irene. 
8'   Liverpool have their first sustained spell of possession, which will go on for a little longer after Kolarov rumbles through the back of Salah and concedes a free-kick on half way. 
6'   Dzeko holds off Robertson with a nonchalent extension of his arm and cuts the ball back in to the six-yard box. It's great hold-up play but none of his team-mates have anticipated the run. The ball comes out to Florenzi who draws a deep 'OOH' from the crowd as he flashes a shot wide from 30 yards. 
5'   De Rossi holds his hand up in apology after delivering an unsubtle knee to Salah's thigh. He knew what he was doing there. 
Kolarov wins a corner for Roma, and will take it himself, outswinging. Dzeko gets a head to it but his contact is messy. Liverpool try to counter through Salah but the move breaks down when Florenzi chests a cross-field pass back to his own 'keeper. 
3'   All Roma possession so far, albeit in fairly unthreatening positions. 
Roma have made a flying start. El Shaarawy flicks the ball over Lovren's head, and Dzeko nods it on towards Schick at the back stick. Karius cuts it out, but an early statement of intent nonetheless. 
1' Roma get us underway and immediately pump the ball forward. Here we go! 
The Champions League anthem booms out in a hazy Stadio Olimpico, clouded by the smoke from flares and smoke bombs. Team photos still to go and then we'll be off. 
The teams are gathering in the tunnel, amid a legion of waist-high mascots. 
    The key tonight will be the first goal. If Roma get it, the Stadio Olimpico will intensify and the momentum could swing. If Liverpool get it - and they have scored in every European away match this season - a place in the final is all but secured. 
  Ah, perhaps not quite as smooth as previously thought. Long queues outside the away end, and UEFA apparently forced to intervene. 
There were a lot of precautions taken to ensure that Liverpool supporters arrived safely to the Stadio Olimpico and, touch wood, it appears to have gone smoothly. I haven't seen any reported incidents. 
The players have just come out for their warm-ups in Rome, prompting a thud of noise from crowd.
Part of Franceso Totti must be a bit peeved that this Champions League run came the year after he finally hung up his boots at Roma. 

Roger McGough not part of this group, it seems. 

Here's the full breakdown of tonight's team news.
Florenzi drops to right-back and Pellegrini comes in for the injured Strootman in midfield. Schick and El Shaarawy are given a chance in attack alongside Edin Dzeko. 
Roma appear to have ditched the porous three-man defence that Liverpool exploited so effortlessly at Anfield. Di Francesco has set his side up with a 4-3-3 this evening, which caused problems in the latter stages of the first leg.
TEAM NEWS FROM ROME:
Subs: Skorupski, Jesus, Ünder, Gonalons, Peres, Gerson, Antonucci.
Roma XI: Alisson; Florenzi, Manolas, Fazio, Kolarov; Pellegrini, De Rossi, Nainggolan; Schick, Dzeko, El Shaarawy.
Subs: Mignolet, Clyne, Klavan, Moreno, Ings, Solanke, Woodburn
Liverpool XI: Karius; Alexander-Arnold, Lovren, Van Dijk, Robertson; Henderson, Milner, Wijnaldum; Salah, Mane, Firmino.
Salah has been performing none too badly this season (43 goals in all competitions) and having picked up the Professional Footballers Association player of the year, he then added to that with the Football Writers' Association Player of the Year. If Liverpool went on to win this and Salah then helped Egypt go a fair distance in the World Cup, you couldn't rule him out of being right in the running for a very shiny, spherical, golden award come the year end. 

Real Madrid put on shirts wearing "A por la 13" last night after their victory over Bayern Munich as they celebrated in front of the fans at the Bernabéu. And some Liverpool fans have got all het up, thinking Zidane's players have disrepected Liverpool, which really isn't the case at all.

Eusebio Di Francesco's side have to pull off another miracle in the Eternal City to reach the final. Liverpool have a three-goal advantage going into tonight's game in the Stadio Olimpico - as did Barcelona in the previous round - and Roma will have to pull something special out of the bag again to deny Klopp's side a place in the showpiece in Kiev.
Steven Gerrard thinks that Real Madrid's victory over Bayern Munich could be good news for Liverpool, assuming of course that Jürgen Klopp's side get past Roma this evening.