PREMIER LEAGUE
Yaya Toure to leave Manchester City, Pep Guardiola confirms
Yaya Toure's decorated eight-year stay at Manchester City will come to an end when his contract expires at the end of this season.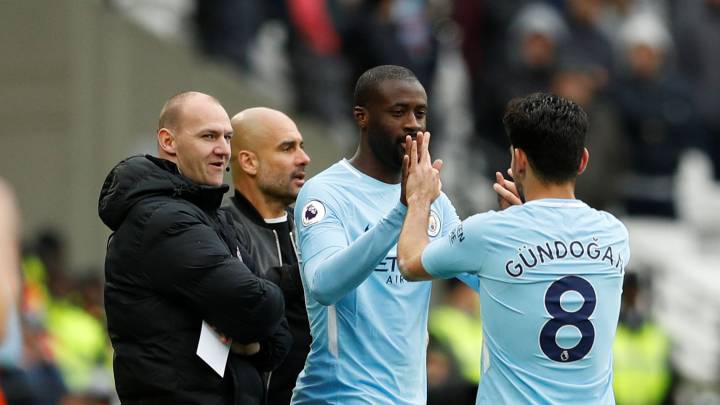 Yaya Toure will leave Manchester City when his contract expires at the end of this season, manager Pep Guardiola has confirmed.
The 34-year-old midfielder joined City from Barcelona in 2010 and became a driving force behind City's successes over the past decade.
Toure scored the winning goal in the 2011 FA Cup final against Stoke City, ending a 35-year trophy drought for his club and a maiden Premier League crown arrived the following season.
The Ivory Coast international scored in the 2014 EFL Cup final victory over Sunderland and netted the decisive penalty when City regained the trophy in a shoot-out against Liverpool two years later.
A second Premier League title came in 2013-14, with Toure netting a remarkable 20 league goals from midfield in what was his standout season at the Eithad Stadium.
He has been a more marginal figure this time around as Guardiola's City have sauntered to the title, with all nine of his top-flight appearances coming from the bench.
City will lift the Premier League trophy after their game against Huddersfield Town on Sunday and Guardiola confirmed Brighton and Hove Albion's visit in their final home match of the campaign will be a celebratory farewell for Toure.
Guardiola confirms Toure to leave City with 'beautiful farewell'
Asked whether a decision had been reached regarding Toure's future, Guardiola said: "Yes, he's not going to stay next season.
"In the Brighton game we are going to make one of the most beautiful farewells one player can receive.
"All that game will be focused on winning the game against Brighton and on Yaya. We are going to try to win for him."
"We cannot forget we have magnificent facilities but we cannot forget that the club gets higher and higher because of the players," Guardiola added.
"Yaya Toure came here at the start of this idea of the club and what we are in this moment is because of what this guy has done.
"We cannot forget that in the leagues from the period of [former managers] Roberto Mancini and Manuel Pellegrini, Yaya was the key, key, key player.
"We will prepare tomorrow's [sic, Sunday's] game for our celebrations and then after is for Yaya."
In all competitions, Toure has made 315 appearances for City, scoring 82 goals.