Fresh legs: Cristiano rested more than Messi in recent seasons
Over the past two campaigns, the Barça forward has played 103 out of a possible 114 games (90.35%), compared with Ronaldo's 87 in 117 (74.35%).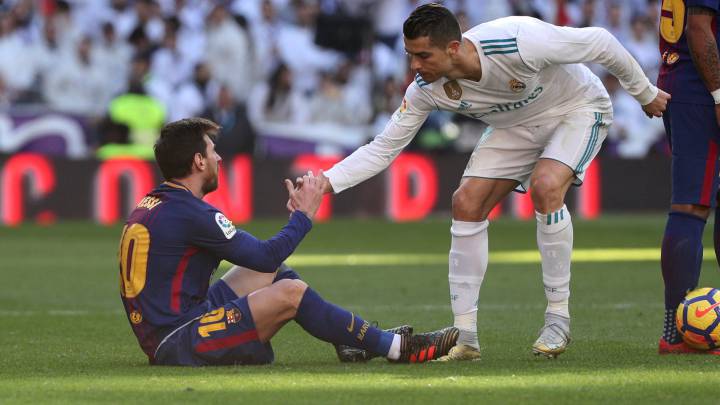 A different approach
Over the past two seasons, Lionel Messi has played 16% more games than Cristiano Ronaldo, a significant statistic involving two players who, until recently, wanted to play every single minute. In the Madrid forward's case, this approach to playing time and game-to-game management is clearly down to age and the desire to remain fresh for the sharp end of the season - Ronaldo has featured in 87 games out of a possible 117 (74.35%) compared with Messi's 103 in 114 games (90.35%).
More specifically, at Zidane's behest, Ronaldo has managed his game-time between January and May, a tactic which has been repeated over the past two seasons. For instance, while Messi has played 13 of the 18 Copa del Rey games, Cristiano has played two out of 12; in fact, the Portuguese forward didn't play a single minute in this season's competition.
Moreover, Zidane has rested Ronaldo in away games leading up to key Champions League ties - last season he didn't travel to Leganés, Gijón, Coruña and Granada, while this year he has sat out trips to Butarque, Cornellà, Insular and La Rosaleda. Conversely, he has played in every Champions League game, a total of 25 over the past two seasons.
Game after game
This is in sharp contrast with Messi, who continues to play almost every game. 'La Pulga' has featued in 33 of the 34 Barça games in LaLiga (only three times from the bench) and the one match he did miss was because of the birth of his third child. Last season he played 34 out of 38 matches, and was only absent through injury (2 games), illness and suspension. It's the same story in the Champions League as the Argentinian only missed last leason's game against Celtic.
With Messi's 31st birthday on the horizon some corners claim he and the club should follow suit and pick and choose his games, citing elimination from the Champions League as proof. Others, however, believe that Messi's form and fitness comes through playing. One thing is clear: both players have become less concerned with each other and, particularly in Cristiano's case, are looking to extend their playing days. Maybe Messi's time to rest hasn't come just yet.