Cristiano Ronaldo injured after scoring landmark Clásico goal
Cristiano Ronaldo injured his ankle in the process of equalising against Barcelona at Camp Nou, a goal that draws him level with Alfredo Di Stéfano.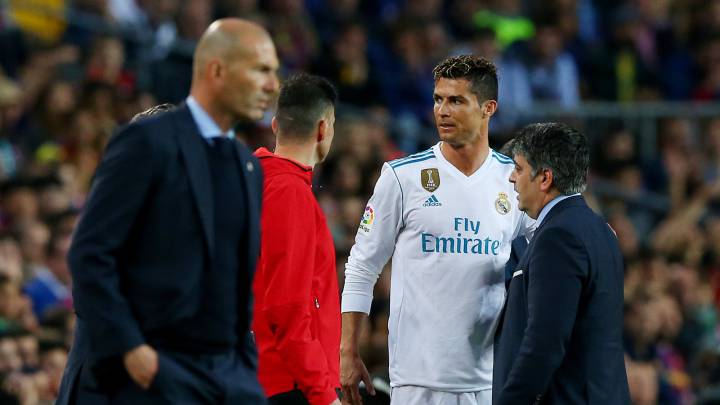 Cristiano Ronaldo gave Real Madrid a scare during the first half of El Clásico at Camp Nou, as he was injured in the process of scoring a landmark goal.
Asensio replaced Ronaldo at half-time
The No.7 cancelled out Luis Suárez's opening goal after 15 minutes when he bundled Karim Benzema's header over the line. Yet, in doing so, Ronaldo suffered a knock to his ankle. He grimaced when putting weight on the sore ankle and received treatment from the Real Madrid medical staff.
With the Champions League final against Liverpool looming on 26 May, Zinedine Zidane sent Marco Asensio to warm up. Ronaldo managed to complete the first half but did not emerge after half-time.
Ronaldo scores Madrid's 400th against Barcelona
With that goal, Ronaldo drew level with Alfredo Di Stéfano in scoring 18 goals in Clásicos. Lionel Messi is top of the list with 25 goals against Real Madrid. Curiously, Ronaldo has scored more goals at Camp Nou (12) than Messi (11).
Ronaldo's goal was also the 400th that Real Madrid have scored against Barcelona throughout their rivalry. Arthur Johnson scored the 1st, Sabino Barinaga the 100th, Gento the 200th, and Zamorano the 300th.