Zidane unconcerned by Cristiano Ronaldo's injury
Zinedine Zidane spoke to the cameras after Real Madrid and Barcelona drew 2-2 in a feisty Clásico encounter at Camp Nou.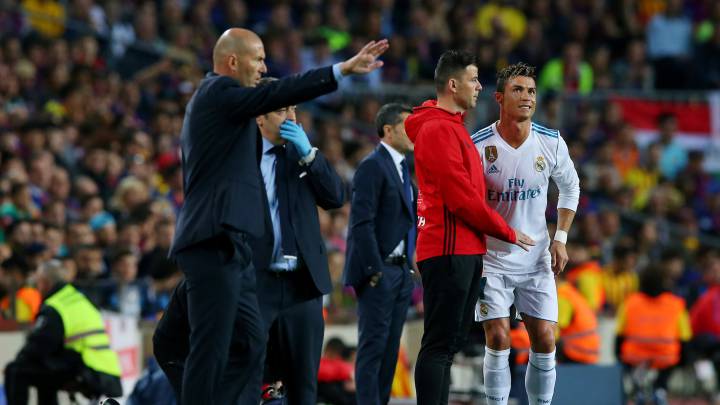 Zinedine Zidane spoke to the cameras after his Real Madrid side came away from Camp Nou with a 2-2 draw. Cristiano Ronaldo and Gareth Bale scored the goals for Madrid in a bad-tempered Clásico, while Luis Suárez and Lionel Messi scored for the hosts.
Zidane: 'It's difficult being a referee"
The result: "We've experienced a great football match, and at the end it's a draw, which I'm not sure is deserved or not. Those in the stadium will go home happy."
Questionable refereeing: "It was difficult, as always. Being the referee is difficult. There was a bit of everything. It's not going to change anything, that's it."
Eager to beat Barça: "We're always keen to beat them. We have a match and we want to win. That's what we did. We were really good in the fist half. After the break we were a bit rushed, we needed to have more patience because it was ten versus eleven. I think they'll finish the season unbeaten."
Cristiano Ronaldo's injury: "Right now he's not great but it's a small thing, just a movement. Tomorrow we'll have a look at a scan and see what we'll do. I'm not worried about him for the Champions League final."



LaLiga Santander
*Update 6 de mayo de 2018