Messi goal: Referee told about Barcelona foul by fourth official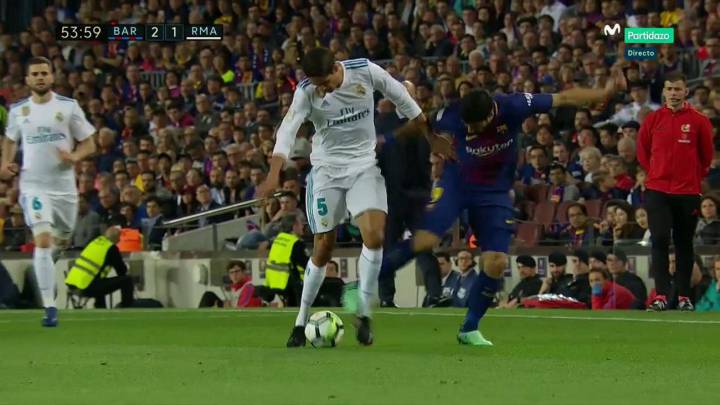 Referee Alejandro Hernández Hernández reportedly ignored word from his fourth official that Luis Suárez had fouled Raphael Varane in the build-up to Lionel Messi's goal for Barcelona in Sunday's Clásico against Real Madrid.
Ref told twice into earpiece that Suárez had fouled Varane
According to images broadcast by Spanish television show 'El Golazo de Gol', Ricardo Escudero Marín twice told Hernández Hernández via the match officials' radio link-up that Suárez, whose pass then set up Messi to score Barça's second in the eventful 2-2 draw at the Camp Nou, had brought the Real defender down. However, the referee opted to allow play to continue, despite Suárez himself later admitting: "I think it is a bit of a foul, because Varane controlled it and I put my foot in there."
💥 Palabras del 4º árbitro a Hernández Hernández en la jugada del gol de Messi: "Es falta de Suárez, es falta de Suárez"

⚠️ ¡Imágenes que SÓLO puedes ver en el #Golazo!

👇👇👇👇👇👇https://t.co/MurSxr8Dlq

— El Golazo de Gol (@ElGolazoDeGol) 7 May 2018
Both teams left unhappy with Clásico referee
Hernández Hernández has been widely panned for a display that has led to complaints from both sides. On top of the Suárez tackle, Real were left unhappy by his failure to award a penalty for an apparently clear Jordi Alba foul on Marcelo. Meanwhile, his decision to send off Sergi Roberto for hitting out at Marcelo did not go down well with the hosts, particularly as Gareth Bale had escaped action minutes earlier for a horror tackle on Samuel Umtiti. Barça were also displeased about a contentious offside call against Ivan Rakitic that saw a Suárez goal disallowed.
Butragueño: "We feel there is a clear foul on Varane"
Speaking post-match, Real Madrid director Emilio Butragueño said: "We don't like talking about the referees, but there were two incidents that ended up proving crucial. There was a penalty that the referee must not have seen - although I'm surprised his assistant didn't see it, as he's in a very good position. And there was the second [Barça] goal, where we feel there is a clear foul on Varane." That's also how the fourth official saw it...
LaLiga Santander
*Update 7 de mayo de 2018



LaLiga Santander
*Update 7 de mayo de 2018