Neymar's father has started preparing PSG exit
According to French media outlet Liberation, Neymar's father has met with Pini Zahavi, an intermediary, with a view to paving the way for his son to join Madrid.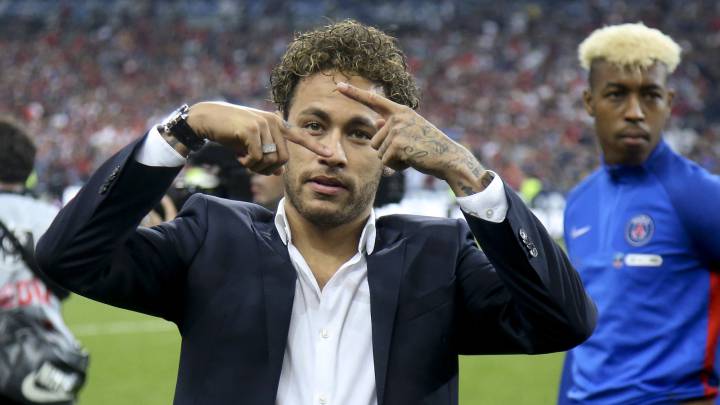 Neymar's father has set the wheels in motion on a move that will take his son from PSG to Real Madrid, according to French media outlet Liberation.
Real Madrid the only viable option for Neymar
Liberation states that Neymar Senior flew from Sao Paolo to Paris on 24 April to meet with Pini Zahavi, an Israeli intermediary who brokered Neymar's world-record transfer from Barcelona to PSG last summer.
"Neymar's father has asked him [Zahavi] expressly to open the doors to Europe's top clubs for his son," a well-placed source told Liberation.
---
Get to know Pini Zahavi, the man tasked with getting Neymar to Real Madrid.
---
The Brazil international is not considering a move to the Premier League, nor Bayern Munich. And, given that relations with Barcelona were harmed by his departure for Paris, Real Madrid are the only viable option that remains.
At this juncture, it is worth considering the story broken by Diario AS this week. AS understands that there was more than one meeting between the Madrid delegate and Neymar during the month of March as the PSG striker returned to his homeland to recover from his ongoing injury. One of those took place at the same time as the now-infamous selfie was taken with Neymar and Vinicius Junior.
PSG owner the stumbling block
Florentino Pérez has his eyes firmly set on signing Neymar. The Real Madrid president fluttered his eyelashes in Neymar's direction during the ceremony for Cristiano Ronaldo's fifth Ballon d'Or. "Neymar would have a better chance of winning the Ballon d'Or at Real Madrid," he said.
The biggest stumbling block to the operation is Tamim ben Hamad al-Thani, the Emir of Qatar and the owner of PSG, who will not consider selling the flagship player of his footballing project, who end goal of which is the Champions League.
Nevertheless, Real Madrid will try to take advantage of Neymar's restlessness in Paris to close the transfer before the start of the World Cup. According to Eduardo Inda on El Chiringuito, it would be a deal worth €260 million.