Levante stun Barcelona in nine-goal epic to end unbeaten run
The form team in the league welcomed newly-crowned double winners to the Estadio Ciutat de València and did what no other side could in LaLiga Santander.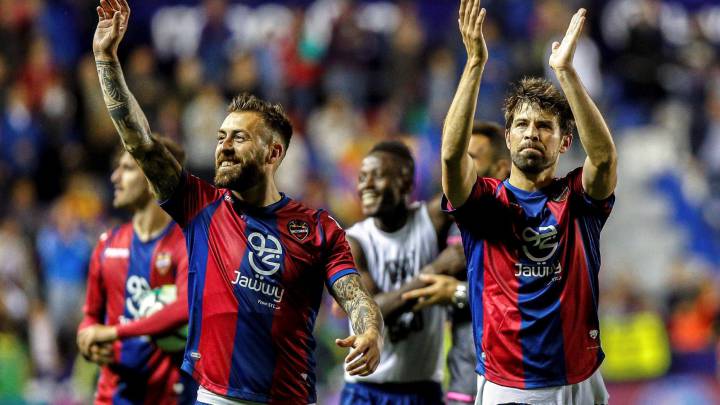 Levante vs Barcelona: match report
With El Clásico out of the way and just two games remaining against lowly Levante and Real Sociedad, most punters had Ernesto Valverde's Liga and Copa del Rey winners as nailed on to make history. No team had ever gone a full season in the Spanish top flight unbeaten...and that will now remain the case.
Despite sitting just outside the now-condemned relegation positions, Levante were given some hope of causing an upset based on their upturn in form since new manager Paco López arrived in March. But scoring five had never been on the cards. Two goals from Boateng in the first half had sparked hope but a Coutinho reply shortly before the break suggested normal service would be resumed. No such thing.
A blistering start to the second half saw the Granotas (The Frogs) leap into a three-goal lead before the 50th minute had ticked over as Boateng completed his hat-trick and Bardhi joined in the fun. Then in the 55th minute Bardhi grabbed his brace and disbelief overcame those in the stadium and the watching millions. Surely Barça couldn't find a way back.
Coutinho had two more within ten minutes and then Luis Suárez slotted home a penalty to reduce the deficit to just one. With 20 minutes still remaining, and pressure building on the Levante defence, the record streak looked like it would go to the final game of the season. Chances came and went for both sides, some clear cut, but no more goals were added. As much as it was a fairytale finish for the home fans, Barça players will have a real flatness after getting so close to taking their place in the history books. They'll just have to suffice with a league title and cup winners medal.
Levante vs Barcelona: how it happened
That brings Barcelona's unbeaten run to an end on the penultimate day of the season. Nine goals and a whole lot of effort has players, managers, fans, and minute-by-minuters gasping for breath. I hope you enjoyed the ride and we'll see you again soon... 
90'+4' Peeep, peeep, peeeeeeeep! It's all over. What a game. What a result for Levante. And now what celebrations they're loving on the field.
90'+4' The ref is looking at his watch. Mina hard on Pazzini and goes in the book too.
90'+3' Pazzini in for dissent
90'+3'   More free-kick danger from Barça as Pazzini trips Jordi Alba. The crowded area doesn't help anyone get a clean effort away and it's a goal kick to the home side. 
Rochina with an incredible chance to kill the game. A weirdly loose back pass from Busquets lets him in but he stabs it wide under pressure from Ter Stegen90'+1'  
90'   We will have at least four more minutes. Can little Levante kill the Barça dream?
88' Piqué on the right and just outside the Levante area tries to curl in a dangerous ball but it goes straight out. Screams from the big defender and Denis Suárez for a corner result in the latter seeing yellow. Desperate times.
88' Lerma and Luis Suárez both go in the book. Something about handbags.
86'   Levante build through the middle but a loose run from Bardhi means assistant's flag has to go up. Barça then look to create but the midfield press works.
85' The Estadio Ciutat de València rises to its collective feet to applaud Morales as he trudges off for Ruben Rochina
84'   Coutinho tries another of his curlers from outside the left-side of the area but can't keep it low enough. 
82'   Oooohhh! Almost an own goal by Luna as he directs the ball just wide of his near post. The resulting corner has Barça players claiming penalty but it would have been very harsh if given. Under 10 minutes to go so everything will be claimed in this search for the unbeaten run.
80'   Morales involved again picking up a throw wide on the right in their opponent's half and running to the other side of the pitch. As the play breaks down the Spaniard then finds a gap and gets a tame efforts trundling towards Ter Stegen.
79'   Levante are certainly not considering parking the bus and holding on. The best defence is attack seems to be their policy and a corner is their prize as they relieve some pressure. Nothing comes of it but at least they have Barça far from their goal.
77' Boateng off, Giampaolo Pazzini trots on
75'   Luis Suarez complaining about something in the Levante area but he's flagged for being offside after his namesake pulls the trigger on the turn. Another change coming up with Boateng down injured.
73'   Another chance for the visitors. Denis Suarez swings in a dead ball and rising to head it goalwards is Luis Suarez. He's well under it though and flies high. The flow has completely changed as you can probably sense.
72'   Close! Rakitic finds himself in space in the right channel, gets to the goalline and drives the ball across the face of goal. Nobody there to finish it off.
71' GOAL!!! Confident strike from the Uruguayan and the deficit is just one now. 
70'   Penalty to Barça!! Corner fired in low from the left and Boateng seems to clatter Busquets at the front post. Luis Suárez to take...
68' Roger off,  replaced by Jefferson Lerma
67'   A nice period of passing from the visitors but a clear-cut chance doesn't present itself. Paco making a change here...
66'   Worth noting that Coutinho joins Boateng with a hat-trick. Paper-scissors-stone for the matchball???
The previous free kick was delivered from deep into a crowded area and as Levante tried, and failed, to clear, Busquets played it across to the Brazilian who controlled well and let rip. Another deflection, but he doesn't give a... 
64' Gooooooaaaaaaallll!! Another for Coutinho. 5-3 in this crazy game.
63'   Free kick now won by Rakitic after a foul by Lukic. 
60'   Barça almost create a good shooting chance on a couple of occasions but the first, from an Alba backheel, is closed down and then Alcacer elects to try and find a teammate rather than sticking his laces through the ball. It's blocked but signs that Barça are finding more room in the final third.
60' Denis Suárez and Alcacer come on for Iniesta and Demebele
Coutinho with his second of the night picking up the pieces after Dembele's shot was blocked. Can we put this doewn to end of season silliness?
59' It's another goal...but plucky Barça have given themselves a chance. 
Bardhi again with another clinical finish. Slid in by Roger, cutting the Barça back-trackers in two. This is a joy to watch from a side who just a couple of months ago were relegation fodder.
56' It's FIVE!!!!!!!!
54'   Levante again. They're not sitting and holding when more goals are on offer. Morales cuts in from the right and chooses to drive rather than square it to his supporting cast. Just wide.
53'   Coutinho now, a one-two with Suárez but the cover is there.
51'   Almost another chance to break from the hosts who are looking to steal the ball back from anywhere and then turn. Suarez gets a chance though on the right side of the area but his shot is held by Oier.
Antonio Luna broke onto a direct pass from the half-way line and then feeds Boateng who slots past Ter Stegen neatly. Barça have forgotten how to defend.
49' Goooooooaaaaaaaaalll!! Boateng picks up an early hat-trick! This is incredible
Bardhi steps onto the rolled pass from Campana on the right (after great work to win the ball back in the first place) and forcefully curls a drive from the edge of the area. Ter Stegen flies across but has no chance. Let's see what the champions can do.
46' Gooooooaaaaaaalllll!!!! What a hit! What a start!! Levante with a third
46'   No changes confirmed although of course Valverde was forced into an early one with Pique.
45' We're off...
That's the team's back out for the second half. Let's see if there are any changes in personnel or approach to proceedings...
Out of interest, some people have been asking why Messi is not even on the bench tonight. Barça have a game against Mamelodi Sundowns in South Africa on Wednesday and the money people need their main man to be included. We can then also expect to see him for the season's finale at the Camp Nou next weekend.
45'+1' Peeeep! And that's it for the first half. Very enjoyable match so far
45'   Two claims for penalties waved away by Mario Melero first for a foul in the home area (Dembele should have been booked for simulation in my view) and then for handball against Pique in his own box. Referee correct to ignore the shouts from both sets of players.
43'   Another corner for the visitors after decent build up in and around the area by Iniesta. The delivery is dangerous from Coutinho but Levante escape.
42'   Great strike from Semedo from distance but Oier catches well.
40'   Barça smell blood and are pressing high to force an error from Levante. It's working too...
38' Gooooaaaaaalll!! Coutinho receives the ball from a high-lying Pique, shifts the ball to the right and lets fly. It initially looked like one of those from the Brazilian's top drawer but on second viewing, a slight deflection may have removed the keeper from the equation. Game on.
36' Yerry Mina fouled by Boateng and the man making the headlines goes into the book. There could have been afters but it blows over quickly.
34'   Well, we weren't necessarily expecting this, although as we pointed out earlier, Levante are the form team. The hosts use a simple throw in well and pressure Barça into their own final third. Those goals have just upped the work rate from the Valencian side, giving their more illustrious guests no time on the ball.
32' Pique does come on for Vermaelen (may have helped a couple of minutes earlier)
Boateng again and it seemed an age before he finally put it over the line. Sasa Lukic opened up the champions' backline far too easily. What can Barça do as they start to consider the premature end to an unbeaten run.
30' Goooooaaaaaaaalllll!!! Levante make it 2-0!!
29'   After a bit of a delay for Vermaelen, Coutinho has a free kick to do some damage with. Suarez foul on the keeper removes the danger.
27'   It looks like Piqué will be making an early appearance from the bench. Thomas Vermaelen signalled to the bench to say that he can't keep up with the Levante strikers. Sorry, it looks like he actually said he's taken a knock.
24'   Dembele gets a shot away after being laid on by Luis Suárez but the deflected strike is comfortably wide of the near post. Another corner and this time it's flung into the mixer but well dealt with by the home defence. The light blues (or whatever Barça are playing in) are starting to impose themselves.
23'   Corner now for Barça as they look to switch the flow of the last few minutes. It's wasted though and Levante break down the left before giving away a sloppy throw. 
22' Levante collect their first card. Bardhi with a challenge on Semedo.
20' 20' Vermaelen totally reckless there as he throws himself into a tackle on the much-quicker Boateng. Free kick from wide comes to nothing. 
18'   More pressure from the hosts. A free kick from deep is swung into the area and Rober Suarez tries to sweep it towards goal. He directs it nicely but there is not enough purchase on it to trouble the grateful Ter Stegen.
16'   Morales manages to win a corner for his side but Campana's delivery is well cleared by Vermaelen. 
15'   A really good run from the goalscorer Boateng down the right touchline, giving that needed control I was alluding to. He then checks and keeps possession through those behind him, eventually the ball making its way to Oier for a clearance.
13'   Dembele set free by Coutinho but the Frenchman had strayed. Levante will hope to calm things down and keep the lead as long as possible.
12'   Crazy defending now from Levante - a pass back to Oier amid a crowd of players. The keeper gets rid well enough though.
10'   Well, that has livened things up. Great atmosphere being created and another chance for Levante as the Barça defence is pulled apart. Bardhi smacks the final shot high and it pings back out off the bar. 
8' Wait just a minute!!! What was I saying? Morales does wonderfully to drive around the left hand side of the Barça area and Boateng meets his neat cross at the front post. Cue celebrations!
7'   Morales, Levante's top scorer, is trying to get on the ball as often as possible but the home side are struggling to make anything happening in the final third
6'   Free kick to Barça just outside the Levante box. Straight into the wall from Suárez (Messi probably sitting shaking his head) and then Iniesta's resulting cross is in vain as the offside flag goes up.
5'  A sight that many a Liverpool fan will relate to there. Coutinho does really well to get himself into a shooting position in the area but checks back to roll it to a teammate in space. The defenders close him down and snuff out the attempt.
3'   Dembele has a strike from well outside the area and it stays true to its line but always going over Olazabal's crossbar.
2'   Great run there from Philippe Coutinho as he left the defender for dead in the left-hand corner. His cut back is left by Suarez and Iniesta can't create more. Promising.
1'   Straight away Semedo seems to get caught and wins a free kick. Expect pressing all over from the hosts
We're off...
That's the teams heading out onto the field which means another guard of honour for Spain's league and cup champions. A nice touch!
I'm looking forward to seeing a Messi-less frontline tonight for Barça and how Iniesta, Dembelé , Suárez and Coutinho link up. I'll keep you posted...
If you fancy a flutter on the game, why not take some advice from our very own AS English Oracle. He's in the habit of winning millions each week by backing his predictions and treats the office to holidays in the sun on regular occasions. Oh, then he wakes up! Anyway, have a gander... 
Luis Suárez rather enjoys playing against Levante. He's scored in his last three league appearances against the Valencian outfit.
Back to Messi being rested, this is an interesting read from The Guardian on how Barça have appeared to differ with and without him this season.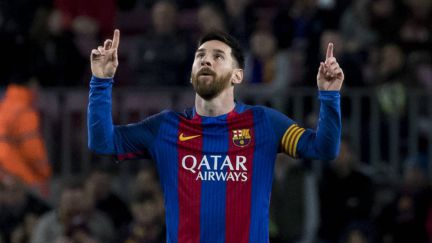 In the reverse fixture, back in early January, Barça ran out 3-0 winners at the Camp Nou. Messi and Luis Suárez scored in the first half and Paulinho added the gloss in injury time.
Missing tonight's game along with Messi is Sergi Roberto who is serving a four-game ban for hitting out at Marcelo in El Clásico just a week ago. Samuel Umtiti is injured. The hosts are missing the injured pair of left-back Tono and midfielder Chieck Doukoure.
New coach Paco Lopez has worked miracles at the club he took over in March. A single defeat since then - there is no shame in losing to Atlético Madrid - and five wins in six means this may not be the cruise that Valverde was hoping for.
Despite having the title sown up, Barça still have one clear objective to fulfil, that of going a full season without tasting defeat in the league. This away trip followed by a home game against Real Sociedad next Sunday is all that needs to be navigated to create history.
Wherever you are joining us from in the world, hello and welcome to our live coverage of Levante's final home game of the Liga Santander 2017/18 season. And it's the recently confirmed champions Barcelona that will grace the turf of the Estadio Ciutat de València.
Levante vs Barcelona: match preview
Levante are safe. Barcelona are champions. Not much to play for then, you may argue. But even when you put to one side professional pride, playing for a place in the manager's thoughts for next season, playing for a place in another manager's thoughts for next season, and places at a World Cup in a month to be selected, there is enough to whet the viewing appetite in Sunday evening's match up.
On-form Levante
A win for the hosts would put them onto 36 points, level with Espanyol and Celta Vigo and three points above Athletic Bilbao. Mixing it with those teams would have been seen as an impressive campaign as it commenced, despite them all faltering somewhat, and being well clear of the relegation zone with two games to go a positive situation to be in. More than that, Levante are hot right now: Paco López has them playing very nicely and they come into this on the back of four wins. Could little Levante do what no other Liga side could this season?
Iniesta and history
Valverde has challenged his team to become the first invincibles in Spanish football but has chosen the penultimate game of the campaign to rest their talisman, Lionel Messi. A 5-1 crushing of Villarreal last time out suggested the blaugranas are keen to go into the history books and with Iniesta having just 180 minutes left of his Liga career, he and his teammates don't want to fluff their lines. Coutinho and Dembele will get another chance to show what fans can expect once the Spanish legend hangs up his Barça boots with chances for others to shine likely too.