Man City's Maffeo leaves Girona in 10-million-euro Stuttgart move
The promising full back has been developing on-loan from the Premier League champions in LaLiga and now eyes "ambitious project" in the Bundesliga.
Pablo Maffeo, the Manchester City youngster who has spent the season on loan at Girona, has signed for Stuttgart for a fee of 10 million euros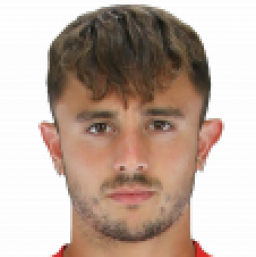 Stuttgart-bound City youngster Maffeo
The Premier League champions will receive the money for the promising right-back who will travel to the German city in the coming days to complete the paperwork. The contract he is to sign commits him to the side that finished the Bundesliga in seventh place - but just four points from the team in third - for five seasons, ending in June 2023. Maffeo was quoted as saying he was "very proud to be joining one of the best clubs in the Bundesliga, one with a spectacular stadium and a very ambitious project."
Maffeo's formative years were spent at another Liga club, in Espanyol's youth academy, before he moved to Manchester City in 2013 at the age of 16. Since January 2016 - except for the second half of that year - he has been sent out on loan by the English club. His three separate stints with Girona, which included promotion last season to the top flight, have shown his development. The club's debut season in with the big boys of Spanish football saw the player make 32 league appearances as well as one in the Copa del Rey, with manager Pablo Machín putting his trust in the defender. With one game remaining Girona are certain of a comfortable mid-table position.
The importance of Man City and Girona
Regarding the clubs that he is leaving, Maffeo said:
"Girona is a club which I have enjoyed an unforgettable experience and I will always carry it in my heart.
"Manchester City had faith in me when I was a boy, they developed me and have given me the dream of my life, to play at the top level in football."