VILLARREAL
Bacca: "I want to stay at Villarreal and they're talking with Milan"
The Colombian is delighted to have made the national team's provisional World Cup squad and says he is comfortable at Villarreal where he wants to stay.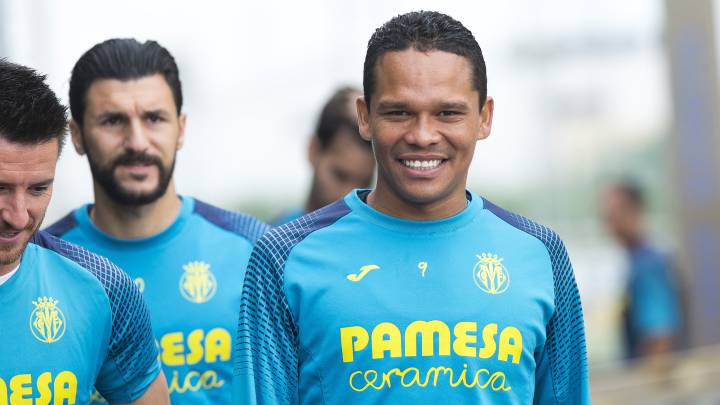 Carlos Bacca has assessed his year with Villarreal, his inclusion in Colombia's pre-World Cup squad and his future. The striker is quite clear as to where he wants to play and has acknowledged there are ongoing negotiations with Milan at present.
Provisional World Cup squad: "I am very happy to be on the provisional list, I always said that I came here to work and fight to be at the World Cup and thank God I am there. I think that I finished well and I hope to be on the final list."
Summary of the season: "At first, it cost me, the not knowing what was going to happen with my situation cost me and I couldn't do preseason well. I just arrived here and I was playing. In the long run, the body felt it and the physical problems started to arrive and stopped me from playing in some games, which complicated things more and they forced me out of some games. But with work I was growing, improving and the results can be seen."
Future: "I am calm, I wanted to have a good season here and not it is in the hands of God to show me the way just like with Villarreal and AC Milan. I have said I am happy here and I am not thinking of anything else. Just the game against Madrid and the national team."
Negotiations: "They are talking. Villarreal are talking to Milan along with my representative, they are dealing with these things. I am focused on the end of the season and working with calmness. They've been talking about my future for a while and I hope that they can fond one solution or the other soon."
Milan's position: "I have already said that I want to stay here and I feel comfortable at Villarreal. In Milan, the last year wasn't good with my manager I couldn't perform because I didn't feel important. Because of that, I have taken the decision to come here and it's also the idea to continue here. Not it is in the hands of the clubs and my agent."



LaLiga Santander
*Update 15 de mayo de 2018