Phil Thompson: "Madrid are like Man City, and this is good for us"
The Liverpool legend spoke ahead of the Champions League Final and believed that the younger, more energetic, legs of his former club could be a decisive.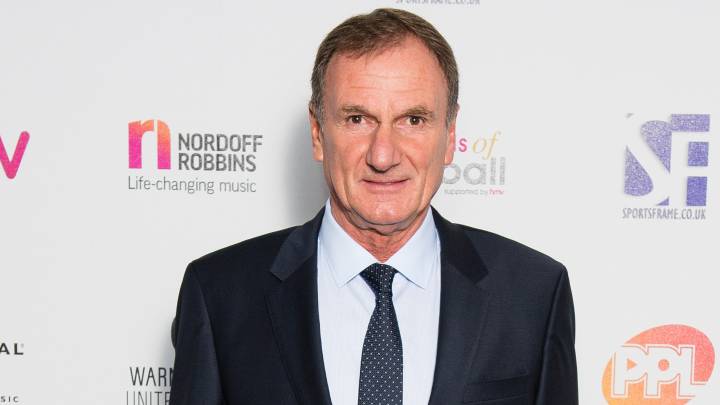 With just ten days until the 2018 Champions League Final in Kiev, I sat down with Liverpool legend Phil Thompson - a man who knows a thing or two about European Cups having won three - to get his take on the enticing clash between Real Madrid and his former club.
Balague meets Thompson ahead of Madrid vs Liverpool
Guillem Balague: Let's take you back to the European final of 1981, when Liverpool beat Real Madrid. I have read the version from Vicente del Bosque and Camacho, do you remember del Bosque.
Phil Thompson: I do remember him, yeah.
GB: They said they man marked you with the most primitive kind of tactics.
PT: I remember they were quite robust with their tackling. Don't forget back then in 1981 we had been the Kings of Europe in '77 and '78, Forest had done it in '79 and '80 but Liverpool were the kings of world football at that given time so it was a massive game for Real Madrid to be playing Liverpool.
GB: It's a little bit the opposite of what it is now isn't it? Back then they were 5th in the league and hadn't been in the European Cup final for a while and you were regulars.
PT: At that time it was only the league champions who played, so it was massive for Real Madrid. And I can remember that it wasn't a great game. The main reason for that was because the pitch was atrocious. The grass wasn't great but worse were the white lines that are made of lime and they were raised about an inch. Ask anyone who played in the game. It was like a Sunday league pitch when you play in the local park and a guy has a bag of lime to do the lines and it had set hard. The ball would be jumping when it rolled so it made for a really difficult match. It wasn't the best match in the world. It certainly wasn't one to remember.
It was like a Sunday league pitch, when you play in the local park and a guy has a bag of lime to do the lines
Phil Thompson on the 1981 European Cup Final
I remember Juanito the centre forward, he went through on Ray Clemence and he chipped it over the bar and that was the only moment.
GB: Was that not Camacho? I ask because Camacho has spent 30 years of his life explaining that that chip he tried over the goalkeeper he couldn't do because of the pitch making it bounce wrongly.
PT: Well, I can well appreciate that because, obviously, technically Spanish players are very good so to hit it so far over the crossbar was exceptionally bad technique, thankfully for us. Mind you it didn't stop Alan Kennedy from absolutely rifling the ball but when you see it you see he did hit it more on the volley, the ball wasn't really on the floor.
GB: So what happened with that goal is that they got asked to man mark you, at least some of you anyway. I think the throw in came from Ray Kennedy, so Vicente del Bosque, instead of picking up somebody else because he had to mark Ray Kennedy, he just stood in front of him at the throw which left one or two men unmarked. Real Madrid were obsessed with man-to-man marking and they left some players unmarked.
PT: Well with Alan being a full-back they wouldn't have been man-to-man marking him. So when Alan Kennedy makes his run no one goes with him. Ray Kennedy more or less throws the ball square of him which squares onto the 18-yard line and as he receives the throw-in he more or less chests the ball forward. I don't know who the defender was but I think it was the right-back and he made a terrible mess of trying to clear the ball and Alan Kennedy just went straight through him. And from an acute angle he drilled the ball across the goalkeeper. I think there was about ten minutes to go.
There weren't many chances in the game but after that goal I think we had three great ones.
GB: The other thing the Madrid players have explained about that game is that they were convinced they were going to go into extra time.
PT: Well that's what we thought they were trying for and playing for. Extra time and penalties. We were the team that had the tika-taka football in those days. We were like the modern Barcelona, with attitude
If you remember they had Laurie Cunningham playing as a right-winger. I played with Laurie for England so we knew his capabilities. You don't want to let him get moving, get running at you, and I think Alan Kennedy played very, very well against him. I always remember from corner kicks that unique thing about Laurie. From the right-hand side he used to take the corner with the outside of his right boot, due to him being right-footed. He used to bend it in. That was one of the great things about Laurie Cunningham that people remembered and even on the left-hand side he would still do an in-swinger but with his right foot. It just shows you the power that he had in his legs.
GB: Did you get to talk to him during the game at all?
PT: No, obviously we were too focused. Of course, after the game, even though you are delighted, you commiserate with him. You shook hands with him and, with him being English, you just said "sorry" and then went off to celebrate.
GB: Not having been in a final for 15 years, and at that time not a very wealthy Real Madrid, but how did you perceive them back then?
PT: Real Madrid were still Real Madrid. They were still a very big name. And Barcelona were a big name too. I played in '76 against Cruyff and Neeskens in the Uefa Cup so those clubs were still big, although not as huge as they are now. The recent history that they have had with the European Cup is just sensational. I didn't realise it had been 15 years since they had played in a final?
GB: So you were really the Real Madrid of the time then?
PT: We were the team that everybody feared in European football. People came to England and sought advice from our coaching staff. Our coaching was the sort of thing that was very technical. It was very, very simple. Very structured, very much one and two-touch football, pass and move, small games all the time. That's all we ever did. People would come and watch and they would go away with a blank piece of paper because it was just small games, seven or eight-a-side across half the side of the pitch.
GB: That must have kept you fit and gave you the idea that you had to pass the ball and move?
PT: Absolutely. But it was done in a way that it wasn't just about one and two-touch football. We were all about making runs forward, getting into the box, pass, move forward, pass, move forward. It was very frustrating when we were having to pass and then they'd say, 'you've got to run forward,' but it would all come together on a Saturday afternoon. It becomes second nature to you. Our coaching was done in a different way to what people wanted to come and see. People would want to come and see our really secret training sessions and they would go away scratching their heads thinking, "is this it?" It was all about the players you had. We could keep the ball for fun but we could be aggressive as well which is why we were the modern Barcelona but, as I said before, with attitude. And there were bad pitches in those days as well.
GB: And who was your Cristiano Ronaldo? Who was the guy you would say, 'it's OK, he will perform anyway'?
PT: Dalglish was the go-to man, the one you knew could create that little bit of magic. He was the one who could turn people. He had a little bit of Luis Suárez about him, backing into people, turning into them, nutmegging people in tight areas, sending the ball in from ridiculous angles but also being that creative force in and around the box. That was what made Kenny Dalglish a cut above the rest.
GB: And what was your role before you stepped onto the pitch and also once you were on the pitch?
PT: Well I was captain and because I had been there in '77 and '78 we knew what it was like. Paris was a wonderful place. It was great, not far for our fans to travel to, not far for the Real Madrid fans either, and there was a special atmosphere. And this sounds awful but we expected to win, which is the way Real Madrid have become now.
GB: Well that's a winning team, isn't that what it is?
PT: People are saying about Real Madrid that they are not very good but they can find a way to win, and that is a fantastic side to your game. It's more than having great players that can do this or do that. It's that you find a way of doing it when things are not going well and Real Madrid have done that.
GB: How do you see the game going? They are very similar teams in a way.
PT: Well that's the great thing. Real Madrid are going to be favourites - a team that has won the Champions League three times out of the last four years. As I say, they just find a way. Did they deserve to beat Bayern Munich? Probably not, but they found a way. Then against Juventus, 3-0 they win away then they play awful at home, get beaten 3-0, and then find a way to get that goal in the last minute. And it was a penalty, I don't care what anybody says, that was great refereeing. But it was really Real Madrid finding a way. And that's why you have to fear teams like that but we would rather play them. Real Madrid are very much like Manchester City, they are very offensive, they can't park the bus and I think that suits Liverpool. If you have seen Liverpool against Manchester City, we beat City three times this year. The way City play suited Liverpool and I think the way Real Madrid play is very similar.
GB: Would you compare this to boxing, with two heavyweights hitting each other until one of them goes down, or perhaps one of them being lighter than the other?
PT: I see it as being more technical, with skills, because both sides are technically gifted. I don't see it as heavyweights slugging it out. You look at our three attackers and the three attackers from Real Madrid, and the players in midfield. They have the great technique of Kroos, but we have more energy and we have younger legs than Madrid in those areas and I think that could be where it is won.
GB: Going back to your final, do you remember the talk you were given before you went onto the pitch and also at half time?
PT: It was probably the same sort of team talk we would get off Bob Paisley for a league game. It was to tell us to make sure that we were ready. We very seldomly mentioned the opposition. It was always 'we are better than them' and that's why we were so good. Don't worry about the opposition, let them worry about you. Maybe it's something of its day but it worked for us, and we weren't going to change it for Real Madrid in 1981.
We very seldomly mentioned the opposition. It was always 'we are better than them' and that's why we were so good.
GB: And would you get corrected during the game or at half time?
PT: No. We would always listen to the bench, they were always screaming. It was pass the ball early, give and move, give and move, that was the biggest thing. To get through the lines very, very quickly. Our play was very similar to modern day football. We had a goalkeeper playing outside of his box, we had high press from Ian Rush and Kenny Dalglish. That's quite modern day isn't it? But we never had any tactics. When we trained we would have Ronnie Moran our coach saying 'hound the oppostion', We had to close them down together, so if one closed down the next one would close down behind him. This happened all within these small-sided sessions.
GB: There again seems to be a return to that communion between the manager and the stands. How do you think Jürgen Klopp has managed to do that?
PT: I think to be a great Liverpool manager you have to really 'get' the club. And what I mean by that is that any modern manager knows the history of Liverpool. But you have to get it, you have to sense it, to really feel it, to smell it. And Klopp does. I did a lovely interview with him for our Saturday programme. I went and chatted with him at our Melwood training ground and I asked him why he came? Did he feel that it was something that was meant to be, him and Liverpool? His first managerial job was at Mainz who he had played for and after it was 'You'll Never Walk Alone' with Borussia Dortmund, and now he has come to Anfield, a club whose anthem has always been 'You'll Never Walk Alone'. Did he think it was always meant to be?
And he said to me that he had the opportunity of going to Manchester United and thought, 'I don't think this fits, this doesn't seem right. His wife said to him "Jurgen, if Liverpool Football Club come for you, that is for you," and he felt she was totally right. He felt like a manager at the right time, the right fit, for Liverpool.
When Liverpool took Jurgen Klopp, Van Gaal and Wenger were under pressure, so was Mourinho at Chelsea. If Liverpool hadn't moved when they did then any of those clubs would have taken Jürgen Klopp because he was available. . And I think the timing of it all seemed to fit into place. He comes in, he understands the people, the people understand him. They see his passion and I think that's a very, very important element of what it is to be part of Liverpool Football Club.