MARSEILLE VS ATLÉTICO MADRID
Europa League Final 2018: Marseille 0-3 Atletico Madrid live
Antoine Griezmann struck twice and Gabi put the icing on the cake to ensure Atlético won the Europa League as Simeone's side win their second European trophy his watch. The USA vs. Ecuador live and direct: Friendly FIFA Date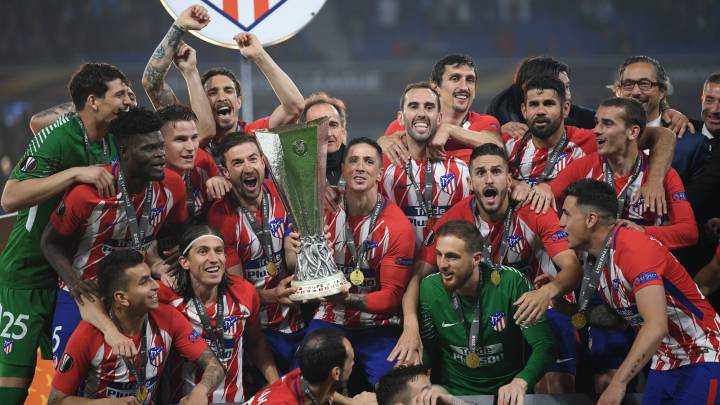 Marseille 0-3 Atlético Madrid: match report
It was third time lucky for Atlético Madrid in European finals as they beat Marseilla to win the Europa League on Wednesday night. Although, anyone watching would hardly put their performance down to luck. They soaked up the best their opponents had to offer them for the opening 20 minutes and dominated after that.
It was Antoine Griezmann who struck first when a risky pass from Mandanda to Anguissa went awry. The French man, who grew up just a short spin up the road from Lyon, slotted past the keeper. From that point on, there was only going to be one winner. Dmirti Payet went off in tears after a half an hour to make Marseille's job even harder as the creative midfielder's World Cup now hangs in the balance.
Griezmann scored his second four minutes after the restart when he caressed the ball over Mandanda to put Atlético further out of sight. Gabi, who scored his first goal in almost three years, finished the scoring on the night when he rifled a shot to the bottom corner after 89 minutes.
Fernando Torres came on in what is set to be his second last appearance for the club as he finished his stint with a trophy. There are decisions to be made by Atlético's biggest stars in the summer but on Wednesday night in Lyon, there was little doubt how important the second Europa League title under Diego Simeone's reign meant for the rojiblancos.
Marseille vs Atletico Madrid live stream online: live commentary
90'+2'   Griezmann runs back onto the field to celebrate with his teammates.
90'+2'   That's it folks! Atlético Madrid win the Europa League. 
89'   Gabi drives his shot to the bottom corner. His 10th goal in 412 appearences.
89' Torres replaces Antoine Griezmann.
89' Gabi goal! 
88' Thomas on for Correa.
87'   Njie with an outside of the shot foot. He gets it all wrong. Dreadful.
86'   Marseille getting braver now and need to but Atletico pick them off. Saul wins it back. Costa strikes and that's blocked.
85'   Atletico still look comfortable. Marseille came before close with that header but aside from that, they're fine.
85'   Torres been warming up for quite some time now.
83'   Sarr with the ball on the right and that's a poor cross. It's cleared and sent back in. Falls to Amavi and he drills one straight down Oblak's throat.
81'   What a header. Mitroglou with a lovely header that beats Oblak and onto the post and back across goal. So close to being 2-1.
81'   Sarr sends a cross into the box. Cleared and headed away.
79'   Griezmann on the left. He drives it across the box but it's blocked by Rami.
78' Njie with a yellow along with Lucas now. Njie looked to kick out at the defender. Two yellows? Strange decision.
77'   Costa twists and turns in the penalty area before feeding it to Koke, who loses it.
76'   Marseille running out of options now.
75'   Gustavo and Gabi collide. Looks like he threw an arm across Gabi's face. Nasty enough one.
74' Germain off for Mitroglou.
74'   Costa fouled.
73'   Correa all the way across goal. Costa picks it up and sends it back across the field.
71'   Griezmann down the line and he clips it towards goal. Almost falls a couple of times to different Atlético players. 
70'   Marseille fans boo Griezmann as he makes it to the corner flag.
70'   Mandanda palms one over for a corner. 
69'   Ready for a cross now from the free. Griezmann sends it towards goal and Saul heads it but that catches a Marseille defender and out for a corner.
68'   Gabi into Greizmann's path. Gustavo with a kick at his feet. Foul!
66'   Marseille attacking with a little bit more urgency and clarity now. Ball comes in and it's sent over by Sanson. He slips as he tries to kick it, which doesn't help.
65'   Maxime Lopez whips a cross in and Juanfran puts it out for a corner.
65'   Corner for Marseille.
62'   Saul wins the ball back off Sanson and he is thrown to the ground.
60'   Lucas wins a corner for Atlético. He kept the ball in really well, baited Thauvin and then kicked it off him.
58'   Lucas Hernandez hits the ground now and the ref gives a free against Thauvin. He came in just on top of the defender's foot. 
56'   Correa fouled by Njie before Griezmann is fouled by Gustavo.
54' Ocampos off for Njie.
54'   Sarr makes his way down the right and Lucas sees him off before Godin uses his body against Germain. Goal kick.
53'   Corner comes in and it's headed just wide by Godin.
52'   Griezmann shoots and it's deflected out for a corner.
52'   Costa with an effort that goes wide. Corner for Atlético and they are really piling it on now. 
50' Griezmann with another goal. Lovely finish that time.  Koke poked it to him and he just lofted it over the keeper with ease.
48'   Correa makes his way into the penalty area but he's picked off and Marseille break.
47'   German Burgos puts on his jacket as the rain falls in Lyon.
46'   We are back underway.
Teams re-emerge onto the field. One change for Atlético, it looks like, as Juanfran comes on for Vrsaljko. We'll take a look at Marseille now too.
45'+1'   Half-time in Lyon! Antoine Griezmann's goal separates the sides.
45'   Ocampos out to Amavi and that's whipped it but headed away by Atlético. Thauvin down now and got a knock in the stomach. 
44'   It's picked off but Atlético really comfortable at the moment. 
44'   Atlético attack again. Griezmann looks for a through ball to Costa.
43'   Diego Costa turns to make a run and Gustavo grabs him. Free from where it took place, which was not where the ball was. Silly from the Brazilian.
40'   Correa puts Gustavo under pressure and he almost gets the rub of the green but the ball rolls out for a goal kick.
39'   Sent into the box and that's headed up and over.
38' Second foul in a couple of minutes and he is booked for that effort.
38'   Amavi fouls Vrsaljko. 
37'   Correa caught by Amavi. Very tame.
36'   Offside.
36'   Free taken too quickly as Atlético get called back.
35'   Sanson breaks free but Gabi uses his body to get between the player and the ball. He looks to be fouled and referee agrees. 
32'   Pressure from Atlético on Luiz Gustavo but he manages to scramble clear. Atlético have a good grasp on Marseille's attack now. Maxime Lopez bundled out over the end line and Oblak wins a goal kick.
29'   Payet in tears as he makes his way to the bench. Half an hour into his Europa League final and his night is over.
29' Looks like Payet can't continue. He hits the ground and can't carry on. Lookss like Maxime Lopez is coming on.
29'   Ball back to Mandanda and Costa is lurking. The keeper makes it just about.
28'   Atlético more at ease now. It's like Marseille remember just how good Atlético are and the same for Atlético. 
27'   Delivery in from the right and Oblak gathers.
26'   Vrsaljko the one fouled now. Koke with a nice delivery, although unorthodox. Free as the ball was kicked though as an Atlético attacker fouled a Marseille player. Plenty of bodies around the vicinity.
23'   Free comes in and bobbles around for a minute before it's headed up and over the bar. Oblak waves it off.
22' Vrsaljko with a foul now and gets a yellow for himself. Foul on Ocampos.
21'   Mandanda with a pass out from the back and it's Anguissa who can't control it. Griezmann picks it up and slots home. Nice finish. Atlético 1-0.
21'   Griezmann GOAL!
20'   Launched up the field and Marseille back in possession.
20'   Thauvin with a delivery but Oblak gathers. Atlético do well to box the attacker out. 
19'   Griezmann wins the ball of Thauvin and then gives it straight back.
19'   Payet with an effort now but that falls kindly to Oblak. Far more even now in the last few minutes but Atlético can't get control of the game.
18'   Thauvin goes in with a tackle on Koke but no free. Throw to Marseille and Koke jumps up, accepting he's fine.
17'   Amavi coughs it up and Griezmann does really well to feed Koke. He loses it and Marseilles break.
16'   Sarr makes a move down the right. Lucas sees him off.
15'   Throw comes in and lands at Koke's foot. He volleys it but it's wide. Better from the rojiblancos.
14'   not a bad delivery but no Atlético attackers anywhere near. Atletico starting to grow into this just a little bit.
14'   Koke gets ready to swing it in.
13'   Correa clipped and Atlético have a free.
13'   Costa with a lay-off but that's not going to do. Atlético can't even keep the ball for more than a second.
12'   Ocampos with a lovely run and he plays it into the center before Sarr strikes. Just wide although Oblak was never under any pressure.
11'   Gimenez out now for another throw. Sloppy game here and Atletico under pressure. Marseille have started much better.
11'   Atletico clear. Griezmann heads down to Correa and he absolutely launches it up into the air. 
10'   Costa bulldozes Rami out of the way and concedes a free. Referee has a very long and stern word with the striker but no card.
9'   Cross-fied pass is too ambitious for Marseille and Lucas with another throw.
8'   Griezmann and Correa link up on the counter but the latter is bundled over and Griezmann can't do anything with the return pass. Correa ends up fouling and Marseille with another free.
7'   Gimenez clears a loose ball down into Atletico's defence.
7'   A glimpse at Simeone in the stands. He looks nervous.
7'   Lucas to take a throw now.
6'   Payet sends it in and it's headed out as far as Rami. He strikes but it goes just wide.
6'   Koke with a foul and Marseille have a chance to whip one into the box.
6'   Ball in by Thauvin and that's cleared again by Atlético but they're under pressure here.
5'   That was a great chance and Atlético caught out badly. Poor finish though.
4'   What a chance. Payet threads one through for Germain and he hoists it over the bar. 
4'   Into the box and it bounces around for a second before Marseille break. 
4'   Atlético with a throw. Vrsaljko to take. Atlético win another throw. More Marseille whistles.
3'   Long ball down to Costa now and Mandanda gathers.
2'   gimenez gets it and Marseille fans whistle him. 
2'   Oblak out to grab a long ball. 
1'   Luiz Gustavo starts at the back and drops it back to Mandanda. Marseille holding onto the ball now. Very loud in the stadium.
1'   What a weird kick-off. They just kicked it out of play? Lucas Hernandez takes the throw.
Delay now because of the flares, it seems like. 
Delay after the Ofenbach gig before the game! 
    Anyway, time for some football. Handshakes all around. Griezmann makes his way down the line. 
The dancers are still out on the field but they jog off now. All very strange these big productions.
Abidal brings the Europa League trophy onto the field now as Ofenbach disappear and the teams wait in the tunnel.
That was....weird.
Simeone can't be on the bench tonight but he said yesterday that he has a very good feeling with German Burgos on the sideline. He said they have known each other for a lifetime and they think about and see football in the excat same way.
I know this song surprisingly. 
Ofenbach playing now. Dorian Lo and César de Rummel from Paris, apparently.
60 games for Marseille this season: 33 wins, 11 losses and 16 draws. They have scored 120 goals with 26 of those coming from Thauvin. They have failed to score in just ten of their games all season.
Lots of rojiblanco fans in the stadium but out man on the ground says Marseille fans outnumbering Atlético fans by about five to one. It's like a home game for Marseille.
Griezmann might be linked with a move away from Atlético Madrid but he is convinced that Diego Simeone is the best tactical coach in the world.
Jan Oblak and Antoine Griezmann are looking for their first European titles. They have been desperately unlucky on two occasions each. Griezmann lost the Champions League and the Euros final to Portugal. Oblak lost the same Champions League final and the Europa League final to Sevilla while he played at Benfica.
Vitolo has been left out of Atlético's squad having just returned from injury. 
Atlético Madrid XI: Oblak, Vrsaljko, Giménez, Godín, Lucas, Saúl, Gabi, Correa, Koke, Griezmann, Costa.
 Marseille XI: Mandanda, Sarr, Rami, Luiz Gustavo, Amavi; Sanson, Anguissa; Thauvin, Payet, Ocampos; Germain.
Atlético Madrid have conceded just 33 games all season. Jan Oblak just sealed the Zamora trophy and has conceded just 20 in LaLiga. Marseilla's Florin Thauvin has 22 and 12 assists this season. They have plenty of speed on the wings and this should be an excellent tactical battle. It will be interesting to see how Simeone sets up as Filipe Luis slows down and the right-back position seems a little weak. No doubt, Oblak will be called on plenty tonight!
Payet: "Marseille has a special relationship with the European Cup. We have our 12th man behind us tonight and we can count on that"
Much of the talk before the game has been about Antoine Griezmann and his future but Simeone is keen to focus solely on the game. "Leave all of the talk around the game to the people not involved in the game," he said during his press conference yesterday.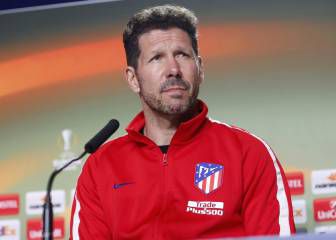 Atlético Madrid have won just four of their last nine. Marseille have been beaten just once in their last nine. 
Atlético fans have responded to an AS survey to gauge their preferred starting XI for the game tonight and have stated a preference to see Thomas Partey at right back ahead of Juanfran and Sime Vrsaljko.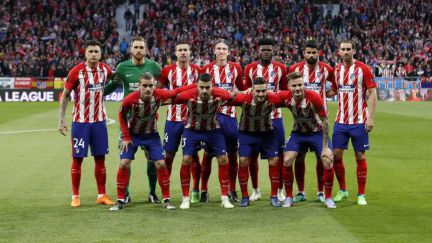 And on that subject, it has just been confirmed that the Court of Arbitration for Sport has rejected Atlético's appeal to have Simeone's suspension suspended until next season so that he could be in the dug-out tonight.
Atlético face a bif of a problem in Lyon this evening as Diego Simeone will not be on the touchline to bark instructions after picking up a four-game ban from Uefa after his sending off against Arsenal. Still, we're sure he'll have big Mono Burgos primed for the occasion.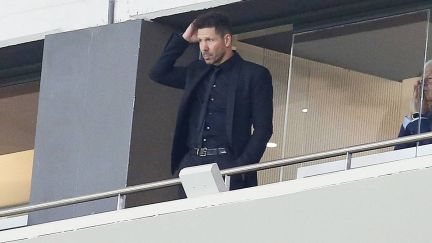 Jan Oblak and Antoine Griezmann will be looking to add a first European trophy to their laurels in Lyon this evening after missing out twice in the Champions League. There are several players still at Atlético who were involved the last time Atlético lifted the Europa League, in 2011-12: Gabi, Juanfran, Filipe Luis, Diego Godín and Koke were all in the squad that defeated Athletic 3-0 in Bucharest.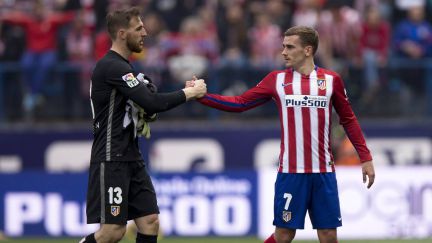 Fans of Marseille and Atlético are already nervously excited about what will happen in a few hours time, and football lovers around the globe should be in for a treat.
Hello and welcome to our coverage of the 2018 Europa League final. We'll be keeping you abreast of all the latest news as we head towards kick off in Lyon at 20:45 CEST.
Marseille vs Atletico Madrid live stream online: preview
You'd be forgiven for forgetting there is a game in Lyon on Wednesday night given most of the build-up has been centred around Antoine Griezmann's future. But Atlético Madrid find themselves in their fourth European final under Diego Simeone while Marseille will play in their first final under Rudi Garcia, who took over the French club in October 2016. They play each other in the Europa League final on Wednesday 16 May, 2018 with kick-off at 20:45.
Adil Rami is available for the hosts despite being suspended in domestic competition. He played in La Liga for long enough and against Atlético Madrid enough times to know how they play along with . Meanwhile, Kostas Mitroglou and Rolando picked up knocks recently but have been named in Garcia's squad for the final.
As far as Simeone's team selection goes, he has a number of options in defence for the first time in a long time as Sime Vrsaljko returns from suspension, Filipe Luis returns from injury after a spell on the sideline with a broken leg. Vitolo returned to training after suffering a hamstring recently too and Simeone said it will be painful to pick the 17 players to take to the bench in Lyon on Wednesday night.