Third Europa League for Atlético Madrid
Atleti are now equal with Sevilla, who won the competition in 2014, 2015 and 2016. Between the Europa League and the UEFA Cup Spanish clubs dominate, having won 11 trophies.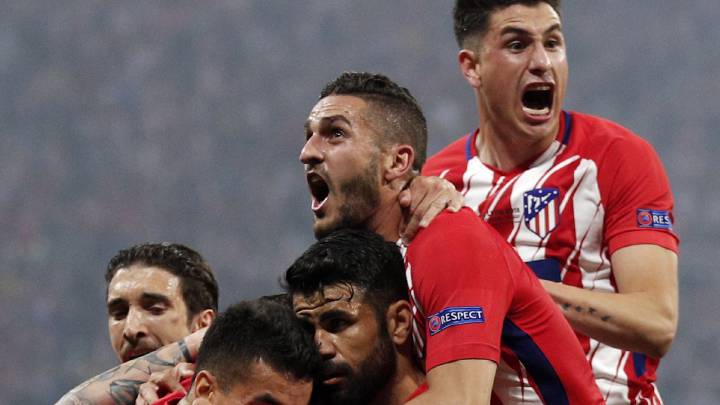 Atlético Madrid won their third Europa League in Lyon on Wednesday evening, in the same place they lost the European Cup Winners' Cup in 1986 against Dynamo Kiev (3-0). Just as they did in 2010, against Fulham, and in 2012, against Athletic, the red and white team from the Spanish capital won Europe's second club competition, on this occasion beating Olympic Marseille 0-3, with a double from Griezmann and one from Gabi.
This was Atlético's 13th European final and gave them their sixth title. In total three Europa Leagues, one Cup Winner's Cup (1962) and two European Super Cups (2010 and 2012).
Spanish clubs dominate the UEFA Cup/Europa League
With this third Europa League, Atlético draw level with Sevilla (2014, 2015 and 2016) in the tournament's list of winners in its present format. The competition was previously, before 2010, the UEFA Cup, first held in 1972. Including both the UEFA Cup and Europa League Sevilla have won five trophies, while Juventus, Inter Milan and Liverpool have also won three.
Spanish clubs dominate the overall list of winners, having taken 11 titles: six Europa Leagues (three from Atleti and three from Sevilla) and five UEFA Cups, Sevilla's two, Real Madrid (two) and Valencia.
Winners Europa League / UEFA Cup
| | |
| --- | --- |
| EUROPA LEAGUE | |
| Year | Team |
| 2018 | Atlético Madrid |
| 2017 | Manchester United |
| 2016 | Sevilla |
| 2015 | Sevilla |
| 2014 | Sevilla |
| 2013 | Chelsea |
| 2012 | Atlético Madrid |
| 2011 | Porto |
| 2010 | Atlético Madrid |
| UEFA Cup | |
| 2009 | Shakhtar Donetsk |
| 2008  | Zenit |
| 2007  | Sevilla |
| 2006  | Sevilla |
| 2005  | CSKA Moscow |
| 2004  | Valencia |
| 2003  | Porto |
| 2002  | Feyenoord |
| 2001  | Liverpool |
| 2000  | Galatasaray |
| 1999 | Parma |
| 1998 | Inter Milan |
| 1997  | Schalke 04 |
| 1996 | Bayern Munich |
| 1995 | Parma |
| 1994 | Inter Milan |
| 1993 | Juventus |
| 1992 | Ajax |
| 1991 | Inter Milan |
| 1990 | Juventus |
| 1989 | Napoli |
| 1988 | Bayer Leverkusen |
| 1987 | Gothenburg |
| 1986 | Real Madrid |
| 1985 | Real Madrid |
| 1984 | Tottenham |
| 1983 | Anderlecht |
| 1982 | Gothenburg |
| 1981 | Ipswich Town |
| 1980 | Eintracht |
| 1979 | Borussia Mönchengladbach |
| 1978 | PSV |
| 1977 | Juventus |
| 1976 | Liverpool |
| 1975 | Borussia Mönchengladbach |
| 1974 | Feyenoord |
| 1973 | Liverpool |
| 1972 | Tottenham |