Marcos Alonso: "Bournemouth game hurt Chelsea the most"
The Chelsea and Spain full-back spoke exclusively to AS about the season at Stamford Bridge, the FA Cup final, and La Roja's chances at the World Cup.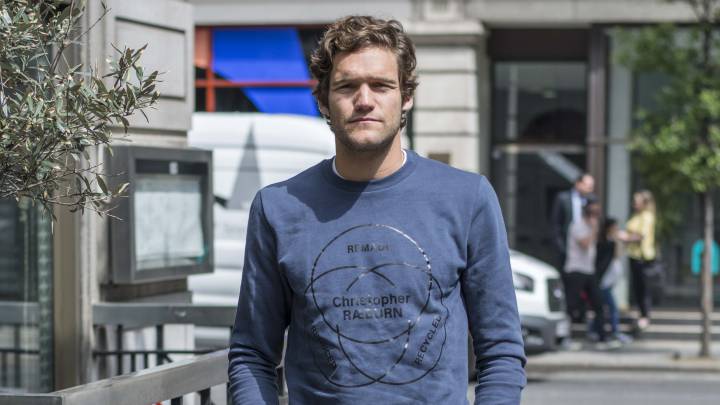 Marcos Alonso spoke exclusively to AS, covering a range of topics from Chelsea's disappointing Premier League season, the FA Cup final against Manchester United, Spain's chances in the World Cup, and a return to Real Madrid.
Chelsea showed their best against Barcelona and Atlético
The season is coming to an end and the FA Cup final awaits. How has this year been?
On an individual level it's not been bad. I've improved on last year and I feel good. Collectively we've been a little inconsistent. Having won the league last year, it's a quite tough facing up to not qualifying for the Champions League.
The public consensus is that one or two players have maintained their performance level from last year, and you're one of them. How have you managed that?
Simply through hard work and enthusiasm. It's difficult when a team finishes as champions and then loses the core of the team, because the players who come in need time to adapt.
What else went wrong for Chelsea?
I don't know, to be honest. We've had some really good games, at the same level as last year and even better in some case, like at the Wanda against Atlético. We also played well in both legs against Barcelona despite the result. As the manager said recently, perhaps we weren't clinical enough, decisive enough in front of goal. We've got to think about next year and continue to improve so we can fight for the Premier League again.
Football is mysterious. If new players arrive they need time to adapt, but if the club doesn't sign players, people drift off. Sometimes it feels like consistency is undervalued, like Barça winning seven LaLiga titles in ten years.
Yeah, it's not easy. Barça are doing really well, to be honest. As for us, we should have put up more of a fight given the team we have.
Antonio Conte rumours not an excuse
Does it surprise you that Chelsea keep winning despite changing coach every one or two years?
These days it's difficult for a coach to last for more than one or two years, there's no patience any more in that respect. But it is what it is. In the end the players remain and you have to give your all, all the time. Concentration can't slip. Being prepared to give 100% depends on each player, not the coach.
Have the rumours about Antonio Conte's future affected the squad?
They can affect us a bit, but not enough to explain the position we're in. Ultimately it's us players who play, and if we're not up there it's because other teams have been better than us. Manchester City's consistency has hurt at times. When we were fighting to close the gap, they moved away. You have to give credit to them for this year, and that has had an effect emotionally.
Were there any games that you've looked back on and thought, 'if we'd got a result there things would have changed'?
I don't think we started very well. City and Manchester United took points off us, but then we had a good spell. I think it was the match against Bournemouth at home that hurt us the most. We had so many chances, but lost 0-3 because of three counter-attacks. I wouldn't say that we threw the towel in after that game because we tried right until the end, but it's when our chances started to diminish.
How have you improved this season?
I think I've matured since last year and I'm more confident. Last season was my first season [in England] after three in Italy. It's also another season working with this coach, you know his ideas better, you know more about how he wants to play and the characteristics of your team-mates.
You started your career as a winger, then you dropped to left-back, and now you're somewhere in between…
I like playing there. Maybe I prefer to contribute in attack, but I also feel comfortable in a back-four, without the attacking responsibility and with more defensive work. I can play anywhere on the left flank. I'm comfortable at the moment, I like having chances on goal, I like clocking up the kilometres, and the truth is that I'm happy.
Is this your best year in front of goal?
Yes, I've scored eight goals. As a wing-back I need to get in to the box and I also take free-kicks. I ended up improving on last year.
What do you prefer, scoring a goal, a crucial tackle…?
All of it. When you're happy you enjoy defending and attacking. But obviously scoring two goals at Wembley to beat Tottenham 2-1 with a goal in the 85th minute is a fantastic feeling. I also enjoy defending and, above all, winning.
How did you celebrate those goals against Spurs?
There wasn't much time to celebrate because we had another match three days later, so we needed to recover quickly and move on to the next one. I don't look at the goals after.
Is that because you remember it in your head, or because you've already moved on to the next match?
You don't forget them, they stay up there. But there's almost always another game in three days, or within the week, and you have to perform well again because nobody remembers what you did.
Manchester United will threaten Chelsea on the counter
How do you see the FA Cup final going?
Like the league matches against United this year, them having less possession of the ball but a clear plan. They'll be dangerous on the counter-attack, and with the quality, goals, and pace they've got up front they'll make things complicated for us if we're not switched on. They place a lot of importance on the cup here [in England], they're proud of it being the oldest trophy and the fans value it as much as the players and clubs.
Do you think your inclusion in the World Cup squad will depend on how the FA Cup final goes?
I don't know, to be honest. You'd have to ask the coach about that. The squad is Julen's choice and we'll see what happens.
How was your debut with La Roja?
Really good to be honest. It was a happy and important moment for me and my family, one that I'll always remember. My parents were there, my sisters, friends, more family… as it was in Madrid it was easy for everyone. It was a friendly and I only got a few minutes, but I'm happy to have made my debut and I'm excited for more.
What did Julen Lopetegui say before the match?
Some tactical things, nothing much, to stay calm and enjoy it.
You and him know each other from Real Madrid Castilla, right?
Yes, I was with him in my first year at Castilla and I think I was in the squad for the last four or five months. I've got great memories and I enjoyed my two weeks with the national team, I like him as a coach.
Spain going to Russia to win
Lopetegui has clearly managed to get enthusiasm back in the dressing room, and you'll be going to the World Cup to win it?
Without a doubt. I think we've got the quality to win the World Cup. There are young players who are keen to do well. That, along with the experience and quality of the players who have been there for a while, is a really good combination.
Has there been a bit of rivalry with Hazard and Courtois, have you spoken about the World Cup?
No, if the day comes and we face each other there'll certainly be rivalry, but not at the moment.
You've been away from Real Madrid for eight years. Do you ever see yourself going back to where it all began?
Honestly, no. I'm really happy here.
Do you miss anything from Madrid?
I miss my family, but these days there are so many ways to talk and they're only two hours away by plane.