Griezmann: Atlético bosses try to persuade Barça target to stay
Diego Simeone and Miguel Ángel Gil Marín met with Antoine Griezmann on Thursday, seeking to tempt him with improved terms.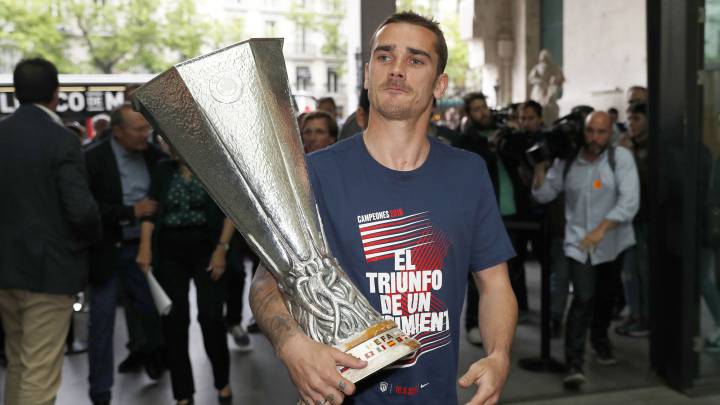 Atlético Madrid boss Diego Simeone and club CEO Miguel Ángel Gil Marín held talks with Antoine Griezmann on Thursday, ahead of yesterday's Europa League victory parade. The trio live close to each other in Madrid's La Finca district and met at one of their homes, with one issue on the agenda: the Frenchman's future. Gil Marín and Simeone sought to convince the forward to accept an improved contract and turn his back on a move to Barcelona.
Atlético CEO offers Griezmann 20m euros net a year
Gil Marín looked to tempt Griezmann with a five-year deal worth 20 million euros net per season - terms significantly better than those offered by Barça. What's more, he guaranteed that the 27-year-old's release clause, which drops from 200m euros to 100m euros on 1 July, would not be raised from the latter figure. Meanwhile, Simeone was at pains to explain to Griezmann his importance to Atlético's aims of winning their first ever Champions League next season, when the final is to be held at the LaLiga club's Wanda Metropolitano stadium.
It is Gil Marín's third attempt since January to persuade Griezmann not to leave for the Camp Nou, with the first two approaches meeting with no response, and this latest bid to keep hold of the player likewise seeing him say neither 'yes' nor 'no'. Atlético's president, Enrique Cerezo, also met with 'Grizi' at a Madrid restaurant a few days ago, and found the former Real Sociedad man to be similarly non-committal.
Atleti chiefs pessimistic over chances of keeping Griezmann
Griezmann's silence is interpreted as signalling his intention not to stay, particularly in view of the noises coming out of Barça, who - despite Atleti's involvement in Wednesday's Europa League final - have had little hesitation in fuelling talk of an imminent deal over the past few days. And his discreet role in Los Colchoneros' trophy celebrations - he gave no interviews, and did not take to the microphone to address the supporters, even when the fans began to chant "Griezmann, please stay!" - has heightened the pessimism among club bosses.
Barring an 11th-hour turnaround, a summer departure appears the most likely outcome.
LaLiga Santander
*Update 19 de mayo de 2018