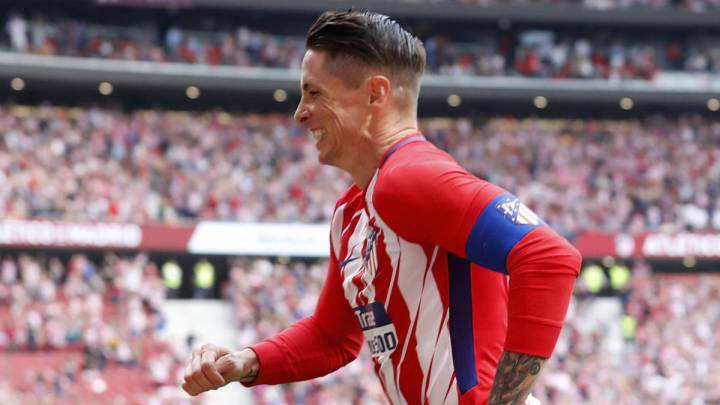 Fernando Torres scored in his final appearance for Atlético Madrid as a youthful side beat Nigeria B in a highly enjoyable end-of-season friendly in Uyo.
Torres, Correa turn scoreboard on its head after Nwakali stunner
Kelechi Nwakali fired in a spectacular strike from range to put the hosts deservedly ahead on the half-hour mark, only to see Ángel Correa immediately level for the visitors after collecting a fine through ball by Thomas Partey.
Having netted a brace in his last competitive game for Atlético on Sunday, Torres came on at half time - to a rapturous reception from the Godswill Akpabio International Stadium - and headed Los Rojiblancos in front when he connected with a Correa corner with an hour gone.
Usman scores fine solo effort before Garcés thumps in winner
Muhammed Usman looked to have secured a draw for Nigeria B with a sensational solo goal ten minutes from time, but 18-year-old substitute Borja Garcés made sure Atleti had the final word soon after, beating keeper Femi Thomas with an unstoppable drive into the top corner.
Nigeria B 2-3 Atlético Madrid: as it happened
93'   Peeeep peeep peeep! And that's that! An entertaining friendly in Uyo ends 3-2 to Atlético, Fernando Torres grabbing a goal in his swansong and youngster Borja Garcés boshing in an absolute belter to win it for the visitors. Make no mistake, though: the hosts can feel very hard done by to take nothing from the game, having contributed two wonderful goals and given as good as they got (or better) for much of the evening.
92'   Nigeria earn a free-kick wide on the right, and AGAIN Atlético give up a free header at the back stick. Omoyele gets it all wrong, though. 
90'   Three minutes of time added on in Uyo.
89'   Thomas Partey gets himself a spot in the referee's notebook for an ill-advised challenge.
85'   Right, Atlético community managers: now you can say 'what a goal'. Vitolo feeds Garcés, and the 18-year-old well and truly bursts the net, thumping the ball into the top corner past Femi Thomas, who hasn't got a snowball's.
84' Goooal! Garcés thumps Atlético back in front!
80'   Having just survived a scare after bringing the ball out with supreme sloppiness, Atlético are pegged back by a fantastic solo effort by Usman Mohammed. He plays a one-two, advances into the box and then turns this way, then that, leaving defender Montero with twisted blood before coolly slotting home underneath Werner. Jink-tastic.  
79' Gooooal! Kinkladze-esque! Nigeria level!
75' Atlético make a double substitution: Olabe comes off for Gabi, and Agüero (not that one) is on for Correa, who I'd say has been one of Atlético's bright spots.
74'   Nwakali gets the decibels rising in the Godswill Akpabio International Stadium with a flurry of jinkery on the left-hand byline, but he ends up running out of space, and the chance is lost. Atleti's Jota is then caught sleeping and robbed of the ball pretty much on his own six-yard line, but he is not made to pay for his carelessness.
69' Alhassan Abdullahi is also on, for Samad Kadiri.
69'    Duru is stretchered off with what looks like a twanged knee, and Utin is on in his stead.
68'   Another look at that Torres goal suggests that Nigeria's man between the sticks might have done just a little better with it, in as much as he let it go straight through his fingers. Still, 'El Niño' a departing goal.
67'   Werner flaps dreadfully at a Nigeria corner, but the Super Eagles can't capitalise and Atlético stay in the lead.
63' Goooooal! Fernando Torres heads Atlético into the lead! 
62' Off comes the less than sharp-shooting Gameiro for youngster Borja Garcés. 
61'   Correa gets himself a yellow card for handball.
58' Nigeria made a substitution just before that Atleti chance, the lively Eduok being taken off for Tosin Omoyele.
57'   It should be 2-1 to Atlético! Vitolo jinks his man dizzy on the right, before slipping an angled ball into the box for Correa. He cuts it back for Gameiro, who can't beat Femi Thomas from six yards out. However, the rebound falls right to Torres. Can he grab a goodbye goal? No. He rolls it wide.
55'   A lofted ball almost gets Torres in on goal, before Atleti come again, Vitolo skipping past a challenge before feeding Gameiro to turn and shoot. His low drive takes a deflection that threatens to leave the goalkeeper wrongfooted, but Femi Thomas is alert to grab hold of it anyway.
51'   I tell a lie, Atlético made five changes at the break: Jota is also on. As I write that Partey slaps a speculative effort miles over the bar.
50'   Partey gets himself involved in a spot of handbags with Nwakali, but it goes no further than a bit of light mutual pushing.
48'   Up the other end, Samad Kadiri almost connects with a back-post cross for Nigeria. 
47'   And it is Torres who has the first shot of the second 45, bringing a relatively routine stop from Thomas with low effort from outside of the box.
46'   Simeone has made four half-time changes, by the way: Werner, Solano, Vitolo, and - two a rousing reception - Torres are all on.
45' Peeeep! The second half is underway.
45' Peeeep! That's half time. Atlético have improved since Ángel Correa's goal quickly cancelled out Kelechi Nwakali's stunning opener for the hosts, who for much of the half have been by far the better side. One suspects they may have been the more motivated of the two, admittedly. But still: there are a few Atlético youngsters out there who are spurning a chance to impress their first-team coach - and may currently be being acquainted with the sharper side of his tongue.
44'   Nigeria should be back ahead, but Ashadi blazes over! Atlético had been caught out by a lighting quick counter-attack that found Samad Kadiri scampering into yards of space on the right of the box. He cut it back for the man just on, but with just Oblak to beat he utterly fluffed his lines.
42'   Atlético are almost in again, but Correa is offside. Had the Argentine been on, he had Gameiro scuttling into the box in absolutely acres of space.
39' Nigeria have made a change, Destiny Ashadi coming on for a fairly miffed-looking Alhassan Ibrahim, who must have picked up some sort of a niggle. Either that or he was being unceremoniously hooked before half time, but that would seem more than a little harsh by Salisu Yusuf, so I'm going with the latter.
38'   That Nigeria opener appears to have awoken Atlético from the slumbers. Gameiro is very nearly in for a second for Los Colchoneros, but goalkeeper Femi Thomas is out quickly to disabuse the former Sevilla man of any notions he might have had of completing a quickfire turnaround.
34' It's all about the pass from Partey, which is a delight. He looks up, spots Correa and feeds through a ball that splits the Nigerian defence down the middle, leaving Correa to run in on Femi Thomas and finish with aplomb.
34' And within two minutes, Atlético equalise! 
32'   The ball is cleared only as far as Nwakali, who pulls it down 25 yards out, drops his shoulder, and pings the bouncing ball into Oblak's top corner! Lovely, lovely goal.
31' Goooooal to Nigeria! And it's a ruddy pearler! It had been coming.
27'   Nigeria get another free-kick in almost exactly the same position as the one that brought Chinedu Ajanah's header, and Eduok's delivery locates the bonce of Olamilekan, who can only direct it harmlessly wide.
26'   Thomas feeds a sweet little ball into the run of Gameiro in behind the defence, but he is flagged offside.
25' And from the resulting free-kick, Chinedu Ajanah has a free header, but nods wide at the back post! Nigeria should really be ahead.
24'   Montero is the first man in the book after tugging down the irrepressible Eduok. Moments earlier, the camera had panned to a shot of not unduly concerned looking Simeone. Only one team in it at the mo.
22'   Back come Nigeria, Samad Kadiri sliding a low, diagonal pass into Eduok, who collects on the right of the box, cuts inside and fires towards the far corner... but it's well over. You could see what was in his mind; all that was lacking was the execution. 
19'   Samad Kadiri scuttles into the box and pulls down a chipped pass in delightful fashion, but one man who appears less impressed by that moment of quality is the assistant referee, who puts the kybosh on any designs he had on pulling the trigger by raising his flag for offside.
17'   Moyá tries to get Juanfran into an area to do damage on the right for Atlético, but hoofs his pass a country mile too long, and turns away in not unjustified disgust.
16' Eduok feeds a lovely little ball into Alhassan's run into the box, but he's crowded out.
13'   Eduok gets himself back on the ball, but is penalised for tugging down Montero as he drives into the Atlético penalty box. He has few arguments, and unsurprisingly so.
11'   Moments earlier, a Nigeria B corner had led to Eduok booting one into row Z from distance.
10'   A shot of Mr Torres watching on from the bench appears on the big screen, and the Godswill Akpabio International Stadium promptly goes absolutely chicken oriental.
8'   First opening for Atlético! Correa combines with Olabe, who slips Gameiro into an inviting few yards of shooting space in the right-hand channel. The Frenchman's shot pings into the side-netting and - despite his protests that it took a touch off a green shirt - it's out for a goal-kick.
5'   Atlético have barely had a sniff of the ball thus far. Nigeria look much the more comfortable in possession.
4' It was Musa Muhammed's through-ball, and it was inch-perfect.
3'   The first chance goes to the hosts! Jan Oblak has to be alive early on to keep out Samad Kadiri after he is released in on goal by a lovely slide-rule pass. 
Peeeep! We're underway!
As for the rest, it's a mix of 'B' team and Under-19s talent.
So, five first-team players are in Diego Simeone's XI: Jan Oblak, Juanfran, Thomas Partey, Ángel Correa and Kevin Gameiro. Fernando Torres is on the bench, so perhaps we have not quite yet seen the last of 'El Niñó' in the red and white.
Nigeria B XI: Femi Thomas, Musa Muhammed, Ebube Duru, Chinedu Ajanah, Olamilekan Adeleye, Ibrahim Alhassan, Kelechi Nwakali, Chidiebere Nwakali, Dayo Ojo, Emem Eduok and Samad Kadiri.
Good evening! Join us for live coverage of tonight's friendly at the Godswill Akpabio International Stadium in Uyo!
Nigeria B vs Atlético Madrid: friendly preview
Fresh from closing out their 2017/18 LaLiga Santander campaign with a 2-2 draw against Eibar that saw an emotional farewell to departing club legend Fernando Torres, newly-crowned Europa League winners Atlético Madrid face Nigeria B in an end-of-season friendly at the Godswill Akpabio International Stadium in Uyo.
Torres is among the players to have flown to Uyo in a travelling party in which head coach Diego Simeone has also sought to give youth its chance. Atlético's 20-man squad is: Oblak, Werner, Juanfran, Sergi, Montero, Solano, Jota, Rafa Muñoz, Thomas, Gabi, Vitolo, Toni Moya, Agüero, Olabe, Mikel Carro, Joaquín, Torres, Correa, Gameiro and Borja.
Los Rojiblancos are set to face a home side chiefly made up of footballers who ply their trade in the Nigeria Professional Football League, the African nation's domestic top flight. Per Goal, their squad is: Kayode, Ojo, Thomas, Muhammed, Okorom, Duru, Utin, Oladuntoye, Opara, Ajana, Ayagwa, Ashadi, C. Nwakali, K. Nwakali, Mohammed, Ojo, Eduok, Umar and Ibrahim.