Jürgen Klopp press conference: Champions League final 2018
The Liverpool manager spoke to the media on Friday ahead of the 2018 Champions League final in Kiev.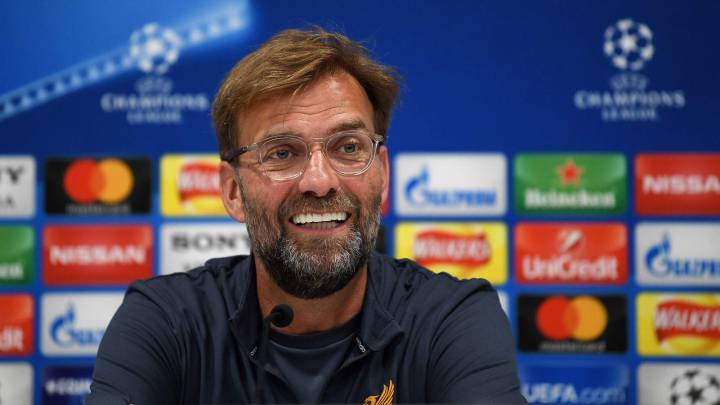 Jürgen Klopp, Jordan Henderson and Virgil van Dijk spoke to the press ahead of the Champions League final against Real Madrid in Kiev.
Klopp press conference as it happened

And that's it from Herr Klopp! We'll be back at 18:15 to hear from Zinedine Zidane.
Klopp has a bit of a josh with a reporter he recognises, all good-hearted stuff. He's asked about Real's bench and not having the same quality on his. He replies that due to injuries etc they've been playing catch-up all season but denies his bench is weaker. it's not a comparison, he says, we have the best bench in weeks or months for tomorrow so we're in better shape than we have been for weeks. We are as fresh as we can be, fitness will not be an issue for tomorrow. To win a final yo uneed a bit of luck... the red card for Juventus in Turin last year, stuff like that. We are in a good position and we want to use the tools we have, not think about what other clubs have." 
  Is it the manager's job to take the pressure off his team? "Yes," replies Klopp. "I am responsible for the defeats, the boys are responsible for the wins, that's the way I see it. It's always been that way. Some of them may be nervous but after the first whistle they'll do what they do best, fight for each other, shoot, cross, head, try a bicycle kick if you have the chance... it's only a football game. An important one, but it's only a football game. We've done the same thing all season and we'll do the same thing tomorrow."
Mo Salah: will he stop fasting for Ramadan, and is he ready to challenge the hegemony of Messi and Ronaldo. Klopp replies, question numner one, religion is private so I will not be commenting on that. He is full of power and he'll be ready tomorrow. Can he be a Messi or Ronaldo? "It's not important," Klopp replies. "Messi and Ronaldo are there every year and we'll see if Mo can do something similar in the next few years. These two are the most consistent over the last 10 years. We'll see where Mo can go."
What is Liverpool's greatest strength? "The spirit, 100 percent," Klopp replies. "We are ready for this, maybe a few of us dreamed we could be in the final and you saw that in the last few games and now we are here."
A question about how Klopp has changed Liverpool's philosophy, he replies he never really thought about it but just went about examining what Liverpool needed to do game by game to improve and that the kind of football his side plays is exactly the type of football they need to play against Madrid. "Tomorrow we will show what we have learned about Madrid, using out own strength and then adapting to whatever your opponent is asking of you."
Klopp asked now how much difference Real's Champions League final experience will make. "How would I know, I haven't been to two Champions League finals in a row!" he quips. But he also adds that Liverpool are an unknown entity for Real, nobody expected us to be here, we've scored the most goals we've had excpetional results, it's unbelievable really. Their experience is important but it doesn't always help, tactics are there so that you can bring an opponent to your level and then you can beat them, Klopp says.
A question about Zidane's tactical nous now... and Klopp immediately bats that one away. "They think the same about me. Two coaches in the final without tactics? What does that say about the game?" The Liverpool boss points out that he has been at Anfield longer than Zidane at the Bernabéu and he has won the title twice. He compares Real to a Swiss clock and praises their playing ability. He adds calm when calm is needed, chaos when chaos is needed.
As a manager there is a lot to do in prearation terms, and being cool, convinced and calm. Klopp says he was more excited last time, his first, but that getting to a Champions League final is tough and this is a once-in-a-lifetime chance that he's been presented again. He lauds his players for that chance. "Let's play football."
Inevitably, the first question is about the 2012-13 final... what are the differences between then and now?
Now for Klopp...
Final question for the players... Vam Dijk asked if having two Dutch players in the squad is a special thing. He replies that it's special for all the players to be in the final and hopefully they'll be celebrating tomorrow evening.
What does the club revolution mean? The players confer... Henderson takes it. He says that the Europa League final loss to Sevilla has served as a motivatoinal push and that has led Liverpool to where they are now and he hopes they can win the trophy tomorrow, for the fans and the club.
A very, very lengthy inquiry in Ukrainian... a pause, and Henderson takes up the baton. It was about the fans it seems, and the captain says that the Liverpool faithful have been the difference makers during the tournament and he hopes they'll do the same in Kiev.
Van Dijk asked about how Liverpool have welcomed him since his January move. "Liverpool is my club, my home," he replies.
The captain dons his diplomatic hat and says he can't really comment on Zidane, but lavishes praise on Klopp and his influence, while stating that he doubts he'll be a passive observer on the touchline.
The players asked to compare Klopp and Zidane now. Neither keen to answer, to chuckles all round. "Can you repeat the question?" quips Henderson.
We need to be prepared for everything and anything, Henderson replies, and by playing there own game he feels they can hurt Real Madrid.
A question about Madrid's penchant for last-minute goals now... do Liverpool have anything in mind to prevent that in Kiev? 
Van Dijk being asked about his leadership in the dressing room now, and he replies that he does often provide a bit of advice here and there but tries to lead by example on and off the pitch.
Van Dijk replies that the Liverpool players don't need any extra motivation, which is pretty obvious.
One for both Henderson and Van Dijk now - will they be watching the 2005 final for a bit of motivation?
Henderson is now being asked about the preception of him as Steven Gerrard's successor, and replies that it's about the team, not individuals. He adds that this side want to make their own history in Kiev.
Klopp has been asked a question by a local journalist but politely pointed out it's the players who are to be quizzed first...
Henderson is first up, and he's been asked about the trouble Liverpool fans have been having in trying to find a way to Kiev. Klopp is saying that the club has been trying to provide solutions.
As well as the Homeland and Band of Brothers star, Liverpool have some pretty heavyweight fans around the world. Wouldn't make a bad team in fact, although we'd maybe have Mike Myers on the bench and start Kim Cattrall up front, with Daniel Craig patrolling the midfield.
Liverpool reached the final with an incredible 7-6 aggregate victory over Roma, while Real Madrid also got through by a single goal advantage over Bayern Munich in their semi-final, winning 4-3 over the 180 minutes. Unsurprisingly, you can get odds of up to 20/1 on the game ending goalless after 90 minutes in Kiev.
The forecast in Kiev on Saturday is for rain - a deluge of goals are expected as two of Europe's most prolific attacks take each other on. Speaking after Liverpool had secured their place in the final, Klopp said: "I'm immensely proud of what the boys have achieved. The number of goals we scored is simply crazy. We've scored seven goals twice and five goals twice, too. That's really crazy, because we aren't Barcelona, we aren't Real Madrid or Bayern Munich. We are Liverpool, on the way to becoming a really good team. It's been a crazy ride, but we've earned our place here."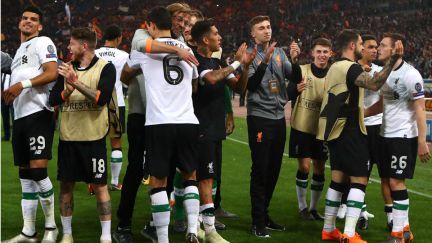 Jürgen Klopp will be seeking to bring an end to his hoodoo in cup finals in Kiev. The current Liverpool boss has lost his last five - including the 2012-13 Champions League final against Bayern Munich - and faces the double-reigning champions and 12-times winners overall on Saturday.