Zidane press conference: Champions League final 2018
Follow the Real Madrid manager's pre-match media date with reporters ahead of the 2018 Champions League final in Kiev.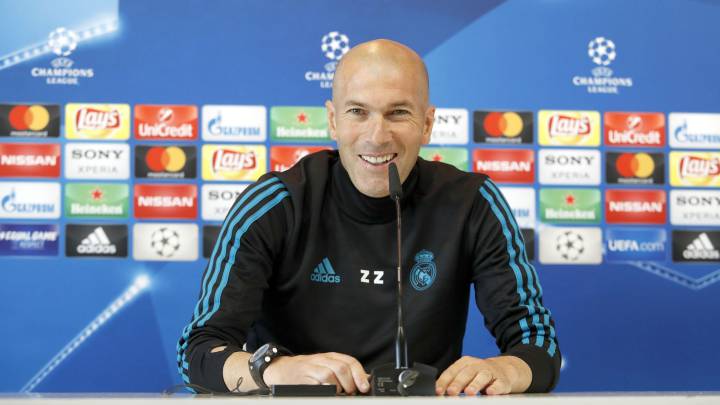 Real Madrid manager Zinedine Zidane, Sergio Ramos and Marcelo spoke to the press ahead of the Champions League final against Liverpool in Kiev on Saturday night (20:45 CEST).
Zinedine Zidane press conference: as it happened
Zidane being asked about selection again now, and says that it's the toughest moment in a coach's job deciding who to leave out and who to include. But that's my responsibility, he concludes. And with that he's off!
A bit of philosophy now... Klopp said chaos can reign in football. How does Zidane define chaos. "You have to control the game and figure out how to hurt the opposition. In difficult moments, and we'll have more of them tomorrow, but when we have the ball we have to attack and when he don't we have to suffer and adjust."
Asked for a comment on whether he agrees with Steve McManaman's comment that if Pep Guardiola had reached three consecutive finals people would be singing from the rooftops, he answers with a smile: "Maybe, yes, why not?" But he adds that he can't control what other people say or think and that he simply does his job and concentrates on that.
  Chuckles all round as a question is misconstrued. Who is the better player, Zidane or Klopp? "I was a bit better," he replies with a chortle, then asks if they meant who is the better coach... he replies that every coach is different but he has plenty of respect for Klopp as a manager.
Zidane being asked if after getting past PSG, Juve and Bayern, Real are considered favourites for the final. He replies that in the dressing room there is absolutely no sense of this being a foregone conclusion.
A question about pressure now, and Zidane says quite the opposite, it's a pleasure to be in this situation and in another Champions League final and that it's pure emotion. If he is under any pressure, so much the better he adds with a smile.
Zidane being asked about Bale's occasional benching now and Isco and Asensio's roles, and the Frenchman delivers his stock answer that he has a whole squad full of good players and while sometimes those who are left out may be disappointed, substitutes can also make the difference.
How is Ronaldo? He's fine, answers the Real boss, he lives to play in these games...
Zidane being asked about the possibility of winning three on the trot. "That would be nice," he answers, adding that he has always been a competitor but that behind everything is the basis of hard work and that whatever happens he'll take it in his stride in a humble manner, as is his wont.
A lot of hard work and a lot of talent, Zidane replies, and the desire to play well and win.
First question up... what is the secret to Real's success?
Zidane now making his way onto the podium.
Marcelo now saying that Real Madrid have to concentrate on the present and not rest on the laurels of past triumphs, while adding that in his opinion Zidane is the best coach in the world. "One day they knock you down, the next they build you back up... it's always been like that." 
Messi and Ronaldo comparison time, and Ramos says that there's little point in trying to hold anyone up against that particular pair, but adds that Salah is a fantastic player but as Klopp said earlier, the Egyptian has yet to perform the feats he has managed this season year after year.
Ramos being asked about the fans' problems getting to Kiev now and the fact that many Real fans have handed back their tickets due to expense problems. He replies that he holds fond memories of the city after Spain's triumph there in 2012 and hopes that as many fans make it as possible, or watch in Madrid on the big screeen set up at the Bernabéu while praising Ukraine for the country's staging of the final. 
The BBC question... does the team operate differently with them or without them? Ramos replies that the whole team are pulling in the same direction whoever plays and says that it's a nice problem for Zidane to have as the squad is completely intact heading into Saturday's game. 
Ramos being asked about Klopp's Swiss clock comment and how he organises the defence. He says that the most important part is attempting to nullify Liverpool's attacking threat.
Ramos now explaining that none of those triumphs matter ahead of Saturday and that he'll be approaching the game in the same way he did his first Champions League final.
Ramos being asked about the atmospehere in the dressing room now, and he replies that the lack of egos has been a huge boost to the side on their recent run of success and that the hunger and desire to win remains intact throughout the squad.
One for Ramos now, who is asked about facing the likes of PSG, Juve, Bayern and now Liverpool, and he responds that it has been a hard route to the final this season and notes that Liverpool are another attacking side who will provide stiff competition but Real are ready for the challenge.
The Salah question... is there more to Liverpool? Marcelo says that Liverpool are a great side who have had a fantastic season and Real can't afford to concentrate on two or three players but have to approach the game on a team against team basis...
Another for Marcelo, a brave soul asks about the perception that he can't defend...."Everybody has their opinion," he says, adding that he's happy with the job he does and so are the club. He also diplomatically refuses to respond directly to the source of that opinion.
Marcelo picks that one up and says the number of titles the team has hoovered up since then has a lot to do with it, adding confidence to the side.
What has changed between now and 2009 at Real Madrid, when Liverpool knocked them out of the Champions League?
One for Marcelo... what type of game does the Brazilian expect tomorrow? Both sides are attacking teams, he notes, and Real are ready for whatever comes their way but being a final, he points out, anything can happen. And he expects a thrilling game for the fans.
Marcelo agrees, stating that the motivation at Real Madrid is to win every game and have the chance to win as many titles as possible.
18 titles each, Ramos and Marcelo, how do they retain their hunger ask a reporter... "It's easy," replies Ramos, playing for a team that offers so many opportunities to win titles, and that according to the captain is a privilege.
Some ground rules out of the way, here we go...
And as if by magic... here they are!
We still await the arrival of Zidane, Ramos and Marcelo in the press room.
No tactical nous? Klopp had a decent answer to that common accusation about the Real boss in his press conference.
Sergio Ramos and Marcelo will also be speaking alongside Zidane.
Jürgen Klopp spoke before Zidane and had plenty to say about Liverpool's opposition on Saturday and the man in charge of Real Madrid.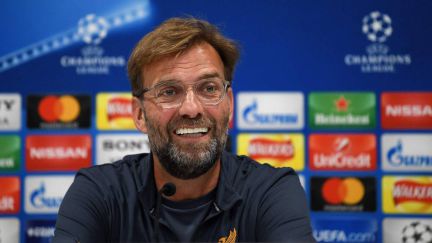 Opta pumped a few numbers ahead of Saturday's game and if there's one thing that's almost guaranteed it is goals.
As has been his standard procedure during this season's run to the final, Zidane has called up his entire squad for the game.
Real are seeking an historic third consecutive Champions League title and a 13th overall in Kiev, with Liverpool looking to add to their five European titles. The reigning champions' fans gave the team a rousing reception on their arrival at their hotel.
Zinedine Zidane will appear before the media at Kiev's NSC Olimpiyskiy Stadium at around 18:15 to discuss the Champions League final, which will kick off at 20:45 CEST on Saturday.