Cristiano Ronaldo: Club, squad baffled by timing of comments
No-one can understand why Cristiano put his own grievances before the team's celebrations after Real Madrid's Champions League victory.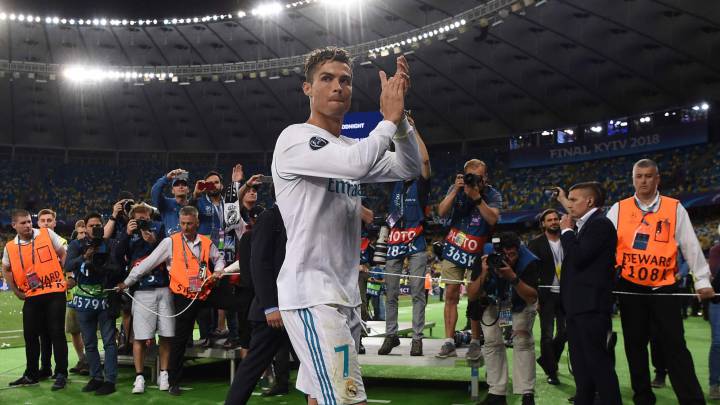 The bombshell dropped by Cristiano Ronaldo immediately after Real Madrid's Champions League final win over Liverpool has served to dampen Los Blancos' celebrations, and has left the club deeply unhappy. His comments - "It's been great being at Madrid; I'll speak in the next few days" - have caused bewilderment. The consensus was clear: It was not the time for this.
It was thought Cristiano contract could be sorted in summer
It was Real's captain, Sergio Ramos, who swiftly issued a categorical response: "He couldn't be in a better place than here." Cristiano has been engaged in a stand-off with the club president, Florentino Pérez, over his current contract, which has seen him earn 22m euros net a year since he signed an extension in November 2016.
Since then, Lionel Messi's pay packet has risen to double that following last year's renewal of his Barcelona terms, and Neymar's after-tax wages have gone up to 37m euros in the wake of his move to Paris Saint-Germain. While Cristiano's desire for an improved deal is not without justification, Real Madrid felt it was an issue that could be resolved once the season was over.

What no-one understands is why he chose this moment to air his grievances, in the process overshadowing the Champions League celebrations of a side who have just made history, having won three European Cups on the trot and four in five years.
His complaints were well known within the club, and he had already alluded to them in the media some months back, but no explanation can be found for him putting his own interests before the team's on such a special night for Real Madrid.
Team-mates and Pérez feel he should have waited a few days
Cristiano should have waited a few days: that's the feeling among his team-mates and his president, who could not hide his annoyance at the 33-year-old's remarks eclipsing the team's achievement in the Ukrainian capital.
When Real celebrate newly-won silverware with their supporters at their Bernabéu stadium, the players usually take turns to address the crowd. At the moment, it's not known whether he will pick up the microphone, or, with doubts now hanging over his future, will opt to remain silent.
Among the fans, the expectation remains that this is situation that will be sorted out. Nobody can imagine a Real Madrid without Cristiano Ronaldo. But can he?



Champions League
*Update 27 de mayo de 2018