Cristiano Ronaldo tells Real Madrid fans: "See you next year"
Zinedine Zidane and his squad presented the Champions League trophy to supporters in Madrid and the Portuguese hinted he won't be off in the summer after all.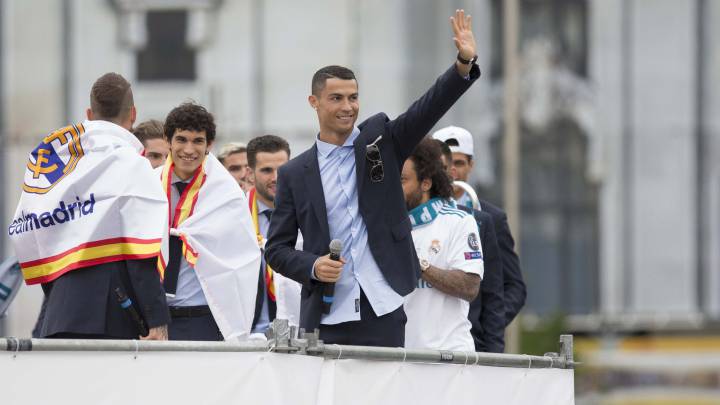 Real Madrid toasted their Champions League victory over Liverpool, the club's 13th European crown, with their fans on the streets of the Spanish capital on Sunday evening.
The party started at 18:00 hours when the team boarded a bus at the Santiago Bernabéu to begin their victory parade. They then headed south to the Almudena Cathedral for a service before arriving at the City Hall where they were welcomed by Madrid regional president Ángel Garrido.
Ramos, Marcelo lead celebrations at Cibeles
At 19:15, the European champions made a stop at the municipal town hall where Madrid mayor Manuela Carmena was waiting to greet them with a multitude of fans gathered in the Puerta del Sol, the capital's central square. The partying moved on to Cibeles fountain at 20:15, the traditional centrepiece of Real's title triumphs.
As the players took the microphone at Cibeles, Sergio Ramos led the celebrations and took the opportunity to send a little message to Atlético supporters: "We're going to sing a song that sometimes maybe people forget: a reminder to all the Indians who the boss in the capital is!"
From there, Real Madrid made their way back to the Santiago Bernabéu for a spectacular celebratory party with their season-ticket holders and club members at 22:00 hours. Joining them were the basketball team, who were crowned Euroliga champions last week.
Ronaldo backtracks on Kiev discourse
But it was Ronaldo who tipped the throngs of Madrid fans a wink that they had been hoping for. After cryptically suggesting his time at the Bernabéu may be coming to an end on the pitch in Kiev a day earlier, the Portuguese said: "Thanks everyone, see you next year."