Ramos: petition for Salah tussle punishment draws 500,000
A change.org petition calling on Fifa and Uefa to sanction the Real Madrid defender for his challenge on the Egypt star is gathering huge support.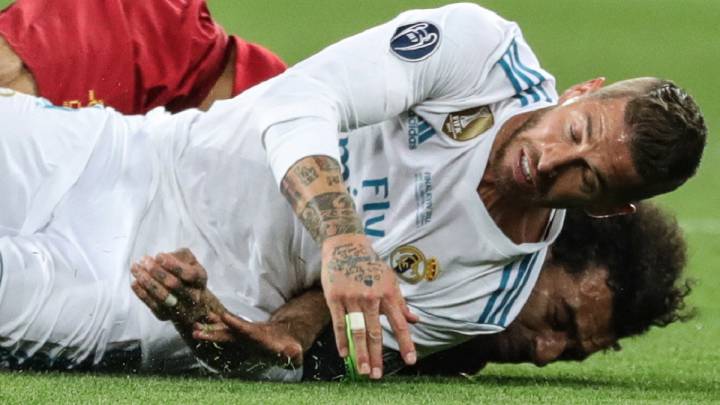 Sergio Ramos went unpunished for a challenge on Liverpool forward Mo Salah during the Champions League final but a change.org petition has been launched to lobby Fifa and Uefa to consider retrospective bans in the future with the use of video reviews.
Ramos appeared to trap Salah's arm as he fell on the Egypt international in the first half in Kiev, causing Liverpool's star player to be substituted on the half-hour mark.
Salah facing World Cup uncertainty
Although Ramos has denied any intent and wished Salah a speedy recovery, there has been widespread condemnation of the Real Madrid defender's actions, not just the Salah incident but also a spot of play-acting towards the end of the game that earned Liverpool forward Sadio Mané a yellow card.
Salah said on Sunday that he is confident he will be fit for the World Cup, with the Egyptian Football Federation estimating their star player will be out for two weeks, but Ramos' challenge has provoked a furious reaction in the North African country culminating in the change.org petition, which at time of writing had garnered the support of more than half a million signatories.
Ramos change.org petition statement as published
"Sergio Ramos intentionally kept Mohamed Salah's arm under his armpit, causing dislocation of his shoulder. Not only missing the rest of the game, but also missing the FIFA World Cup 2018.
In addition he kept acting that Liverpool players fouled him falsely, causing the referee to give Manne a yellow card he did not deserve.
Sergio Ramos represents an awful example to future generations of football players. Instead of winning matches fairly, he uses tricks that defy the spirit of the game and fair play.
UEFA and FIFA should take measures against Ramos and similar players, using the video recordings of matches to keep the spirit of the game."



Champions League
*Update 28 de mayo de 2018