ITALY-SAUDI ARABIA
Italy 1-2 Saudi Arabia: International friendly
Roberto Mancini was successful in his first game in charge of Italy as Mario Balotelli and substitute Andrea Belotti scored in either half.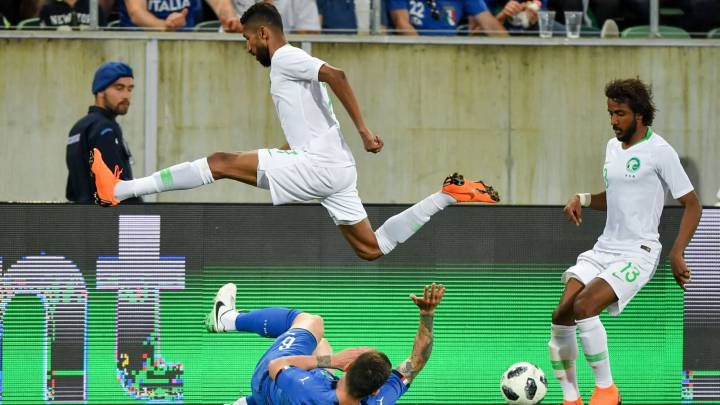 Hello and welcome to AS English's live coverage of the international friendly game between Italy and Saudi Arabia at Kybunpark stadium in Switzerland, Kick off is at 20.45 CEST.
Italy vs Saudi Arabia live online: latest updates
90'+3' GAME OVER in Switzerland as Italy run our winners against Saudi Arabia in Roberto Mancini's first game in charge of the Italians.
90'+3' One really late one for Saudi as Hawsawi comes off with a head injury.
90'+3'   Into the third minute of extra time here and still no sign of goals.
89'   Saudi with an attack now but they've been really tame in their approach. Not easy against Italy's defensive set-up but they've been really subdued.
87' DeSciglio comes on now for Criscito.
84'   Insigne taken off for Chiesa. Massive round of applause for the attacking midfielder.
82'   Insigne chases down a long ball but Al Owais gathers it. Italy have to wait for their third.
79'   This one fading out as opposed to anything else really. Been a poor second half. Neither team really pushing it out in an effort to get a goal.
75'   Belotti with an effort now that Al Owais deals with.
72' El Shehri slots home for Saudi Arabia. Mistake by Zappacosta and Saudi pounce. Donnarumma runs out of hi goal and he has no chance as the goalscorer rounds him and slots home.
70' Florenzi replaced by Bonaventura.
68' GOAL! Belotti claims it. Corner comes in and the striker turns it home. His fifth international goal.
67'   Change upcoming for Saudi Arabia. A couple of changes for them actually and Italy too.
65'   Belotti through on goal and there's a sliding tackle that comes in. He is down grabbing his ankle. Good challenge from Saudi's captain, Hawsawi.
63'   Belotti hardly involved since he came on.
63'   Really tame second half so far really. No chances for either side.
58' Belotti comes on for Balotelli. The crowd delighted with him as they applaud the man.
56'   Lovely ball into Pellegrini and he misses. Zappacosta with the ball. It came at him at speed but he misses! 
54'   He gets another chance straight away and his left-footed effort is blocked. He is down now and struggling with cramp, it looks like.
53'   Good ball in behind to Balotelli. He can't control it though.
53'   Free for them as Criscito fouls Al Faraj.
52'   they're playing far further up the field.
50'   Saudi Arabia much improved here in the second half. They have Italy under the cosh a little bit.
47'   Kanu is replaced by Al Dawsari to start the second half. That's the only change at the break.
46'   Ball clipped into the back post and Saudi can't keep it in.
46'   Saudi Arabia get us back underway!
We're back in business as Italy take to the field for the second half. Let's see if they made any changes to their starting line-up.
45'   HALF-TIME! No time added on. 
44'   Yehya Al Shehri the only player starting to have moved to LaLiga earlier in the season. He was at Leganes for six months.
44'   Saudi Arabia win a throw.
42'   Foul now as Jorginho slides in, wins the ball, but keeps his studs up and gets a talking to by the referee.
42'   Italy move forward again. they're holding onto the ball 51% of the time. 
40' Donnarumma Italy with some nice football and it ends with Criscito striking the ball against the bar. Bounces to safety as Saudi Arabia survive a scare.
33'  Balotelli with a foul on Hawsawi. He gets a kick in the head for his troubles as he tries to header the ball away.
32'   Saudi Arabia not convincing from the corner and it's put wide in the end by Italy.
31'   Politano goes down and Al Owais gets a hand to the ball, it looks like, as he takes the attacker down. Case for a penalty if he didn't get the ball.
30'   Zappacosta settles for the corner.
29'   Saudi Arabia have improved and Al Shahrani gets ruled offside but replay looks like he was on. 
27'   Al Shehri with the ball on the right but that's out over the end line.
25'   They're controlling slightly more of the ball now but still no chances moving forward.
25'   Saudi start an attack. Pizzi not able to inspire his team to attack yet.
22' Mario Balotelli on his return to international duty. He cuts onto his right and strikes. Nice finish from outside the box!
21'   Donnarumma on the ball. Milan's keeper plays it out to Bonucci.
18'   Zappacosta down the right. He plays it back to Jorginho. Zappaosta outside again and he crosses. Balotelli lurking in the box but it lands to Politano and he has a shot. That's well over the bar!
17'   Saudi Arabia with a spell of possession now.
14'   Jorginho sends a ball across the field and Insigne tasked with keeping it in play. Way too much pace on it though.
13'   Ball sent in and Bonucci at the back post. He can't get a touch on it though. Dangerous again from Italy.
12'   Italy really plying on the pressure here. Saudi Arabia haven't had a sniff.
9'   Italy well on top.
8'   Saudi Arabia struggling here. Al Owais, the keeper, out of position and Italy make a bit of a hash of it.
7'  Really nice ball in and Balotelli heads just wide.
6'   Insigna down the left-hand side. Jorginho picks it up then and plays it off to Bonucci.
5'   Balotelli races for the ball but he can't outpace the defender and Saudi Arabia survive.
4'   Italy have started far better than Saudi Arabia here. Mancini's start to life as Italy manager has started with loads of possession!
3'   Insigne gets sent the ball but he can't reach it.
2'   Mistake from Al Owais as Balotelli scores but Italy were blown up earlier for offside.
1' We are underway in Switzerland!
Gianni Infantino in attendance tonight. The Italian national anthem rings around the stadium. They might not be in the World Cup but they're still riled up for this one!
The Saudis' star man is Yahya Al Shehri, who went to La Liga side Leganes on loan in January. But with a lack of game time in Spain, is his fitness in question? We'll soon find out! 
The Saudis have managed to win their last two games against Greece (2-0) and Algeria (2-0). Do they have a chance of making it three from three and spoiling Mancini's first game in charge?
This is the first meeting between both nations, with the Italians as firm favorites with Betfair, who have the Azurri at 1.2 and Saudi Arabia at 16.0
Hello and welcome to AS English coverage of Italy v Saudi Arabia 
Italy vs Saudi Arabia live online: match updates
New coach Roberto Mancini takes charge of his first game for Italy, in a friendly against Saudi Arabia.
The former Manchester City and Inter Milan boss has called up a number of younsgters, such as Fiorentina's Federico Chiesa and Juventus' Rolando Mandragora. But the biggest team selection news is the return of controversial striker Mario Balotelli, who played under Mancini at Manchester City.
Impressive season for Balotelli earns him Italy place
Balotelli has earned his place in the side following an impressive season with OGC
Nice, scoring 26 goals in 37 appearances. This will be his first appearence for
his country since the 2014 World Cup, and Italian defender, Leonardo Bonucci, told Italian media, that Balotelli has matured a lot since 2014.
Italy will be firm favorites against a Saudi team in which only three players play club football outside of the Kingdom.